The concept of a survival bow is not a new one. Humans have been relying on bows for survival since the first primitive wooden arrow was launched from a sinew bowstring. The reason archery was invented in the first place was to help our distant ancestors survive a harsh and demanding world.
But why do modern humans need a survival bow? Whether you are simply intrigued by primitive survival skills or you have a real interest in modern urban survival, proficiency with a bow is a valuable asset in any survival situation.
The best survival bow is simple, durable, reliable, and can easily be carried in a backpack or bug-out bag. Obviously, not every bow will make a good survival bow. Some bows are better suited for target competition or serious hunting excursion. Choosing the right bow for survival can be confusing, especially if you don't know what to look for.
This guide is designed to help you find a survival bow you can use them to hunt game or protect yourself and your family in a long term survival scenario should the need ever arise.
In a Hurry? Check This Out:
Built for both survival and tactical applications, the SAS Tactical Survival Bow is truly one-of-a-kind. It folds down to a compact 21 inches, making it easy to stuff in a day pack or slide under the front seat of your truck. You can store your takedown arrows right in the riser, so everything stays in one spot, and the included camo storage bag pulls double duty as a convenient arrow quiver.
Made from high-tech, durable, non-corrosive materials, this survival bow is built for harsh conditions and rough use. It even produces blistering arrow speeds topping 210 feet per second.
How to Choose the Best Survival Bow
Technically, any bow can be used in a survival situation. However, some bows are better suited for the job. Here are some important things to consider when choosing your survival bow.
Simple Design
The more complicated the bow design, the more things that can potentially break or malfunction. Complex mechanics also make it more difficult to make even basic repairs in the field. For these reasons, we do not recommend you choose a compound bow for survival.
The cams and cables on a compound bow are under constant tension and intense pressure. Most compound bows require regular maintenance from an archery technician to keep them in good working order. In a survival situation, you won't have the luxury of cruising down to the local archery shop to have your bow tuned and restrung.
Although recurve and longbows are more difficult to master than a compound, their simple design makes them perfect for survival. There are few moving parts to break or malfunction, and strings can be replaced easily without any extra tools.
Takedown recurves work particularly well as survival bows. Because these bows come apart into three pieces (the riser and two limbs), they are conveniently portable. You can easily transport a takedown bow in a vehicle or a backpack.
Draw Length and Bow Size
The ideal draw length for a survival bow depends on the individual archer. There are easy ways to measure your personal draw length. The simplest method is to measure the distance between the tips of your index fingers while your arms are stretched wide, and then divide that number by 2.5.
Unlike compound bows, where a perfect match in draw length is necessary for consistent accuracy, recurves and  longbows allow for some wiggle room. With a recurve, you can release an arrow from any spot within the draw. However, you must fully draw a compound for maximum effectiveness.
The length of a recurve bow affects its draw length. Generally, a longer bow will have a longer draw length. A longer bow will also have a smoother draw and will be more forgiving of shooting mistakes. A common recommendation is to find a recurve at least twice as long as your draw length. However, the important thing is to find a bow you can shoot comfortably and accurately.
For archers accustomed to shooting a compound bow, a recurve or longbow may seem huge. Don't be intimidated by the size. Remember, these bows break down into three separate pieces for easy portability.
Draw Weight
Another important thing to consider is a bow's draw weight. Draw weight is the amount of force it takes to pull a bow back to full draw. Draw weight is important, because it affects arrow speed, penetration, and accuracy. Generally speaking, a bow with a heavier draw weight will shoot faster, penetrate deeper, and hit your mark more consistently.
You should look for a survival bow with a draw weight between 40 and 50 pounds. In most states, fifty pounds is the minimum required to legally hunt big game animals like elk, mule deer, and moose. However, in a survival situation, you may not be concerned about local hunting laws.
Regardless, a 50-pound draw will drop big game quickly and humanely with a well-placed shot. For smaller animals like whitetails, turkeys, and wild hogs, a 40-pound draw, when paired with a sharp broadhead, should do the trick in most hunting situations.
Bow Weight and Durability
Not only does the weight of your survival bow affect its shoot-ability, it also affects portability. You want a bow that isn't tiring to shoot or to lug around all day. Choose a bow made of lightweight, yet durable materials.
A survival bow also needs to have the ability to survive bumps, bangs, and wet conditions and keep on shooting. Fiberglass and aluminum are two common lightweight materials used to build rugged recurves. Neither will rust nor corrode, making them ideal for making bows tough enough to stand up to whatever Mother Nature throws your way. Wood is another common material. Although durable, wood can warp when exposed to excessive moisture,
Brace Height
Brace height is the distance between the string and the deepest part of the grip when the bow is at rest. Most modern recurves have a brace height that falls somewhere between 7 and 9 inches depending on the design. The standard brace height for a longbow typically falls somewhere near 7 inches.
Brace height impacts arrow speed and influences bow forgiveness. The arrow maintains contact with the string longer when shot from a bow with a short brace height. This increases arrow speed but also magnifies shooting inconsistencies, meaning it can have a negative effect on accuracy.
If you want arrow speed, choose a bow with a shorter brace height. If you are an archer with less experience that needs a more forgiving bow, choose one with a longer brace height.
Eye Dominance
It is important to know which is your dominant eye before you purchase a survival bow. Sometimes called the "master eye" or "power eye," your dominant eye will determine whether you should shoot a left-handed or right-handed bow.
Usually your dominant eye will match your dominant hand. However, this isn't always the case. Watch this helpful video to help you determine which eye is your dominant eye.
Some archers choose to shoot a bow that matches their dominant hand even if it doesn't match their dominant eye. Many archers achieve proficiency this way. Choosing a bow that matches your dominant eye, however, will help you shoot more consistently, and potentially save you a ton of frustration.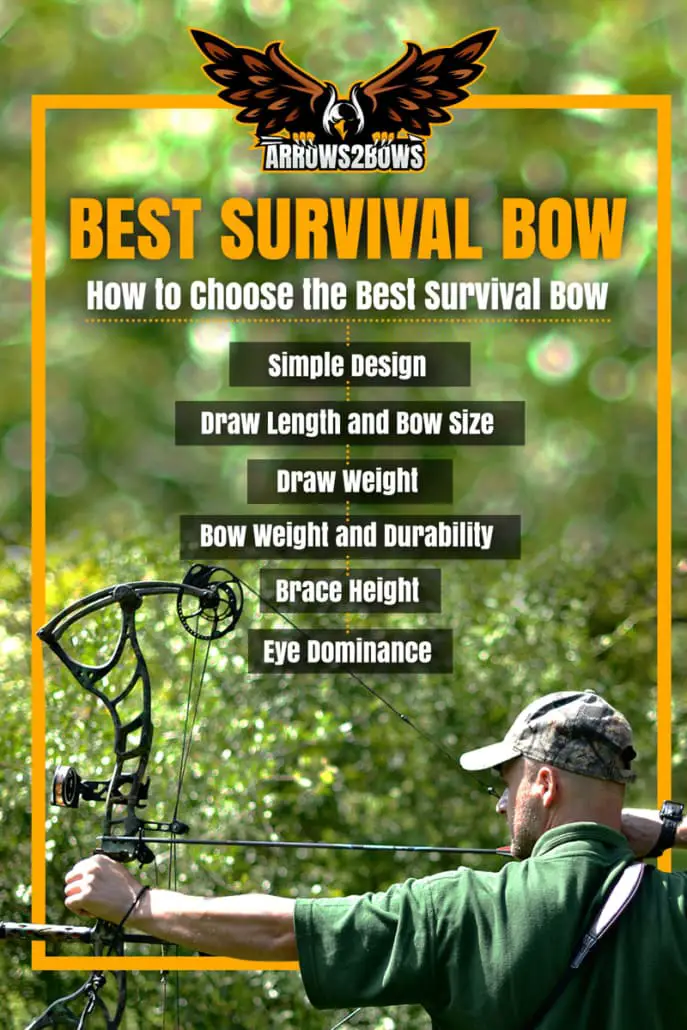 Our Top Picks
The SAS Tactical Survival Bow is designed specifically for survival situations. The bow breaks down to a size that fits comfortably in almost any backpack or bug-out bag.
Uniquely designed to fold down to a compact 21-inch size, this bow easily assembles to become a full-size 60-inch bow. It is also available in a range of draw weights from 45 to 55 pounds. With a 55-pound draw weight, the SAS Tactical Survival Bow is capable of producing arrow speeds up to 210 feet per second.
Take-down arrows pack easily inside the riser for protection and easy portability. However, you'll have to purchase your arrows separately. The bow also includes a convenient camo case that doubles as a quiver to conveniently hold your arrows when the bow is assembled.
The SAS Tactical Survival Bow is made from high-tech aerospace grade aluminum and marine grade steel. It is corrosion resistant and features a non-reflective matte finish, allowing you to stay hidden from game animals or dangerous human threats.
Pros:
Folds down for easy storage
Arrow storage inside the riser
Carry case doubles as a quiver
Non-reflective matte finish
Corrosion resistant construction
Cons:
Arrows not included
Some archers find the grip uncomfortable
One of the most affordable survival bows on our list, the Nomad from Xpectre breaks down to an impressive and convenient 17 inches. To accomplish this compact size, the Nomad breaks down into 5 separate pieces rather than the standard three. When disassembled, each riser becomes two pieces, making five pieces total with the riser.
Although that's a bunch of pieces to keep track of, the Nomad assembles easily into a 48-inch bow without needing any extra tools. You simply slip the limbs and riser together, then string it, and you're ready to shoot. The riser is a basic square metal tube with no ergonomic grip for comfort. Although ready to shoot in a snap, this isn't a bow you want to shoot repeatedly.
The bow comes with a 45-pound draw weight, three takedown arrows, and a convenient carrying pouch.
Pros:
Compact size
Includes three takedown arrows
Assembles easily without tools
Cons:
Only available in a 45-pound draw weight
Multiple pieces to keep track of
Uncomfortable square grip
Although not designed specifically as a survival bow, this takedown recurve bow from Toparchery plays the part pretty well. The bow features a 17-inch, high-strength casting aluminum riser and two 53-inch limbs made from strong fiberglass surrounding a maple wood core. When assembled, the bow measures 56 inches long.
This versatile recurve can be shot left- or right-handed and performs well for draw lengths from 30 inches down to the lower 20-inch range. It is available in draw weights ranging from 30 to 50 pounds.
Highly affordable, this is a no-frills option for hunting or survival. Constructed of durable aluminum and fiberglass, the Toparchery Takedown is strong enough to stand up to harsh conditions and rough use. It may not be a head-turner, but that just means you won't mind it getting scratched up a bit during use.
When shooting, it feels a bit clunky and you'll want to prepare yourself for the hand shock. However, it breaks down to just 20 inches and offers decent accuracy and power.
Pros:
Affordable price tag
Shoots right-or left-handed
Suitable for a wide range of draw lengths
Sturdy construction
Compact design
Cons:
A ton of hand vibration on the release
Unattractive design
Although the Samick Sage Takedown Recurve Bow feels most at home on the target range, it also makes a great survival bow. This bow features a well-balanced ergonomic design, which makes it easy to shoot accurately and effectively.
Manufactured in right-handed and left-handed models, the Sage comes in a wide range of draw weights (35 to 55 pounds). Measuring 62 inches long, the bow has a maximum draw length of about 29 inches, making it well-suited for most shooters.
Made from hard maple with black fiberglass limbs, the Samick Sage is pretty to look at yet rugged enough for harsh survival situations. The string quality is a bit questionable, so be sure to pack some replacements, just in case.
Pros:
Attractive, ergonomic design
Easy and comfortable to shoot
Available in options to fit most archers
Durable construction
Cons:
This portable folding bow from SinoArt is made of strong aluminum alloy and tough resin fiber, making it ideal for practically any survival scenario. It conveniently folds down to a thin 23-inch "stick" that can be easily carried or stuffed in your backpack.
When assembled, the bow measures 55 inches and weighs less than four pounds. You can choose the 35-pound draw weight for easy shooting, or pick the 55-pound draw weight for hunting the gamut of North American game.
The riser is smooth and, although not exactly ergonomically designed, is more comfortable to shoot than many of the survival bows on this list. The design feels a little cheap, but the materials will resist corrosion in even the wettest conditions.
Pros:
Folds down to a compact size for easy portability
Sturdy, non-corrosive materials
Cons:
The Jaguar Elite from legendary Martin Archery is lightweight, easy to assemble, and has a silky smooth draw. Definitely one of the easiest bows on our list to shoot, Martin designed this takedown recurve to enhance the shooting experience.
The bow features a durable riser made from aluminum and magnesium and laminated fiberglass limbs. The Jaguar Elite also comes fitted with one of the best-quality strings in the industry.
Martin made sure there is a Jaguar Elite model to suit every archer. It is available for both left- and right-handed shooters and comes in draw weights that range from 9 to 55 pounds. Choose the 40, 45, 50, or 55 pound draw weights for survival applications.
The Jaguar Elite's riser also allows you to easily attach your choice of modern accessories, like a stabilizer or pin sights. While not necessary on a survival bow, these attachments can help improve your shooting accuracy.
This recurve shoots a bit loud right out of the box, so you might want to consider adding some aftermarket sound dampening accessories to improve your odds when hunting skittish game.
Pros:
Lightweight, durable construction
Easy to assemble
High-quality string
Rubber dampening grip for reduced hand vibration
Easy to attach useful accessories
Cons:
Shoots loudly out of the box
Summing It Up
Whether you need a survival bow for camping, hunting, or just to be prepared for an unexpected emergency, all the bows on our list fit the bill. However, our favorite is the SAS Tactical Survival Bow.
Designed specifically for tactical shooting and survival situations, the SAS Tactical Survival Bow folds down to a size small enough to easily fit in your bug-out or get-home bag. It also folds to keep all pieces securely in the same place (including your arrows which fit conveniently inside the riser), so you don't risk losing something essential in the chaos of survival. For this reason alone, we prefer it over the Xpectre Nomad and the SinoArt Folding Bow.
We admit this bow isn't the easiest to shoot and can easily become frustrating during high-volume target practice. However, it performs well in a survival situations where volume shooting is unlikely.
If easy shootability and accuracy are your main goal, the Martin Archery Jaguar Elite Recurve Bow and Samick Sage Takedown Recurve Bow definitely outperform the SAS Tactical Survival Bow. However, these two awesome bows lack the convenient, lightweight portability of the SAS bow. That is why we've chosen the SAS Tactical Survival Bow as the best survival bow for campers, hunters, preppers, and survival enthusiasts.
No matter which survival bow you choose, be sure to spend time practicing with your weapon before you need it. Proficiency and confidence with your bow are ultimately your most effective weapons.
https://arrows2bows.com/wp-content/uploads/2020/03/featured-Best-Survival-Bow.jpg
321
845
superadmin
https://arrows2bows.com/wp-content/uploads/2019/12/1-300x138.png
superadmin
2020-03-16 10:03:25
2020-03-29 08:33:58
Best Survival Bow