Archery is currently one of the fastest growing sports in the world. In the United States alone, more than 23 million people enjoy archery each year, and approximately one third of those archers are women.
For years, female archers were forced to settle for either a youth bow or their husband's stripped-down compound. However, as the sport has grown, manufacturers have responded to growing demand by introducing high-performance compound bows designed specifically for women.
Whether you're a woman interested in target competition or bowhunting, finding the best compound bow for women is easier now than it has ever been.
In a hurry? Check this out:
Bear Archery Prowess
Bear Archery has certainly been around the block a time or two. With years of archery experience under their belt, it should come as no surprise that one of the best compound bows for women would come from this well-respected company.
The Bear Archery Prowess is our top pick for female archers. Designed specifically for women, the Prowess features an ultra-smooth single cam and EnduraFiber Limbs that provide a nice smooth draw while generating serious power and speed. It also offers an 80 percent let-off, is pretty forgiving of minor form inconsistencies, and comes as a complete ready-to-shoot package.
How to Choose the Best Compound Bow for Women
Thanks to market demand, bow manufacturers have developed compound bows that fit the needs of smaller-framed female archers. Gone are the days of struggling with a too-small youth bow or a too-large man's rig. Today, women have plenty of options, making it much easier to find that just right "Goldilocks" bow.
However, finding the best compound bow can still be a complicated process. In archery, your body is an integral part of your weapon. The right compound bow will work like an extension of your body, so finding one that fits your strength and body structure is imperative for shooting success.
Here are several important factors for women to consider when searching for a new compound bow.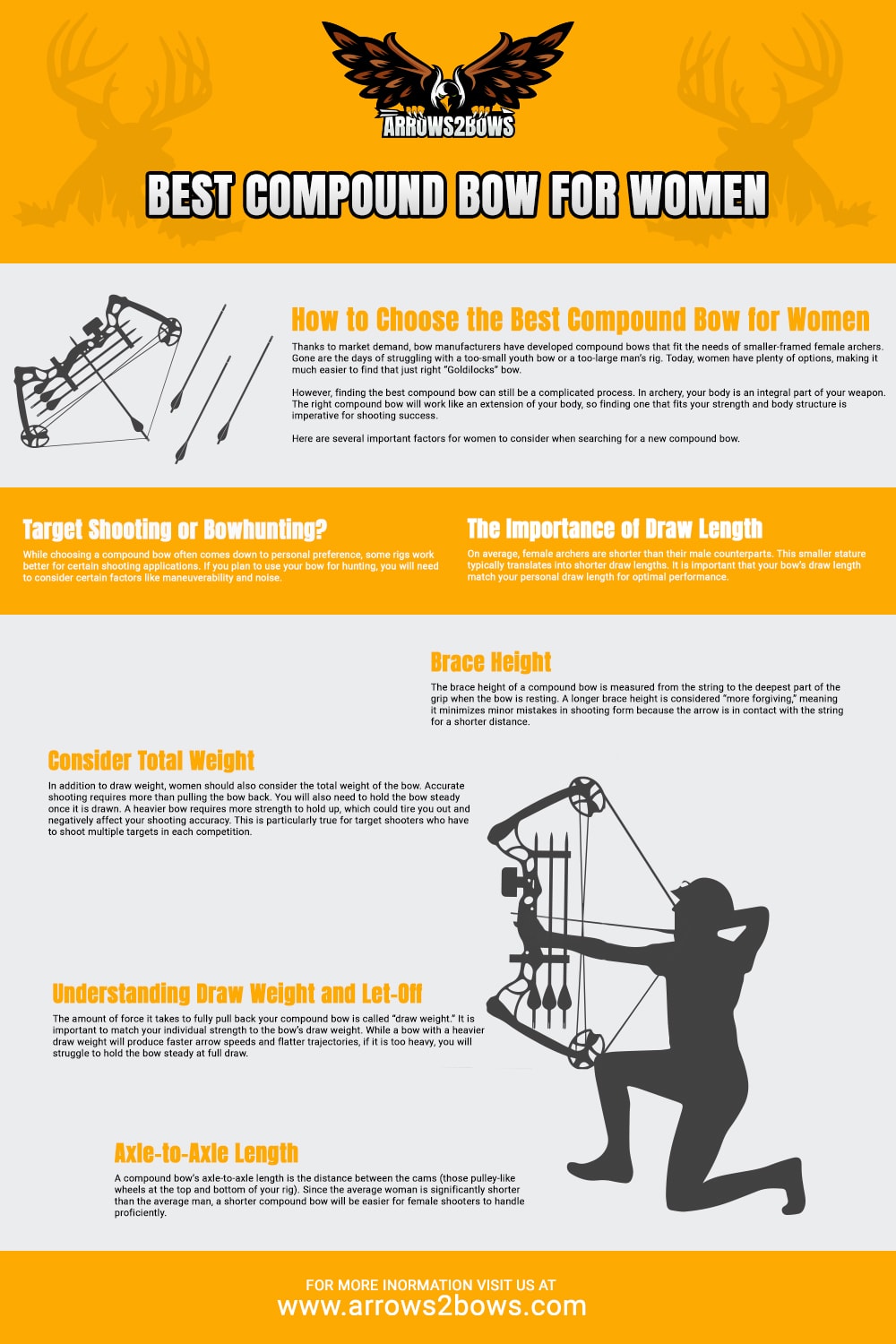 Target Shooting or Bowhunting?
While choosing a compound bow often comes down to personal preference, some rigs work better for certain shooting applications. If you plan to use your bow for hunting, you will need to consider certain factors like maneuverability and noise. A shorter bow will be more comfortable and controllable in the field or in a tree stand. However, bows designed for target shooting are typically longer, which makes them more forgiving and accurate. 
The Importance of Draw Length
On average, female archers are shorter than their male counterparts. This smaller stature typically translates into shorter draw lengths. It is important that your bow's draw length match your personal draw length for optimal performance. You should always find a bow that can adjust to fit the shooter rather than having the shooter try to adjust to fit the bow.
The best way to determine your draw length is to use a special measuring bow, which should be available at your local archery pro shop. However, you can find your approximate draw length by holding your arms out wide and measuring from fingertip to fingertip. Take that number and divide it by 2.5 to get your approximate draw length.
If that sounds complicated, it's really not. Here is a video that simplifies the process for you:
Understanding Draw Weight and Let-Off
The amount of force it takes to fully pull back your compound bow is called "draw weight." It is important to match your individual strength to the bow's draw weight. While a bow with a heavier draw weight will produce faster arrow speeds and flatter trajectories, if it is too heavy, you will struggle to hold the bow steady at full draw.
This is particularly problematic for bowhunters, who must often hold full draw waiting for an opportune broadside shot. Thankfully, the cams and pulley systems on modern compound bows provide a "let-off" or reduction in draw weight. Let-off typically occurs between 1⁄2 to ⅔ of the way through the draw cycle.
Let-off reduces the weight an archer must hold at full draw. So, when considering draw weight, be sure to take into consideration the percentage of let-off offered by your chosen model.
Consider Total Weight
In addition to draw weight, women should also consider the total weight of the bow. Accurate shooting requires more than pulling the bow back. You will also need to hold the bow steady once it is drawn. A heavier bow requires more strength to hold up, which could tire you out and negatively affect your shooting accuracy. This is particularly true for target shooters who have to shoot multiple targets in each competition.
Brace Height
The brace height of a compound bow is measured from the string to the deepest part of the grip when the bow is resting. A longer brace height is considered "more forgiving," meaning it minimizes minor mistakes in shooting form because the arrow is in contact with the string for a shorter distance.
In contrast, a compound bow with a short brace height can magnify a shooter's mistakes and inconsistencies. However, a bow with a short brace height generates faster arrow speeds. For bowhunters, the faster arrow speed translates to an increase in kinetic energy and deeper arrow penetration.
Axle-to-Axle Length
A compound bow's axle-to-axle length is the distance between the cams (those pulley-like wheels at the top and bottom of your rig). Since the average woman is significantly shorter than the average man, a shorter compound bow will be easier for female shooters to handle proficiently.
However, a bow with a longer axle-to-axle length will be generally more forgiving. (This is why longer bows are favored by serious competition shooters.) Keep in mind the definition of "long" will be different for female shooters than their male shooting buddies.
A longer bow is also a great option for beginners. Because a bow with a longer axle-to-axle length is easier to shoot accurately, a longer bow minimizes frustration and provides some immediate success for the novice archer.
If you plan to use your compound bow for hunting, you may want to consider a bow with a shorter axle-to-axle length. Although a shorter bow will be more difficult to shoot consistently, it will be easier to maneuver in the close confines of a tree stand or ground blind. These shorter bows can take some serious practice to shoot confidently, so be prepared to invest in some range time before hunting season.
Our Top Picks
Bear Archery Prowess
Founded by the famous American bowhunter, Fred Bear, Bear Archery is one of the most-recognized names in the archery industry. Designed specifically for women who hunt, the Bear Archery Prowess comes as a ready-to-shoot package. You get everything you need to hunt right out of the box, including a four-pin sight, Whisker Biscuit arrow rest, arrow quiver, stabilizer, wrist sling, peep sight, and D-loop.
This highly affordable hunting rig features an ultra-smooth single cam system and EnduraFiber Limbs that generate some serious power.
One of the lightest bows on the market, the Prowess only weighs about three pounds, even with accessories. It has a forgiving 6 ¾-inch brace height and an axle-to-axle length of just over 29 inches. The Prowess allows you to adjust draw length from 23 to 28 inches, which should accommodate all but the tallest female shooters. You can also adjust peak draw weight from 35 to 50 pounds. With a let-off of 80 percent, the Prowess produces arrow speeds up to 290 feet per second.
While this rig is well-suited for hunting whitetails and other similarly sized game, humane kills for larger animals will be a stretch for this model.
Pros:
Comes as a ready-to-shoot package.
Single cam system offers a smooth draw.
Forgiving brace height.
Significant 80 percent let-off.
Cons:
Lacks enough power for larger game.
Diamond Archery Carbon Knockout
Diamond Archery (a division of industry leader, BowTech) brought in the experts on women's archery to design this one. With a round table of seasoned female archers, Diamond engineered their Carbon Knockout compound bow to fit the specific needs of women. The result is one of the lightest and most comfortable compound bows on the market. This bow also offers instant accuracy and unmatched tunability.
The draw is silky smooth from start to finish and the world-renowned binary cam system delivers pinpoint accuracy shot after shot. The Carbon Knockout is also pretty stunning, with a design and colors chosen by women for women. 
The Diamond Archery Carbon Knockout comes as a complete package with everything you need to start shooting right away. Accessories include a custom sight. Octane Hostage XL arrow rest, quiver, comfort wrist sling, peep sight, Ultra-Lite Octane stabilizer, and BCY string loop.
You can order your Diamond Archery Carbon Knockout in a 40-, 50-, or 60-pound draw weight. The draw length is adjustable and ranges from 22.5 to 27 inches. With an axle-to-axle length of 30 inches and a brace height of 6.75 inches, this bow is pretty forgiving. Female bowhunters will appreciate the Knockout's feather-light weight (just 3.2 pounds) and impressive arrow speed (302 feet per second).
Pros:
Carbon Riser keeps this bow on the lighter side.
Binary cams keep the entire draw cycle silky smooth.
Forgiving axle-to-axle length and brace height.
Unmatched tunability.
Attractive design.
Cons:
Serious shooters will want to upgrade the included accessories.
PSE Drive R
Although the PSE Drive R isn't designed specifically for women, it has a draw length adjustability of 25-30 ½ inches and has packages with peak draw weights of 50, 60 and 70 lbs. You may need to hit the gym to build your upper body strength, but the blistering arrow speeds (up to 336 feet per second) will be worth it come hunting season. The Drive R does feature a 75 percent let-off and a solid back wall, which will help female shooters in the field.
Featuring PSE's Hybrid Cam and X-Tech split limb technology, this bow's draw is smoother than butter, and budget-conscious archers will appreciate the rig's affordable price tag.
The Drive R is 30 inches axle-to-axle with a brace height of nearly 7 inches, so this thing is pretty forgiving, making it well-suited for serious target competition.
Additionally, the rear mounted string stop system eliminates noise and transfers vibration away from the shooter's hand for more comfortable shooting.
A bit on the hefty side, the Drive R tips the scales at nearly 4 pounds stripped bare. This isn't a rig you want to lug through the backcountry.
Pros:
Highly adjustable draw length.
Hybrid cams and slit limbs provide a smooth draw.
Forgiving axle-to-axle length and brace height.
Rear mounted string stop system eliminates noise and vibration.
Cons:
Heavy weight can cause fatigue for some shooters.
Hoyt Klash
It's hard to imagine a list of best compound bows without something from Hoyt. One of the most respected names in the industry, Hoyt has been producing high-performance archery equipment since 1931. The company's new Klash compound bow features cutting-edge archery technology, serious adaptability, and budget-friendly affordability.
Perfect for bowhunters or target shooters, the Klash has a rock-solid back wall for easy aiming. It also has a full 15 to 70 pound draw weight range, adjustable draw length (from 18 to 29 inches), and a 50-pound max configuration which maximizes bow performance at draw weights under 50 pounds, making this model perfect for smaller archers.
The draw cycle is a little tough to get started and has a rough initial pull, especially when set to lower draw weights. However, as you increase draw weight, the draw smooths out significantly.
Hoyt's Klash weighs in at 3 ½ pounds with an axle-to-axle length of 28 inches and a brace height of 7 inches. This compound bow generates arrow speeds up to 300 feet per second, making it a decent choice for deer hunting if you can pull at least 50 pounds.
Pros:
Rock-solid back wall.
Draw weight and length are highly adjustable.
Optimized performance at draw weights under 50 pounds.
Affordable price tag.
Generates arrow speeds up to 300 feet per second.
Forgiving brace height of 7 inches.
Cons:
Has a rough initial pull when set at lower draw weights.
Mathews Avail
Mathews, Inc. is constantly pushing the archery envelope with innovative, high-performance compound bows. Designed specifically for female archers, the Mathews Avail delivers fast arrow speeds, massive downrange energy, and consistent accuracy well beyond 35 yards. Perfect for women bowhunters, the Avail features Mathews exclusive CROSSCENTRIC cam and AVS technology for one of the smoothest draws you'll find on a compound bow.
Whisper quiet, the Avail is pretty dead in the hand with zero shock felt after arrow release. It also produces rather significant arrow speeds (The IBO rating is 320 feet per second), so this compound bow really shines as a great all-around hunting rig.
The Mathews Avail is available in draw weights of 40, 50, and 60 pounds with a significant 80 percent let-off. Draw length is adjustable from 22 to 28 inches. A little on the heavy side, the Avail has a bare-bones weight of 3.96 pounds. However, it balances well in your hand and the 30-inch axle-to-axle length and 6-inch brace height are pretty forgiving.
Pros:
CROSSCENTRIC cam and AVS technology produce a nice, smooth draw.
Quiet shooting with practically zero vibration.
Has an IBO rating of 320 fps.
Well-balanced and forgiving.
Cons:
This model comes with a pretty hefty price tag.
Can only be purchased from an authorized Mathews dealer.
Southland Archery Supply Destroyer
Although not designed specifically for women archers, the Destroyer from Southland Archery Supply is highly adjustable, making it easy for smaller shooters to customize this model to fit their needs. The draw length adjusts from 19 to 30 inches and the draw weight ranges from 19 to 55 pounds, and the bow has an 80 percent let-off.
The Destroyer can be used for hunting or 3D and target shooting. It comes in a ready-to-shoot pro package that includes a 3-pin bow sight, QAD Ultra Drop Away arrow rest, quick detach quiver, wrist sling, peep sight, D-loop, and 8-inch aluminum stabilizer. These are relatively high-quality accessories, so you shouldn't need to upgrade immediately.
Weighing in at 3.85 pounds with accessories, this is a relatively lightweight rig. It measures 31 inches from axle to axle, has a brace height of 7 inches, and generates arrow speeds up to 320 feet per second.
Pros:
Affordable ready-to-shoot package with premium accessories.
High level of adjustability.
Forgiving brace height.
Generates arrow speeds up to 320 feet per second.
Cons:
This compound bow is best-suited for novice archers.
Summing It Up
The Bear Archery Prowess is our pick for the best compound bow for women. Well-suited for hunting or 3D shooting, this lightweight rig is built to maximize the size and strength of the average woman. It also comes with everything you need to start shooting right out of the box. While the Destroyer from Southland Archery Supply may come with better accessories (especially that QAD drop-away arrow rest), we think the Prowess performs better overall.
One of the best features of the Bear Archery Prowess is its affordable price tag. Even budget-conscious shooters won't scoff at the price. And while we love the big-ticket compound bows from industry leaders like Hoyt and Mathews, we acknowledge the fact that these bows are priced well out of the reach of many new archers.
The Prowess is one of the lightest bows in this line-up, which means it won't tire you out even after a long day at the range. Plus it is highly adjustable, produces respectable arrow speeds, and is a dream to shoot. With all these awesome features, it's difficult to imagine a better compound bow for women than the Bear Archery Prowess.
https://arrows2bows.com/wp-content/uploads/2019/11/Featured_TheBestCompoundBowforWomen_011619.jpg
321
845
superadmin
https://arrows2bows.com/wp-content/uploads/2019/12/1-300x138.png
superadmin
2019-11-13 13:34:42
2020-01-16 13:26:02
The Best Compound Bow for Women