Compare Obsession HB33 Compound Bow with other bows: See other Compound bows for sale
Obsession HB33 bow for sale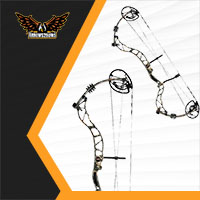 Brace Height: 6 "
Axle to Axle Length: 33.25 "
Draw Length: 26 " - 30 "
Draw Weight: 40 lbs - 70 lbs
IBO Speed: 348 fps
Weight: 3.8 lbs
HB33 reviews
Coming from a company that is obsessed with the pursuit of making excellent bows, the Obsession HB33 compound bow is a new entry into the market. It's perfect for newer archers and offers a versatile package at a competitive price point, helping set this bow apart from its competition.
Things to consider Before Buying
Taking design cues and improvements from Obsession's older bows, the HB33 is their latest entry into the market that seeks to provide many high-quality aspects to an archer at a competitive price. With the ability to fire arrows at up to 348 fps, this bow is able to consistently fire fast and stable for archers who are still honing in on their skills. With the 3-piece FX limb pockets and adjustable draw length, the HB33 can be adapted to a wide range of archers so that this bow can be used by and mastered by all.
It is built for comfort and accuracy, and has a relatively light weight of only 3.8 pounds. The comfortable weight combined with the many adjustable features, makes this bow ideal for someone looking to learn more about improving their shooting and the finer calibrations of a bow.
Who Should Buy This Bow?
Depending on how long you have been taking part in archery, this bow may be the next step to take in your journey of mastering your archery skills. This bow is perfect for the intermediate archer as it comes equipped with all of the necessary features that can improve your understanding and use of the bow, while also having the power and accuracy to allow you to hit targets at new distances that many beginner bows would never be able to reach.
Who Shouldn't Buy it?
While this bow is great for the intermediate archer, it may not be suited for those who are just getting into archery. Even with its wide range of adjustability and ease of use, the Obsession HB33 would be a lot of bow for a new archer to try and learn on. It has a higher draw weight of around 65 pounds and a fast shooting speed, which makes this bow is a little bit too powerful for first time archers. The price tag may also appeal to someone looking for a second bow.
Pros
Hybrid design offers versatility to a wide range of archery styles
Built with a respected riser system with a reputation for reliable speeds
Comfortable grip that allows for consistent hand alignment over several shots
For the power and features the bow is relatively light in its class
Includes a sight and many other accessories with the bow
Cons
 Higher price tag associated with the quality of the bow
 Coming from a smaller manufacturer means fewer replacement parts
 Many users report the top cam can vibrate after a while and needs adjustment
Final Thoughts
Coming from a well-regarded company, the Obsession HB33 provides a well-rounded package with excellent performance for anyone looking to improve their archery abilities.
Video Review
Specifications for the Obsession bow: HB33
| | |
| --- | --- |
| Brace Height | 6 " |
| Axle to Axle Length | 33.25 " |
| Draw Length | 26 " – 30 " |
| Draw Weight | 40 lbs – 70 lbs |
| IBO Speed | 348 fps |
| Weight | 3.8 lbs |
| Let-Off | 85% |
3 quick questions about Obsession HB33
🏹 Are Obsession HB33 bows made in America?
Yes, Obsession bows are made in the state of Georgia.
🏹 How much does an Obsession HB33 bow cost?
You can find this great bow for a price around $600.
🏹 What type of bow is an Obsession HB33 bow?
This bow is perfect for the intermediate archer. If you are a beginner, you can find better choices HERE.
More about bows online
Obsession bows for sale
[collapse]
https://arrows2bows.com/wp-content/uploads/2019/12/1-300x138.png
0
0
Maja
https://arrows2bows.com/wp-content/uploads/2019/12/1-300x138.png
Maja
2019-12-23 09:16:28
2020-04-20 08:33:15
Obsession HB33 Compound Bow