Compare Bear PERCEPTION Compound Bow with other bows: See other Compound bows for sale
Bear PERCEPTION bow for sale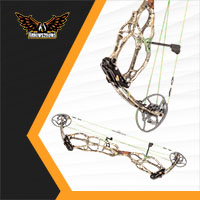 Brace Height: 6 "
Axle to Axle Length: 33 "
Draw Length: 25.5 " - 30 "
Draw Weight: 45 lbs - 70 lbs
IBO Speed: 350 fps
Weight: 4.3 lbs
PERCEPTION reviews
Looking to change the way we think about hunting bows, the Bear Perception compound bow revolutionizes the game by introducing a shoot-through hunting bow into the market, like nothing we've seen before. With Bear's innovation, the Perception offers no compromises to the hunter in a powerful yet compact package.
Things to Consider Before Buying
Looking to break all of the previously established norms of what a hunting bow looks like and performs like, the Precision offers a new and innovative design to the compound bow market that promises to impress. With an unheard of 350 fps for a shoot-through riser-style bow, Bear has created a compact package that is able to shoot at blistering speeds. The Perception also outweighs its class rivals by providing power and accuracy in a lightweight form. It only weighs 4.3 pounds. With a quad limb design, the Perception is able to evenly distribute the load across the entire bow, allowing for an even distribution of weight and a more comfortable and accurate shot. However, with such great benefits comes a very high price tag to back them up.
Who Should Buy This Bow?
With so many amazing features and qualities that make this bow appealing, it may seem like the perfect bow for everyone, but this bow is designed for a very specific customer. This bow is perfect for the experienced hunter who is looking for a new bow to provide the power and performance of a traditional compound bow, in a new and compact form.  If an experienced hunter is looking for something new to try, the shoot-through design offers excellent performance and accuracy.
Who Shouldn't Buy This Bow?
With so many excellent qualities, this bow appeals to most hunter, but should only be considered by the serious hunters. With its unique design and shoot-through style, this bow would be hard for beginners and intermediate hunters to adapt to as it shoots completely different to any other compound bow in its class.
Pros
Leader in new class of shoot-through hunting bows
Design is built for stability and weight distribution
Combines power and a low weight to form a compelling package
Utilizes several technologies to reduce sound and vibrations from shooting
●        Reduced friction with newer Roller Hingeguard technology
Cons
 Incredibly high price tag that may be out of many budgets
 With an innovative design, comes a steep learning curve
 This product is part of a limited run lineup
Final Thoughts
While the Perception by Bear may not be suited for the newest hunters, the revolutionary design and long list of features make this bow perfect for the veteran hunter looking for something new. It combines a lightweight, advanced and accurate package. The limitations of price and exclusivity can be seen as a positive downside since you know your money is going to produce an incredible product.
Video Review
Specifications for the Bear bow: PERCEPTION
| | |
| --- | --- |
| Brace Height | 6 " |
| Axle to Axle Length | 33 " |
| Draw Length | 25.5 " – 30 " |
| Draw Weight | 45 lbs – 70 lbs |
| IBO Speed | 350 fps |
| Weight | 4.3 lbs |
| Let-Off | 75% |
3 quick questions about Bear PERCEPTION
🏹 Are Bear PERCEPTION bows made in America?
Made by Bear archery – archery equipment located in Gainesville, Florida owned by Escalade Sports.
🏹 How much does a Bear PERCEPTION bow cost?
The price doesn't fit the beginner (see options for beginners), but for the expert hunter, this is a great bow choice!
More about bows online
Bear bows for sale
The process of earning a character is quite easy, in the very first portion of the procedure, you choose the sex of the character (only makes a difference for the player character in romances and a number of situations), give the character a name and choose a sirname. If you're looking to discover the very best recurve you can, this is the suitable location for you. If you are searching for character build strategies, click the internal link.
Archers now begin with a Class Feat. Furthermore, their Class Feat adds a fixed likelihood of an extra melee attack. Again, it could be that as Diamond gets older and expands, they are going to have the time and resources to devote to other forms of archery as Bear has done.
It was among the principal selling points once I obtained this `yak and I was anticipating using it. Customer service is just one of the main areas where companies feel growing pains, regardless of the business they're in. This usually means that should you get it early enough, your children can grow along with it for several years.
Otherwise, Bear will have more options to get a better selection of prices. The price is worth it as it has an all-metal construction that works with many kinds of bows and lenses. Finally, the decision is yours.
The budget for the bow is not overly high and it's quite sturdy. When you get a bow, you're not just purchasing a bow. This recurve bow is certainly not appropriate for hunting.
In all honesty, it has to be adjusted to the individual archer first, to find the most joy out of it. A superb sprayskirt is vital if you plan to run rapids. This means it's not feasible to decide on all three because you'll truly be stretching your points out even further.
The package involves a three pin Axion bowsight, which is excellent for starting out. Moreover, an asymmetric idler wheel provides the bow a smooth draw that's uniform from beginning to end. Which is worn is a matter of private preference.
You'd be astonished how many points you'll be able to gain with equipment alone. Unfortunately, there are a couple of disappointing details of the outfitting. Perception is also utilized to notice fine details in the surroundings.
[collapse]
https://arrows2bows.com/wp-content/uploads/2019/12/1-300x138.png
0
0
superadmin
https://arrows2bows.com/wp-content/uploads/2019/12/1-300x138.png
superadmin
2019-12-27 09:16:28
2019-12-31 10:56:11
Bear PERCEPTION Compound Bow