Compare Hoyt Klash Compound Bow with other bows: See other Compound bows for sale
Hoyt Klash bow for sale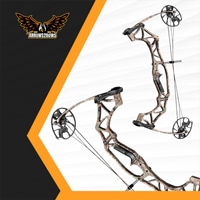 Brace Height: 7 "
Axle to Axle Length: 28 "
Draw Length: 18 " - 29 "
Draw Weight: 15 lbs - 70 lbs
IBO Speed: 330 fps
Weight: 3.5 lbs
Klash reviews
The issue with most compound bows on the market today is that a bow you buy for a beginner and a bow you buy for an expert are very different. Thanks to the all-new Hoyt Klash compound bow, the range of archers with varying experience can all shoot with one bow.
Things to consider before buying
The Hoyt Klash seeks to revolutionize the archery game by creating one of the most adjustable and diverse bows on the market. A bow that grows with you, the Klash is designed for any archer who wants to learn and increase their performance over time with just one bow. An adjustable draw weight from 15 to 70 pounds means any archer can pick up and use this bow with ease. This bow encourages growth by allowing archers to start out with a lighter draw weight when learning and then providing immense room for growth throughout their archery experience. The adjustable draw lengths from 18 to 29 inches is also a feature few other bows possess. A child or experienced archer can use this bow in the same day all with a few simple adjustments that can be made on the spot and by anyone.
Who should buy it?
The Klash is a perfect bow for someone looking to grow with their bow over time. For a young archer, the bow can be set to a low weight and draw distance so they can learn fundamentals with ease. Thanks to the adjustable design, that same child can use this bow well into adulthood if they keep adjusting it and treat it with care. This bow is meant for shooters of all abilities and experience levels.
Who Shouldn't buy it?
All of the adjustability of the Klash is great for most archers, but it lacks a real identity. Filling the gaps between market segments means this bow is great for everyone but may not satisfy the needs of specific demographics. For the woman looking for a hunting bow that is light or the experienced hunter looking for a lot of power, this bow will be good enough, but never truly reach the specific desires of those archers.
Pros and Cons
Pros
 A new, and fresh take on the market that has no true rivals
 The bow is able to grow and adapt as an archer gains experience and size
 The Hoyt standard of build quality stands out as among the best of any manufacturer
The price is very compelling for the features and bow quality
Cons
 Being so adjustable, this bow lacks a real identity for any specific archer
 The overall speed is lower due to the incredibly diverse audience this bow appeals to
Final Thoughts
The Hoyt Klash compound bow is able to appeal to a wider range of archers than any bow before it. Built to the Hoyt standard of excellence, this bow would be at home with the young and growing archer or experienced hunter alike.
Video Review
Specifications for the Hoyt bow: Klash
| | |
| --- | --- |
| Brace Height | 7 " |
| Axle to Axle Length | 28 " |
| Draw Length | 18 " – 29 " |
| Draw Weight | 15 lbs – 70 lbs |
| IBO Speed | 330 fps |
| Weight | 3.5 lbs |
| Let-Off | No |
3 quick questions about Hoyt Klash
🏹 Are Hoyt Klash bows made in America?
Hoyt Archery is an American manufacturer located in Salt Lake City, Utah.
🏹 Who owns Hoyt Klash bows?
In 1983, Hoyt was purchased by California-based sporting goods equipment manufacturer Jas D. Easton Inc.
More about bows online
Hoyt bows for sale
As soon as it's true string silencers wear out fast, I just wish to remind you it is important to test them on this bow. The Klash isn't hard to adjust with a broad range of draw lengths from 18-29 inches. Both bows also have the new Fuse strings with conventional StringShox that are high quality and ought to have long life.
Parker Compound Bow Parker has an extremely great assortment of bows to pick from. The reason why I want Hoyt is really only on account of the name. For more information concerning the Katera bows visit Hoyt.
It's deadly accurate, hard hitting, and precisely what you have to have in the area or on the scope. We believe the lineup we have now is the ideal shooting products that we've ever made. The Vulcan and Katera risers just have minor differences, presumably to lower weight.
Among the new design features on the Klash is a flat draw stop that supplies the bow an extremely good feel at full draw and it possesses a more aggressive riser design for additional speed. This is important to get as tight tolerances in this region since it's crucial to the accuracy and consistency of the bow. Regardless, it requires a hex wrench and one minute to eliminate it.
It was just really hard for me to find a recurve because this bow was the very same price as their SAS recurve option. Bow maintenance appears to be pretty important also. Appointments booked by phone or in person take a card to be put on file.
This bow, though a favorite to the majority of archers within this budget, was my least favorite. He had a bow square to find out the suitable nocking point. My favorite region of the bow is still the way that it feels to be an extension of me.
It's also a great way to stop likely string breakage. There are several color options which enable you to create a great looking set of strings. You merely pay whatever the item expenses.
[collapse]
https://arrows2bows.com/wp-content/uploads/2019/12/1-300x138.png
0
0
Maja
https://arrows2bows.com/wp-content/uploads/2019/12/1-300x138.png
Maja
2019-12-23 09:16:28
2020-04-20 08:20:49
Hoyt Klash Compound Bow