Compare Hoyt REDWRX Carbon RX-3 Compound Bow with other bows: See other Compound bows for sale
Hoyt REDWRX Carbon RX-3 bow for sale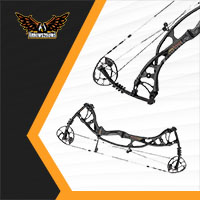 Brace Height: 6 "
Axle to Axle Length: 30 "
Draw Length: 29 " - 28 "
Draw Weight: 30 lbs - 80 lbs
IBO Speed: 327 fps
Weight: 3.9 lbs
REDWRX Carbon RX-3 reviews
From a brand that has mastered the use of carbon in bows, the Hoyt REDWRX Carbon RX-3 compound bow is the brand's latest entry into the field. It has many improvements, alongside remnants of the brand's first bows, whose reliability has kept them above the rest for years.
Things to Consider Before Buying
As pioneers in the carbon bow industry, Hoyt's REDWRX line has been setting the standard for what a bow should handle and shoot like. The bow has a new and improved parallel-riser design, and the wider stance allows for more resilient and reliable shooting. Through the use of carbon components throughout, this bow can reduce the vibration and dissipate energy throughout the entire bow, making this Hoyt's quietest bow yet. By redistributing the weight of the bow to the front of the bow, Hoyt has improved the balance throughout an archer's draw cycle, making for a consistent and deadly shot. Through the integration of grip adjustment for different shooting positions, smoother shooting, and improved durability, this bow is built to kill consistently and silently shooting at a blistering 342 feet per second.
Who Should Buy it?
As Hoyt claims on their own website, this bow is "engineered for those that demand everything." An intensive amount of detail and technology were put into this bow, and it's designed for someone who can fully appreciate and utilize all of the components it offers. Due to its high price tag and intentions for serious hunters, this bow would be most at home in the hands of a late-intermediate or experienced archer.
Who Shouldn't Buy it?
While this bow comes in at a relatively light weight and has a relatively simple shooting position, it would not be advised for a new shooter to buy and use this bow. For a beginner, the amount of power and equipment on this bow would simply be overwhelming. It would take away from the fundamental skills that a newcomer should be developing in their early stages of hunting. However, if a semi-experienced archer was looking for a reliable and powerful bow that they could grow into and keep for a long time, this would be a great choice.
Pros
Lightweight and rigid design, due to Hoyt's longstanding carbon construction superiority  
Includes multiple pieces of equipment designed to reduce shock and vibration
The draw cycle has been regarded as one of the smoothest motions on a bow
The bow's riser rigidity allows for accurate shots to be consistently placed at a distance
Cons
 The higher price can be hard to justify for some hunters
 Some hunters have reported issues with the strings losing strength after extended use
Final thoughts
Utilizing the latest in carbon technology to create a bow that is both reliable and silent, the REDWRX Carbon RX-3 is the perfect bow for the experienced hunter and is something that a new hunter can look forward to in the future.
Video Review
Specifications for the Hoyt bow: REDWRX Carbon RX-3
| | |
| --- | --- |
| Brace Height | 6 " |
| Axle to Axle Length | 30 " |
| Draw Length | 29 " – 28 " |
| Draw Weight | 30 lbs – 80 lbs |
| IBO Speed | 327 fps |
| Weight | 3.9 lbs |
| Let-Off | 80% |
3 quick questions about Hoyt REDWRX Carbon RX-3
🏹 Are Hoyt REDWRX Carbon RX-3 bows made in America?
Hoyt Archery is an American manufacturer of compound bows located in Salt Lake City, Utah.
🏹 Who owns Hoyt REDWRX Carbon RX-3 bows?
Hoyt is owned by Jas. D. Easton, Inc..
🏹 Do you need a license to own a Hoyt REDWRX Carbon RX-3 bow?
No
More about bows online
Hoyt bows for sale
[collapse]
https://arrows2bows.com/wp-content/uploads/2019/12/1-300x138.png
0
0
superadmin
https://arrows2bows.com/wp-content/uploads/2019/12/1-300x138.png
superadmin
2019-12-23 09:16:28
2019-12-31 12:45:17
Hoyt REDWRX Carbon RX-3 Compound Bow