Compare Mathews Avail Compound Bow with other bows: See other Compound bows for sale
Mathews Avail bow for sale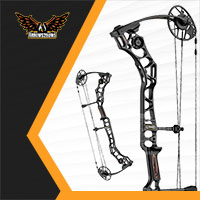 Brace Height: 6 "
Axle to Axle Length: 30 "
Draw Length: 22 " - 28 "
Draw Weight: 40 lbs - 60 lbs
IBO Speed: 320 fps
Weight: 3.96 lbs
Avail reviews
For many years, bow hunting has often been a male-dominated sport that left out many women due to the bulky equipment and heavy bows that made it difficult for women to enjoy hunting. However, Mathews decided that it was time for a change and developed the Mathews Avail compound bow.
Things to consider before buying
The Avail compound bow was designed with women in mind and looks to create unmatched performance among the competition. The Avail weighs in at only 4 pounds, making it lighter than its competition and easier to wield. With an impressive speed of 320 fps, the Avail is able to rival its much heavier competitors with a bow that is far easier to wield. Mathews has decided to use their crosscentric cam technology on this bow to ensure that each shot is consistent and packs as much power as possible. Many female archers praise this bow for its consistent accuracy, which can be traced back to the perfectly centered arrow rest making sure that every shot is accurate and that the forces of each shot are evenly distributed.
Who should buy it?
This construction and design of this bow are intended to appeal to female archers looking to improve their archery skills. With a size and weight that are compatible with most women's shooting styles, the Avail provides a complete package for the female archer. However, due to its price and power, this bow would be best suited in the hands of an experienced female archer.
Who Shouldn't buy it?
The Avail was meant to suit female archers, so its design and features may not appeal to male archers. It's light weight and compact design may appear too small for larger male archers and the adjustment may be uncomfortable. This bow is also not intended for younger archers with its high-power shots and design being suited towards an adult archer.
Pros
This bow is highly regarded as outstanding in the female archer community
The power of this bow is much higher than some other female-focused bows
 The crosscentric cam technology provides a smooth draw and consistent accuracy over many shots
 The adjustable draw length allows for female archers to adjust the bow to their specific needs
Cons
The Avail is on the higher end of female bow prices due to its performance and build 
 The higher power output can be too much to handle for an archer with less experience
 While the small frame is great for most, larger women may have difficulty wielding this bow comfortably
Final Thoughts
Avail set out to develop a bow for women that didn't feel like a cheap afterthought and created a product that female archers praise for its accuracy and comfort. While the price tag is on the higher end of female bows, the Mathews Avail delivers a complete package that will last any female archer for many years to come. 
Video Review
Specifications for the Mathews bow: Avail
| | |
| --- | --- |
| Brace Height | 6 " |
| Axle to Axle Length | 30 " |
| Draw Length | 22 " – 28 " |
| Draw Weight | 40 lbs – 60 lbs |
| IBO Speed | 320 fps |
| Weight | 3.96 lbs |
| Let-Off | 80% |
3 quick questions about Mathews Avail
🏹 Who owns Mathews Avail bows?
In 1992, Matt McPherson, Founder & CEO, invented Solocam technology and started Mathews Archery.
🏹 What type of bow is a Mathews Avail bow?
This Compound bow is made for women.
More about bows online
Mathews bows for sale
Any huge game species could possibly be entered, irrespective of gender. This isn't an industry standard.
I only want to teach you just how to create a quick, educated selection that will allow you to begin with shooting your compound bow as speedily as possible, without spending weeks researching the subject and studying up on physics. This is the reason why I've prepared the next guide for you. Stick to that plan no matter how big the buck is buck fever is an actual thing! Hunting above a decoy is by far my favourite means to hunt whitetails, particularly during the rut. I'm a bowhunter and I can tell you you've got to be cautious when drawing and shooting an arrow.
I was looking at them for quite sometime but just was not sure about the cost vs. effectiveness. I find that numerous beginners get very confused trying to decide on the ideal spine and wind up becoming paralyzed as a result of over-analysis. We will surely be open Saturday but today isn't looking good right now.
The new Halon X crossover bow is designed to perform in the area or on the scope. At length, it's among the best-looking bows around.
It has the rugged SnapLock blade-retention system for greater accuracy and dependable deployment. The Mathews Triax has got to be among the most effective bows on the marketplace. The Avail comprises a Dual Bridge Riser that offers an extra-stiff, stable shooting platform whilst minimizing mass.
If you want the Halon, you are going to adore the Halon 32. But that wasn't the case in any way. The majority of other manufacturers use a very simple plastic slide. Note there are restrictions on some products, and a few products can't be shipped to international destinations.
[collapse]
https://arrows2bows.com/wp-content/uploads/2019/12/1-300x138.png
0
0
Maja
https://arrows2bows.com/wp-content/uploads/2019/12/1-300x138.png
Maja
2020-01-03 09:16:28
2020-04-20 08:48:09
Mathews Avail Compound Bow