Compare Bear Motive 6 Compound Bow with other bows: See other Compound bows for sale
Bear Motive 6 bow for sale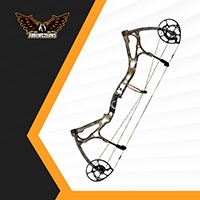 Brace Height: 6 "
Axle to Axle Length: 32 "
Draw Length: 25.5 " - 30 "
Draw Weight: 40 lbs - 70 lbs
IBO Speed: 350 fps
Weight: 4.0 lbs
Motive 6 reviews
The Bear Motive 6 gained a huge following when it was initially released in 2013. This bow delivers outstanding speed and power, with a compact, maneuverable size and incredibly smooth draw. It's designed for hunting, but has the versatility to be a great competition or 3D bow.
Overview
The forged aluminum riser of the Motive 6 make it exceptionally durable without adding weight. It has Bear's famous H13 hybrid cams, for an incredibly smooth draw and straight travel. With the H13 cam, changing the draw length is easy and convenient, and doesn't require a bow press. The draw length is adjustable in ½ inch increments from 25.5 to 30 inches. The 4×4 roller card reduces torque and cam lean.
It has two string suppressors, with rubber boots that absorb vibration and diminish sound. You can adjust the position of the string suppressors to tune them to your preferred shooting style. The Max Pre-Load Quad limbs provide great power, with Zero Tolerance Limb Pockets that also reduce movement and vibration. The rubber grip is thick and comfortable, and is warmer for the hands in cold weather. For such a powerful bow, the Motive 6 has a solid wall and great let-off, for plenty of power and stability in aiming.
Pros
Compact, lightweight, and maneuverable
6 inch brace height and high speed deliver incredibly powerful shots
Smooth and comfortable to use, with minimal rollover
Quiet and shock-free
Cons
Short brace height and narrow valley make this not a great choice for beginners
Taller archers may be more comfortable using a bow with a longer ATA
Conclusion
The Bear Motive 6 from Bear Archery is an exceptional hunting bow, delivering incredible speeds and power with virtually no shock, noise or vibration. It is compact and maneuverable, making it easy to use under cover. The smooth draw, solid wall and 75% let-off give you plenty of time to pick the perfect shot, and the hybrid cam delivers excellent accuracy. It's a powerful bow, and may not be the best choice for beginners and newcomers, but experienced archers and bowhunters are seriously impressed with the look, feel, and power of the Bear Motive 6.
Video Review
Specifications for the Bear bow: Motive 6
| | |
| --- | --- |
| Brace Height | 6 " |
| Axle to Axle Length | 32 " |
| Draw Length | 25.5 " – 30 " |
| Draw Weight | 40 lbs – 70 lbs |
| IBO Speed | 350 fps |
| Weight | 4.0 lbs |
| Let-Off | 75% |
3 quick questions about Bear Motive 6
🏹 Are Bear Motive 6 bows made in America?
Yes
🏹 Who owns Bear Motive 6 bows?
In 2003 Escalade Sports acquired the North American Archery Group.
🏹 What type of bow is a Bear Motive 6 bow?
More about bows online
Bear bows for sale
The bow certainly resembles a Hoyt with its distinctive riser design. It also comes in a number of finishes with the most popular finishes being RealTree Xtra camo as well as shadow, sand and olive. Bear's whitetail hunter compound bow is quite a versatile bow that is chiefly liked and used by the hunters due to its attractive capabilities.
[collapse]
https://arrows2bows.com/wp-content/uploads/2019/12/1-300x138.png
0
0
superadmin
https://arrows2bows.com/wp-content/uploads/2019/12/1-300x138.png
superadmin
2020-01-02 12:09:59
2020-02-03 19:06:11
Bear Motive 6 Compound Bow