Compare Mathews Vertix Compound Bow with other bows: See other Compound bows for sale
Mathews Vertix bow for sale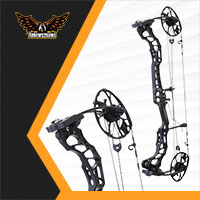 Brace Height: 6 "
Axle to Axle Length: 30 "
Draw Length: 26 " - 30.5 "
Draw Weight: 60 lbs - 75 lbs
IBO Speed: 343 fps
Weight: 4.67 lbs
Vertix reviews
Aiming to provide a bow that represents the pinnacle of hunting, Matthews prides itself on innovating and leading the field with their bows. By putting countless hours into its development, the Matthews Vertix Compound Bow has cutting edge features, which provide a package allowing hunters to feel confident in the bow they carry.
Things to consider Before Buying
With the goal of the Vertix to be perfect for any type of hunting, Matthews designed a revolutionary bow that could adapt and meet the needs of any hunter in any situation. Through the invention of the switchweight technology, an archer can forget about the complicated process of disassembling their bow to make minute adjustments. Instead they can simply change the mod on their Vertix, in order to change the weights in a matter of seconds. Hitting with an impressive 343 fps, the Matthews Vertix is able to deliver its impressive power, all while reducing the vibration and noise of the bow through 3D dampening and the smoothness of a crosscentiric cam draw system. This bow was built by hunters, for hunters, a mindset that is clear throughout every detail of the Matthews Vertix.
Who should buy it?
The creators of Matthews recommend this bow to any hunter in any location. Thanks to this bow's ability to be so easily modified and adjusted, it can be used by most hunters, regardless of experience. However, it is most likely that this bow would see its best use in the hands of an intermediate to advanced hunter, as some of the systems are quite complicated for a new archer. The rather high price tag also suggests that this should not be someone's first bow.
Who Shouldn't Buy It?
AS previously mentioned, this bow is designed to be used by any hunter, but it would be unwise to buy this bow for a beginner. With its heavy hitting power and high price, the Matthews Vertix would not be suited for the casual hunter or novice. The design and ideal use of this bow is meant for a frequent and experienced hunter.
Pros
Built with integrity and with the hunter in mind  
Utilizes an easily adjustable and interchangeable weight system for various uses
Designed with several technologies to reduce noise and vibration of the shots
Comfortable grip is suited for any hand and shooting grip style
Cons
 Made at a small manufacturer so parts may be difficult to find
 The high-quality level leads to a very high price tag
 Slightly heavier than other bows of a similar build
 The power of the bow can take some adjustment to get used to
Final Thoughts
Created to be the ultimate hunting bow for any situation, Matthews Vertix compound bow innovates and advances the industry by showing how easy archery should be. With one of the highest price tags on the market, you also get one of the best bows on the market.
Video Review
Specifications for the Mathews bow: Vertix
| | |
| --- | --- |
| Brace Height | 6 " |
| Axle to Axle Length | 30 " |
| Draw Length | 26 " – 30.5 " |
| Draw Weight | 60 lbs – 75 lbs |
| IBO Speed | 343 fps |
| Weight | 4.67 lbs |
| Let-Off | 80% |
3 quick questions about Mathews Vertix
🏹 How much does a Mathews Vertix bow cost?
It is not a cheap bow, but you also get a really great bow then!
🏹 What type of bow is a Mathews Vertix bow?
This is a Compound bow designed for hunting.
More about bows online
Mathews bows for sale
So, that said, let's take a better look at what the Vertix has to offer you. The case was made to hold fully loaded quivers, but a mounting bracket must be had separately from the situation. It is one of the best hard compound bow cases that one can buy on today's market.
Our custom made string builder enables you to readily choose between a great deal of colors for strings and servings to produce the ideal string for your bow. This bow provides 90-percent letoff, which makes it very enjoyable to shoot. That bow is an awesome shooter.
The Switchweight system lets you change the poundage range on the bow just by changing a module. It has to be purchased as an extra accessory, but it's one you wish to add. If you need a durable case that could hold a wide variety of crossbows together with optics, accessories, and arrows then this OMP case is a remarkable purchase.
The grip is 1 ofif not the mostcritical elements of the shot approach. In other words, the Vertix is among the smoothest shooting bows I have ever fired. It's skinny, which a growing number of shooters appear to prefer.
Dovetails offer an additional degree of confidence and security to safeguard accessory shift whilst in the area, because of bump or fall. For people who prefer using a different rest, the Vertix provides a normal rest-mounting hole. I'll add a few updates on the thread during the next month as I'm likely to try out a few new things.
If you're not acquainted with Bow Builder, it is a fast and easy process which you can run through and customize literally everything on your bow. You will only have to manage the bow to find out what I mean. It's big enough to accommodate most compound bows which are on the marketplace and used heavily by hunters.
[collapse]
https://arrows2bows.com/wp-content/uploads/2019/12/1-300x138.png
0
0
superadmin
https://arrows2bows.com/wp-content/uploads/2019/12/1-300x138.png
superadmin
2019-12-23 09:16:28
2019-12-23 12:13:56
Mathews Vertix Compound Bow