Compare PSE Brute NXT Compound Bow with other bows: See other PSE Compound bows for sale
PSE Brute NXT for sale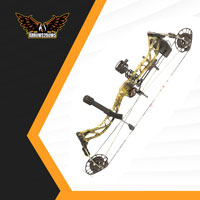 Brace Height: 6.5 "
Axle to Axle Length: 30.75 "
Draw Length: 22.5 " - 30 "
Draw Weight: 55 lbs - 70 lbs
IBO Speed: 328 - 320 fps
Weight: 3.5 lbs
PSE Brute NXT Review
Bringing something back from the dead usually involves science and some element of horror, but PSE has created a whole new definition of what a revival can look like. The new PSE Brute NXT brings back an old and loved bow design that archers used to love and brings it into the modern era with new advances and improvements in every department.
Things to Consider Before Buying
The revived Brute NXT takes everything that archers loved about the old Brute and updates it to fit the needs of modern archers. The overall presence of the bow looks more modern than the old bow and comes in a form factor that is ready for action straight out of the gate. The frame size of just under 31 inches is great for the modern archer looking for a compact shooting package that has plenty of power to take on any hunt.
The new Brute Binary cam system offers shooting speeds of up to 328 fps, which is very impressive for a bow of this size and weight. The new cam system was not only added to help improve overall speed, but it gives archers more customization and personalization that ever before. The cams allow for an impressive 50 percent draw-weight adjustment, so that archers can start out with the bow shooting easily and slowly and then dial it up to shoot at its full potential when the archer is ready.
In addition to the adjustable draw weight, the Brute can adjust its draw length from 22.5 to 30 inches so archers of all shapes and sizes can find their perfect shooting point with one bow. PSE refers to this bow as the "SUV" of hunting bows and its new mix of features and upgrades from the older model makes it a well-earned title.
Who Should Buy it?
The smaller frame and ample power of the Brute makes it a great bow for any archer looking for a lot of power in a small package. The lower weight and adjustable power levels also make this bow a great option for beginners who feel comfortable starting out with a bow they can adjust and grow into.
Who Shouldn't Buy it?
The revival of the Brute is the answer many have been waiting for, but not all archers will share the sentiment. The Brute offers a great package for learning and smaller archers, but its smaller size and somewhat low top end performance is not what experience hunters will look for.
Pros
The revival of the Brute brings a classic bow into the modern era
A small frame and low weight make for easy shooting
The adjustability of the bow makes it great for learning
Cons
Many experienced archers will find this bow too small and lacking power
Final thoughts 
Bringing back the Brute NXT brings the joy of hunting to a new generation with the bow offering adjustable performance and smooth shooting to anyone looking to take on the Brute.
Video Review
Specifications for the PSE bow: Brute NXT
| | |
| --- | --- |
| Brace Height | 6.5 " |
| Axle to Axle Length | 30.75 " |
| Draw Length | 22.5 " – 30 " |
| Draw Weight | 55 lbs – 70 lbs |
| IBO Speed | 328 – 320 fps |
| Weight | 3.5 lbs |
| Let-Off | 80% |
3 quick questions about PSE Brute NXT
More about bows online
PSE bows for sale
The PSE Brute NXT Compound Bow
The PSE Brute NXT Compound Bow has proven to be an extremely successful bow to its users, as a result it continues to evolve to meet the needs of its users and customers. Because it is made by PSE which stands for Precision Sellers and Distributors, it has come a long way since its launch in 1995. Now the product is offered in a number of different versions, each with their own features. Each version contains a newer technology that increases its ability to shoot straight even when using a very soft arrow.
This makes the PSE Brute NXT Compound Bow one of the most versatile bows ever released. It is also more than capable of shooting a high quality arrow without being damaged by any wind. The combination of the robust design and the ability to shoot straight from any direction means that this is a bow that will last you for many years. There are many models of this bow in use today, with each model improving upon the capabilities of the other. Some models are not available in the United States, and therefore more people are choosing to get their bow from a shop outside of the country.
There are many features that make the PSE Brute NXT Compound Bow such a popular choice. For example, it is built from a set of five hard-wearing carbon fiber tubes which are meticulously hand-engineered to achieve a strong and rigid structure. They are also made of a material called duracarp, which is known for its strength. The strings are also made of a stronger material that will last much longer than cotton. There are also a number of features that make this bow suitable for both indoor and outdoor use.
[collapse]
https://arrows2bows.com/wp-content/uploads/2019/12/1-300x138.png
0
0
superadmin
https://arrows2bows.com/wp-content/uploads/2019/12/1-300x138.png
superadmin
2020-07-17 12:10:12
2020-08-18 07:28:16
PSE Brute NXT Compound Bow