Compare PSE Carbon Air 34 Compound Bow with other bows: See other Compound bows for sale
PSE Carbon Air 34 bow for sale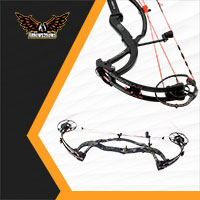 Brace Height: 6 "
Axle to Axle Length: 32 "
Draw Length: 27 " - 30 "
Draw Weight: 50 lbs - 70 lbs
IBO Speed: 340 fps
Weight: 3.2 lbs
Carbon Air 34 reviews
For the archer looking for a bow that can be adjusted for any situation, the PSE Carbon Air 34 may be just the bow for you. Coming equipped with new and improved technologies from its predecessors, the Carbon Air 34 provides the complete package for an archer looking to consistently hit their shots.
Things to consider Before Buying
Building off and improving upon its 2016 model in almost every way, the 2017 PSE Carbon Air 34 has implemented several new technologies that make it perfect for a wide range of situations. With its new EVOLVE cam system, the Carbon Air 34 provides the shooter with one of the smoothest draws on the market, as well as the ability to be adjusted for different hunting or target practice scenarios. With the new cams and improvement to stability, this bow can consistently shoot at around 336 FPS. In addition to the improved cams, the Carbon Air 34 has also introduced the AirGlide cable guard that helps to reduce friction on the bow and works in tandem with the wide-track limb system to provide uncompromised stability and accuracy for consistent shooting.
Who Should Buy This Bow?
While this bow may seem like anyone could use it, there are a few key factors that make the Carbon Air 34 suited for a particular group of archers. In general, this bow would be perfect for the intermediate to experienced archer. While its design is fairly standard, the power it packs and its wide range of adjustability make it best suited for someone with knowledge on bow tuning.
Who Shouldn't Buy it?
Even if the high price tag wasn't enough of a turn off, this bow should realistically be avoided by beginners. While its look and overall weight is approachable enough for beginners, the power and finer details of this bow really require someone with more experience to get the most out of the bow. For someone who isn't a fan of adjusting and tinkering with their bow, this bow may also not be for them, as the PSE Carbo Air 34 is centered around the idea of personal customization and shooting preferences.
Pros
Highly adjustable and customizable bow suited for various uses
Includes many worthwhile and substantial improvements on its predecessor
Due to its carbon construction, the bow is very light
The package of the bow comes with every accessory necessary
Cons
 Being an older model, this bow may not have parts readily available
 This bow comes in at a very high price bracket, even with its age
 The bow can be too powerful upon first shooting it
Final Thoughts
With a package that is designed to be fine-tuned to the archers liking, the PSE Carbon Air 34 is an excellent bow that innovates on its older model and improves its usability. While not ideal for the newer archer or someone on a budget, this bow provides a reliable and accurate package that will serve an archer well.
Video Review
Specifications for the PSE bow: Carbon Air 34
| | |
| --- | --- |
| Brace Height | 6 " |
| Axle to Axle Length | 32 " |
| Draw Length | 27 " – 30 " |
| Draw Weight | 50 lbs – 70 lbs |
| IBO Speed | 340 fps |
| Weight | 3.2 lbs |
| Let-Off | 80% |
3 quick questions about PSE Carbon Air 34
🏹 Who owns PSE Carbon Air 34 bows?
PSE (Precision Shooting Equipment) is a privately owned American archery supply company founded by Pete Shepley in Mahomet, Illinois.
🏹 Do you need a license to own a PSE Carbon Air 34 bow?
No
More about bows online
PSE bows for sale
By the moment you get your hands on it, you'll be amazed by its remarkable performance and aesthetic look. There are things to consider prior to getting one. There are lots of great bows available on the market, and this year is no exception.
Essentially, draw weight of your bow is dependent on the stiffness and building of the limbs. So yes, it is a featherweight. In the end, a Take-down bow is great for beginners because it permits you to correct your draw weight.
They also entice hunters stalking game because they are simpler to use and could arrive in camouflage design too. 1 other reason I am rather impressed with Hoyt Archery is they have the ideal high quality factory strings of any bow available on the market. Or perhaps you simply need a terrific all-around hunting bow, even supposing it is not the very best in any 1 trait.
The Hoyt Spyder 34 is a wonderful bow. If you would rather have a rock-solid back wall, this may not be the bow for you. Thus, I personally found it to be quite smooth for such speedy bow.
Whatever you will need for your next archery date, you can locate it on Amazon.com. Available now at your regional Hoyt retailer. Available now at your regional Mathews retailer.
It's well worth remembering you could quickly grow your draw weight after you start. It's a cam unlike any other. The draw cycle is significantly improved, and you may even adjust the rear wall's feel.
[collapse]
https://arrows2bows.com/wp-content/uploads/2019/12/1-300x138.png
0
0
superadmin
https://arrows2bows.com/wp-content/uploads/2019/12/1-300x138.png
superadmin
2019-12-23 09:16:28
2019-12-27 11:13:08
PSE Carbon Air 34 Compound Bow