Compare PSE Drive R Compound Bow with other bows: See other Compound bows for sale
PSE Drive R bow for sale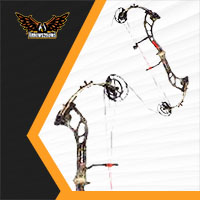 Brace Height: 7 "
Axle to Axle Length: 30 "
Draw Length: 25 " - 30.5 "
Draw Weight: 50 lbs - 70 lbs
IBO Speed: 328 fps
Weight: 3.8 lbs
Drive R reviews
For the hunter stalking their prey in the early morning forest, silence is king. One wrong step and you break a branch that sends your trophy buck running off to never be seen again. When it comes to silence, the PSE Drive R compound bow makes sure that the only sound heard in the forest is you cheering after a clean kill.
Things to consider before buying
The Drive R comes in looking like any other compound bow yet leaves a lasting impression on all who have shot with it. The Drive R builds off of the PSE drive-style cam system which are easily adjusted and provide smooth shooting for a clean shot. With a heavier weight than most other bows in its category, the Drive R may seem like a burden on paper, but the added weight becomes your ally when you need a stable and silent shot. The high speed of a 326-fps shot leaves this bow with enough power and performance to stop almost any target. The world balanced is used most often among users of this bow as its combination of a hefty weight and smooth draw make for a bow that is as equally deadly as it is silent.
Who should buy it?
The Drive R is an excellent bow for a wide range of archers due to its adjustability and price point. Easy to handle and lacking excessive vibration means that a beginner would be as happy with this bow as a seasoned veteran and both archers would be able to adjust it to their liking. For the archer looking for a bow with a little more heft, this is the one.
Who Shouldn't buy it?
Coming in at a heavy weight of 4.6 pounds, this bow is great when it comes to taking the shot but can be a real burden to lug around for some archers. This bow may not be ideal for younger archers or female archers unless they are comfortable with the weight and find it appropriate.
Pros and Cons
Pros
 One of the most well-rounded bows on the market combining performance and features
 The heavy weight means this bow absorbs noise and vibration better than most other bows
 The bow comes in a package that includes all the basics needed to use it
 The power of this bow for the price is impressive and stands out among other similar bows
Cons
 The bow is heavier than most and can be a hassle to carry around
 Some archers may find the lack of vibration hard to shoot with and unnatural
Final Thoughts
The PSE Drive R is an unassuming bow that leaves a positive impression on any who shoot with it. While it weighs more than its competitors, the benefits to stability and noise reduction as a result of the heavier weight are worth it. An overall well rounded and balanced package, the Drive R is an excellent bow for any archer.
Video Review
Specifications for the PSE bow: Drive R
| | |
| --- | --- |
| Brace Height | 7 " |
| Axle to Axle Length | 30 " |
| Draw Length | 25 " – 30.5 " |
| Draw Weight | 50 lbs – 70 lbs |
| IBO Speed | 328 fps |
| Weight | 3.8 lbs |
| Let-Off | 75% |
3 quick questions about PSE Drive R
🏹 Are PSE Drive R bows made in America?
All their compound bows are made in America at their Tucson, Arizona production facility.
🏹 Who owns PSE Drive R bows?
The company was founded by Pete Shepley in Mahomet, Illinois, and has its corporate headquarters in Tucson, Arizona.
🏹 Do you need a license to own a PSE Drive R bow?
No
More about bows online
PSE bows for sale
When it is hot, you'll be hot. PSE Archery offers all the needed replacement parts. There is just a right-hand model.
It may be a small bit better it feels like on this bow. Naturally, like every bow, there'll eventually be upgrades, but it'll be a while with the Surge. On account of the high FPS, it isn't unreasonable this isn't an exact adjustable bow.
A few of this might have been due to our distinct testing circumstance. A superb thing, in reality, as it may be too much. Considering all the high-tech progress in the market, pick the best compound bow to fulfill your needs can feel overwhelming.
This PSE compound bow model also has a B.E.S.T. grip and it's incorporated into the riser. Nevertheless, stability isn't impaired as a result of it due to the reflexed riser. It is not really something new, it is the same grip you can find on the Target models, maybe a bit wider.
Among the ideal hunting compound bows within this price range that you are able to get. If you would like bare-bones abusive, Ariels and Caterhams are usually cheaper, and you'll be able to drive many of them on the street. In addition, it has laser engraved marking for effortless tuning.
A bow is basically a shooting platform, and Prime is about offering a super stable shooting platform. It can fit somebody just beginning, or somebody really big been shooting for some time and any size between. It has quite a consistent shot.
[collapse]
https://arrows2bows.com/wp-content/uploads/2019/12/1-300x138.png
0
0
superadmin
https://arrows2bows.com/wp-content/uploads/2019/12/1-300x138.png
superadmin
2019-12-23 09:16:28
2019-12-31 11:25:21
PSE Drive R Compound Bow