Compare Southland Archery Supply Destroyer Compound Bow with other bows: See other Compound bows for sale
Southland Archery Supply Destroyer bow for sale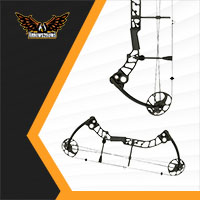 Brace Height: 7 "
Axle to Axle Length: 31 "
Draw Length: 19 " - 30 "
Draw Weight: 19 lbs - 70 lbs
IBO Speed: 320 fps
Weight: 3.85 lbs
Supply Destroyer reviews
Getting into a new hobby or sport can often be an expensive process that requires a lot of money to get going and involved. When it comes to archery, it is easy to spend well over a thousand dollars when trying to get into the sport. The Southland Archery Supply Destroyer compound bow wants to help remove that barrier of entry.
Things to consider before buying
For the beginner looking to get into archery on a budget, the Destroyer provides all of the power they will need at an incredibly affordable price. This bow can fire arrows at over 320 fps providing all the power a new archer could need at the range or when hunting. The adjustable draw weight that can be changed between 11-55 pounds makes sure that any archer can pick up the bow and shoot it without having to strain themselves. The CNC machined rise is designed to ensure a package that will stand up to the test of time and keep the bow shooting effectively. By equipping the Destroyer with a dual cam system often seen on much more expensive bows, Southland Archery Supply makes sure that shots are consistent and powerful enough to help any archer improve their shooting.
Who should buy it?
The Southland Destroyer is perfect for anyone looking to get into of archery for as little money as possible. With adjustability and ease of use, this bow is at the right price and skill level for young archers or older archers. No matter who buys this bow, they will be happy in knowing they are buying a bow that will teach them the fundamentals of archery and can grow as they learn. The construction and power of this bow will allow for practical use for any beginner archer as they learn.
Who shouldn't buy it?
If you are looking for a new bow and have archery experience, the Destroyer would not be ideal for you. With a relatively low power that is not suited for long-time shooters, this bow may be slightly underwhelming for someone used to more powerful and expensive bows and would only leave them looking for a little more performance and features.
Pros
 The bow is incredibly affordable, given its impressive power output
 The CNC milled riser ensures a steady grip and stability in shooting
 Having a dual cam system at the price of this bow is a nice addition
Cons
 This bow is really only suitable for new archers looking for experience with a bow
 The low price leads to some quality issues with certain parts of the bow
Final Thoughts
The perfect bow for the beginner on a budget, the Southland Archery Supply Destroyer is all the bow that a beginner could need. While its low price and lack of features may turn away more experienced archers, any beginner would be more than pleased to use the destroyer to get them into archery on a budget.
Video Review
Specifications for the Southland Archery bow: Supply Destroyer
| | |
| --- | --- |
| Brace Height | 7 " |
| Axle to Axle Length | 31 " |
| Draw Length | 19 " – 30 " |
| Draw Weight | 19 lbs – 70 lbs |
| IBO Speed | 320 fps |
| Weight | 3.85 lbs |
| Let-Off | 80% |
3 quick questions about Southland Archery Supply Destroyer
🏹 Are Southland Archery Supply Destroyer bows made in America?
A quality bow that is made in Taiwan but the limbs are made in the United states. and it's sold by an American company.
🏹 How much does a Southland Archery Supply Destroyer bow cost?
This is a good cheap compound bow.
More about bows online
Southland Archery bows for sale
It isn't the fastest one on the industry, but it is quite robust and strong. The exact same driver survived each moment. The can system isn't difficult to adjust.
The LH bow version doesn't exist. With each bow order, you will get a bow manual too. This bow includes arrows which are extremely convenient.
In terms of the assembling, it doesn't come put together. There's no model for left-handers. The cam process is made of aluminum.
Bow weight is likewise very important element. The Dimensions Of Bow Firstly, we must speak about the item dimensions. You may shop all their products via their on-line shop on their official SAS site.
The general construction of the bow is extremely durable. The majority of the moment, inexpensive compound bow packages consist of entry-level accessories you'll probably need to upgrade sooner or later. This bow is advised for beginners and youngsters.
Decocking is equally as easy. Nonetheless, the strength of it isn't impaired.
The bow is appropriate for target shooting too. This bow includes a max draw weight of 70lbs, that's the typical draw weight you'll discover on higher priced models also. This compound bow is constructed of high-quality material, it is quite sturdy and extremely durable.
[collapse]
https://arrows2bows.com/wp-content/uploads/2019/12/1-300x138.png
0
0
superadmin
https://arrows2bows.com/wp-content/uploads/2019/12/1-300x138.png
superadmin
2020-01-06 09:16:00
2020-01-06 12:21:50
Southland Archery Supply Destroyer Compound Bow