Compare Bear Traxx Compound Bow with other bows: See other Compound bows for sale
Bear Traxx bow for sale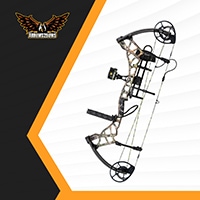 Brace Height: 6.75 "
Axle to Axle Length: 31.625 "
Draw Length: 26.5 " - 31 "
Draw Weight: 50 lbs - 70 lbs
IBO Speed: 338 fps
Weight: 4.0 lbs
Traxx reviews
The Bear Traxx is a stripped-down hunting bow with blistering speeds that nearly performs like a speed bow. It doesn't have some of the newest, fanciest features, but that simplicity keeps it affordable, and it has everything you need to deliver accurate, powerful shots time after time. 
Overview
The Bear Traxx has Bear's famous H3 hybrid cam system, with a rotating module that makes draw length adjustments fast and simple, without needing a bow press, additional module, or special tools. The cam delivers an exceptionally smooth feel throughout the draw curve.
It has split limbs with pivoting limb pockets for great strength and durability. It also has dual adjustable string suppressors that reduce vibration and noise, making it an extremely quiet bow. The Traxx has two grips: a slim grip on the riser, and a removable rubber grip for improved comfort and warmth in cold temperatures. It's great to have a choice of grips built in to the bow.
The bow has a smooth, effortless draw and a solid back wall. It has the feel of a longer bow with a compact, more maneuverable size. It has a narrow valley, but the brace height and let-off make for a great compromise between speed and forgiveness. It is available in Realtree Xtra Green (with black limbs) and Shadow/black finishes.
Pros
Extremely well-balanced hunting bow
Delivers smooth shots that don't lack speed or power
Quiet and shock-free
Dual grips for improved comfort
Affordable
Cons
Lack of color options, and even the Realtree Xtra Green option still has black limbs and pockets
Doesn't have an advanced cable slide system
Conclusion
The Bear Traxx is a simplified bow that doesn't have all the features and technologies Bear Archery usually packs into their flagship models. This keeps the bow affordable, and doesn't inhibit performance, but archers who want all the latest technologies may want to add accessories or simply upgrade to a top-of-the-line compound bow. For those who appreciate a compound bow that strikes a great balance between comfort and maneuverability, smoothness and speed, performance and price, the Bear Traxx is a great bow to consider. 
Video Review
Specifications for the Bear bow: Traxx
| | |
| --- | --- |
| Brace Height | 6.75 " |
| Axle to Axle Length | 31.625 " |
| Draw Length | 26.5 " – 31 " |
| Draw Weight | 50 lbs – 70 lbs |
| IBO Speed | 338 fps |
| Weight | 4.0 lbs |
| Let-Off | 75% |
3 quick questions about Bear Traxx
🏹 Is The Bear Traxx bow good for beginners?
It is an affordable stripped-down hunting bow. Beginner and not looking for a hunting bow. Take a look here.
🏹 How much does a Bear Traxx bow cost?
This bow is in the cheaper end.
🏹 What type of bow is a Bear Traxx bow?
This is a compound bow with focus on being a great hunting bow.
More about bows online
Bear bows for sale
The bow certainly resembles a Hoyt with its distinctive riser design. It also comes in a number of finishes with the most popular finishes being RealTree Xtra camo as well as shadow, sand and olive. Bear's whitetail hunter compound bow is quite a versatile bow that is chiefly liked and used by the hunters due to its attractive capabilities.
[collapse]
https://arrows2bows.com/wp-content/uploads/2019/12/1-300x138.png
0
0
superadmin
https://arrows2bows.com/wp-content/uploads/2019/12/1-300x138.png
superadmin
2020-01-06 10:10:00
2020-01-06 11:05:18
Bear Traxx Compound Bow