Compare Bear Wild Compound Bow with other bows: See other Compound bows for sale
Bear Wild bow for sale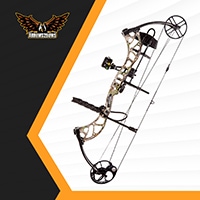 Brace Height: 7.25 "
Axle to Axle Length: 32.25 "
Draw Length: 24 " - 31 "
Draw Weight: 40 lbs - 70 lbs
IBO Speed: 310 fps
Weight: 4.0 lbs
Wild reviews
The Bear Wild compound bow is a very durable, lightweight, portable, and affordable compound bow. This particular model comes at a great price, and while it doesn't have quite the best performance, it's a good choice for average hunters. While it is not the highest performing compound bow in the world, it's very accurate, it barely takes any power to draw, and it features awesome longevity; it's the kind of bow that will last for years.
Overview
The Bear Wild Compound Bow is designed to provide an all-around decent hunting experience. The bow itself weighs 4 pounds, making it a very lightweight option. The riser is made of machined aluminum, complete with composite limbs, both of which are lightweight and durable, as well as fairly average in performance. The cable slide system may be an older system, but it's also very reliable.
The grip is integrated into the riser and it's convenient thanks to the slim grip, making it comfortable to hold. The Bear Wild Compound Bow is designed with a single cam system, which is very accurate, although the performance is not the best. However, this single cam system comes with a simple tuning process. Another convenient aspect is the large valley, so shooters have room to relax when the bow is fully drawn.
The Bear Wild Compound Bow comes in 50 to 60 and 60 to 70-pound models, plus it features an 80% let-off, which means that it can be drawn with relative ease. The IBO FPS of this bow is around 310, which is decent, albeit not great, but it also takes next to no power to draw, not to mention that it is extremely durable considering the low price. The other standout feature is how the draw length can be adjusted from 24 to 31 inches without needing a bow press.
Pros
Simple – ideal for beginners
Very accurate
Easy draw
Simple adjustments
High level of durability
Affordable
Cons
Draw weight range is limited
Limited FPS
Conclusion
The Bear Wild compound bow is designed for novices and average bow hunters. It comes at a very affordable price, and although it's not the fastest shooter out there, it is very accurate, durable, and lightweight, not to mention extremely simple to use.
Video Review
Specifications for the Bear bow: Wild
| | |
| --- | --- |
| Brace Height | 7.25 " |
| Axle to Axle Length | 32.25 " |
| Draw Length | 24 " – 31 " |
| Draw Weight | 40 lbs – 70 lbs |
| IBO Speed | 310 fps |
| Weight | 4.0 lbs |
| Let-Off | 80% |
3 quick questions about Bear Wild
🏹 Who owns Bear Wild bows?
Escalade Sports
🏹 Do you need a license to own a Bear Wild bow?
No
More about bows online
Bear bows for sale
The bow certainly resembles a Hoyt with its distinctive riser design. It also comes in a number of finishes with the most popular finishes being RealTree Xtra camo as well as shadow, sand and olive. Bear's whitetail hunter compound bow is quite a versatile bow that is chiefly liked and used by the hunters due to its attractive capabilities.
[collapse]
https://arrows2bows.com/wp-content/uploads/2019/12/1-300x138.png
0
0
superadmin
https://arrows2bows.com/wp-content/uploads/2019/12/1-300x138.png
superadmin
2020-01-03 12:10:00
2020-01-07 09:19:45
Bear Wild Compound Bow