There's an awful lot to love about target archery. Whether you're a bowhunter trying to keep your skills sharp during the off-season or you just love the thrill of competition, target archery has something to offer.
However, not all compound bows are created equal. Some bows are better suited for target shooting than others. Compound bows can be particularly confusing, especially for those new to the sport.
Knowing what qualities to look for in a good target bow will help you be successful, whether you're punching targets in the backyard or on the competition field. Don't worry, we're here to help walk you through the specific characteristics to look for in a quality compound bow for target shooting. We even have a few specific recommendations.
In A Hurry? Check This Out:
PSE Archery, Inc has been manufacturing high-quality compound bows since 1971. Their Evoke 35 SE is our top pick for target archery. It has some of the best feeling cams in the industry. Providing a smooth draw and a firm back wall, this target rig is an absolute joy to shoot.
Although designed to be a longer framed hunting bow, the Evoke 35 SE has specifications that transfer well to target archery, especially sport league and 3D competition. If you want to use one bow all year long, this one allows you to swap a few accessories and jump straight from the treestand to the competition field.
How to Choose the Best Compound Bow for Target Shooting
Choosing a compound bow for any shooting application is a highly personal decision. A compound bow acts like an extension of the body, so it must fit the shooter's individual body structure. Because no two archers are exactly alike, there is no one "best" compound bow. A model that works well for one person, may not work as well for another.
What is a Target Bow?
The easy answer to this question is: "A target bow is any bow you use to shoot targets."
Can it be your hunting bow? Absolutely. Many bowhunters choose to compete with their hunting rigs. Other archers may choose to have another set-up dedicated solely to competition shooting.
While most compound bows can be used for target shooting, there are a few qualities that make some models better suited for the job than others.
When a bow is labeled as a "target bow," it usually means the bow is accurate and forgiving. The common way for manufacturers to achieve this is to make a compound bow with a lengthy axle-to-axle measurement, a generous brace height, slower arrow speed, and a fancy paint job.
Brace Height and Arrow Speed
Many manufacturers design their hunting compound bows to be speed demons. One of the main ways they achieve this is with a short brace height.
Brace height is basically how wide a bow is when it is at rest. Brace height is measured from the deepest part of the grip to the bowstring. Generally, a bow with a longer brace height is more forgiving and produces slower arrow speeds.
A short brace height produces faster speeds. This is because the string remains in contact with the arrow longer, allowing it to get some extra push behind it.
However, a short brace height also makes a bow less forgiving for the same reason. Because the string contacts the arrow for a longer period of time, the archer must maintain perfect form longer, holding it until the arrow leaves the string completely behind. This means that minor flaws in form are magnified by a bow. This is what it means to say a bow is "less forgiving."
Shorter brace heights and faster arrow speeds do have advantages. One advantage is they help minimize mistakes when judging distance. Since hunters rarely know the EXACT distance to their targets, speed is important. Speed also helps deliver penetration, an important feature when you're trying to pierce deep vitals.
In target archery, speed is less important than forgiveness. (3D target archery is the exception. Although penetration isn't an issue, extra arrow speed is a major asset when shooting targets at unknown distances.)
Compound target bows are built for precision rather than speed. Most have a brace height between 7 and 9 inches.
Axle to Axle Length
The axle to axle length is the distance from one cam pin (or axle) to the other. Generally speaking, the longer the axle-to-axle length, the more forgiving the bow will be. However, you want to find a length that "fits."
Shorter archers will feel more comfortable shooting a shorter bow. However, this has more to do with draw length than height. When an archer with a short draw length (say 27 inches) shoots a bow with a long axle-to-axle length (Let's go with 39 inches), the string angle will be steep and may feel uncomfortable. It can also make it more difficult for the archer to find a consistent anchor point.
Ultimately, you want your target bow to feel right. If at all possible, head to your local archery shop to test drive a few models before making a decision.
Fancy Paint Jobs
Obviously, the color of your target bow has zero bearing on how well it shoots. However, the World Archery rule book prohibits camouflage colors of any kind on any equipment or clothing. If you plan to compete in any World Archery events, you should consider purchasing a colored bow rather than a camo one.
Other Things to Consider
Once you understand what qualities to look for in a compound bow for target shooting, there are a few other things to consider.
Left- or Right-Handed
When first starting out, many archers choose a bow that corresponds to their dominant hand. In other words, if the archer is right-handed, they opt for a right-handed bow. Although this seems like common sense, it could actually cause some serious issues with shooting consistency.
The more important thing to consider is eye dominance. Rather than choosing a bow that fits your dominant hand, you should find one that corresponds to your dominant eye. For most people, this will be the same. However, a small portion of the population is considered cross dominant, meaning they are dominant with one hand, but their dominant eye is on the other side of the body.
You can determine eye dominance with this simple test:
Extend your arms in front of you and form a triangular window with your thumbs and forefingers.
Center the window over an object in the distance.
Close first one eye and then the other, observing any shifts in the object's position.
The object should appear to shift when one eye is open, but stay mostly centered when viewed with the other.
Your dominant eye is the eye you had open when the object stayed mostly centered in your triangular window.
If that sounds confusing, don't worry. Here is a simple video to help you better understand the process.
Draw Length
The draw length of the bow must match the draw length of the archer to allow for consistency and accuracy.
The draw length of a compound bow is measured at full draw from the point the arrow makes contact with the string to the deepest part of the grip.
Measuring the archer's draw is a little more complicated. To get the most accurate draw measurement, visit an archery pro shop. If that isn't possible, you can approximate your draw at home.
Spread your arms out wide. Measure the distance from the tip of your middle finger on one hand to the tip of your middle finger on the other. Once you have that measurement, divide it by 2.5 to get your approximate draw length.
After you have determined your own draw length, you want to make sure you choose a compound bow that matches it. Most modern compound bows have adjustable draw lengths, so make sure you check the owner's manual to see how to properly adjust them. For best results, you may need to make another trip to your local archery shop.
Draw Weight
Draw weight is the amount of force required to pull the bowstring back fully. The "best" draw weight for a target bow is largely a matter of preference. A bow with too much draw weight will be difficult to shoot accurately, especially as the archer gets tired.
The most important thing is for the archer to be comfortable. Draw weights on target bows are less important than on hunting rigs, where speed and penetration are essential elements for ethical kills.
It is also important to note that the maximum draw weight allowed in FITA and World Archery events is 60 pounds.
Our Top Picks
PSE Archery hit a definite home run with their new Evoke series of compound bows. Featuring PSE's Evolve cam system, these user-friendly rigs are designed with serious adjustability in mind. 
Unlike most modern compound bows that require separate modules to adjust draw length, Evolve cams offer easy adjustment with a simple rotation of the mods in half-inch increments. You can even easily adjust the bow's let-off from 80 to 90 percent with this exclusive cam system.
The Evolve Cams are actually some of the best feeling cams in the industry, offering a smooth draw, a firm back wall, and producing some respectable arrow speeds.
The Evoke's riser design features top and bottom cages for extra rigidity and stability. The design also helps disperse vibration and reduce hand shock on arrow release.
If we were going to change anything on this model, it would be the grip. There are no additions to the grip area, making it a bit uncomfortable for high volume shooting (especially in colder outdoor temperatures). However, it does provide a fairly instinctive grip that is easy to keep consistent.
With a 35-inch axle-to-axle length and a 6.75-inch brace height, the PSE Evoke 35 SE offers plenty of forgiveness, making it well-suited for target competition.
Although PSE designed this model as a longer framed hunting bow, the specs transfer well for sport league and 3D shooting. If you want to swap a few accessories and shoot the same rig all year, this bow is hands down the best option on the list.
Pros:
Caged riser for increased rigidity and stability
Easy to adjust draw length
Smooth draw cycle with a solid back wall
Allows the shooter to shoot the same bow on the target field and during hunting season
Cons:
The minimalist grip is a little uncomfortable
Does not come as a ready-to-shoot package
Hoyt Prevail
Many of the world's top archers routinely dominate the tournament circuit using Hoyt compound bows. The Prevail series is the result of ceaseless research, innovation, and testing, using input from top competitive archers around the globe.
These sleek target bows feature a new and innovative cam design (the X3 Cam & ½) that delivers a buttery smooth draw, 65 or 75 percent let-off, and a solid back wall.
One of the best features of the Hoyt Prevail series is the patent-pending modular grip system. Each bow comes with four different grip modules that allow you to fine-tune your grip pressure by changing the grip angle. The different grips let you achieve your own dead center hold, no matter what your shooting style.
You can choose between models with three different axle-to-axle lengths – 35, 37, and 40. The Prevail also comes in a huge range of classic Hoyt colors. You can choose from cobalt blue, pearl white, jet black, and matte violet, just to name a few.
This model is a solid, reliable, high-performance target rig, and it has a price tag that matches that performance. Unfortunately, the price will be well out of range for some archers. However, if it fits within your budget, the Hoyt Prevail is (quite literally) hard to beat.
Pros:
It's a Hoyt
The modular grip system allows you to fine-tune and center your hold
X3 cam and ½ design has one of the smoothest draws in the industry
Available in three axle-to-axle lengths
You can choose from a whole rainbow of colors
Cons:
Expensive
Does not come as a ready-to-shoot package
Mathews TRX 38
No list of the best compound bows would be complete without at least one model from industry leader Mathews. The TRX is the company's new flagship competition series and it does not disappoint.
Mathews added a new wider riser that increases rigidity through the sight and rest-mounting locations for extra stability. They have also added extra riser cutouts to keep the weight light and manageable. The new riser design also features 3D Dampening that reduces post-shot vibration to near zero.
The brace height on the Mathews TRX 38 measures 7.5 inches, which provides unmatched forgiveness. Additionally, Mathews' proprietary Crosscentric Cam system adds extra consistency, delivering accurate energy that can easily deliver a tournament win when held in competent hands.
Like most high-end tournament bows, the TRX comes with a fairly hefty price tag. However, in the world of target archery, it is typically true that you get what you pay for. The TRX 38 is well worth every dollar you'll invest.
Pros:
A wide, lightweight riser design
The 3D Dampening reduces post-shot vibration for dead-in-the-hand comfort
7.5-inch brace height provides unmatched forgiveness
The Cross Centric Cam system produces efficient energy and consistent performance
Cons:
Expensive
Does not come as a complete package
Diamond Archery Infinite Edge Pro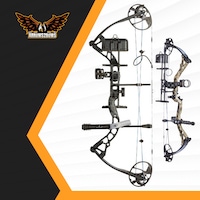 Brace Height: 7 "
Axle to Axle Length: 31.5 "
Draw Length: 13 " - 31 "
Draw Weight: 5 lbs - 70 lbs
IBO Speed: 310 fps
Weight: 3.2 lbs
If the likes of Hoyt and Mathews leave you with sticker shock, you're going to love the Diamond Archery Infinite Edge Pro. This affordable compound bow comes as a ready-to-shoot package that is perfect for novice target shooters. However, more serious archers may want to upgrade some of the accessories.
This is one of the most versatile bows on the market. So if you want to do your hunting and target shooting with the same set-up, this bow is a great option.
The Infinite Edge Pro is made in the USA. It features a great redesigned synchronized binary cam system for a flawlessly smooth draw, and has a fully integrated stabilizer that provides extra balance for a steadier shot.
The Infinite Edge Pro measures 31 inches from axle to axle and has a forgiving brace height of seven inches. The draw length and weight are highly adjustable, allowing you to truly customize your set-up to fit your strength and body structure
Pros:
Comes as a ready-to-shoot package
Affordable price tag
The synchronized binary cam system provides a smooth draw and solid back wall
Integrated stabilizer for extra balance
Adjustable draw length and draw weight
Cons:
Some of the included accessories are low quality and should be upgraded
Bear Archery Divergent EKO Iron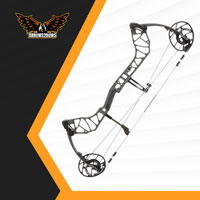 Brace Height: 6.5 "
Axle to Axle Length: 30 "
Draw Length: 26 " - 30 "
Draw Weight: 45 lbs - 60 lbs
IBO Speed: 338 fps
Weight: 4.1 lbs
The Bear name is almost synonymous with bowhunting, and while the Divergent EKO is built for the woods, it also feels perfectly at home on the 3D competition field. This compact, lightweight rig has an axle-to-axle length of 30 inches and a brace height of 6.5 inches. But don't let the size fool you. The Divergent EKO offers consistent performance and arrow speeds perfect for unknown distance shooting.
The unique EKO hybrid cam system is highly adjustable and allows you to choose from four different cam positions. Pick from settings that provide 75, 80, 85, or 90 percent let-off without compromising performance.
We also love the Divergent EKO's hinge guard, which allows the cables to move laterally through the draw cycle. This provides a silky, smooth draw that feels more natural than the standard cable guards on most models.
Pros:
Allows you to use the same bow for hunting and target shooting
Adjustable EKO hybrid Cam system
Smooth, natural draw cycle
Cons:
Compact size makes it less forgiving than a dedicated target bow
Not available as a ready-to-shoot package
Summing It Up
We've picked the PSE Archery Evoke 35 SE as our top choice for the best compound bow for target shooting. This model feels just as much at home in a treestand as it does on the target range. This makes it an ideal choice for bowhunters who want to keep things super simple and shoot the same bow year round.
While the Mathews TRX 38 and the Hoyt Prevail are known to dominate the competition field, they both require a significant financial investment. For the average target shooter, PSE's Evoke is definitely the more practical option.
You shouldn't feel like you're settling, however. This compound bow offers performance and features that serious target shooters will really appreciate.
The Evoke 35 SE has one of the smoothest cam systems on the market. Not only are the Evolve cams smooth as silk, they produce some pretty respectable arrow speeds (something both the bowhunter and 3D shooter will appreciate).
The bow's dimensions and caged riser provide plenty of stability and enough forgiveness to cover a multitude of form inconsistencies. In our opinion, you'll be hard-pressed to find a better compound bow for target shooting.
https://arrows2bows.com/wp-content/uploads/2020/05/Featured_Best-Compound-Bow-for-Target-Shooting_05122020.jpg
321
845
superadmin
https://arrows2bows.com/wp-content/uploads/2019/12/1-300x138.png
superadmin
2020-05-07 12:31:22
2020-05-12 12:50:27
The Best Compound Bow for Target Shooting