Compare Diamond Infinite Edge Pro Compound Bow with other bows: See other Diamond Compound bows for sale
Diamond Infinite Edge Pro bow for sale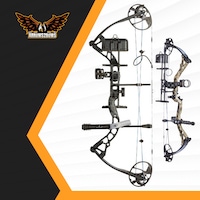 Brace Height: 7 "
Axle to Axle Length: 31.5 "
Draw Length: 13 " - 31 "
Draw Weight: 5 lbs - 70 lbs
IBO Speed: 310 fps
Weight: 3.2 lbs
Infinite Edge Pro reviews
There is not much difference between the Diamond Infinite Edge and the Infinite Edge Pro compound bow, but Diamond has extended the draw length to 31-inches in the pro model. This means now you can make adjustments from 13 to 31 inches. The rest of the features are almost identical between the two rigs.
Things to consider before buying
Just like Infinite Edge bow, the Pro version comes with draw weights from 5 to 70 lbs. The axel-to-axel length of this bow is similar at 31 inches. However, with more draw length, let off also goes up to 80%. Nevertheless, this doesn't alter the shooting speed that the pro version can generate and it is the same as that of Infinite Edge.
Draw cycle
Again, just like the Infinite Edge, the eccentric system of this rig is not aggressive. Hence, peak draw weight occurs slowly and without humps. With this much adjustability available, the Infinite Edge and Edge Pro are great rigs.
Riser, limb, and grip
Thie Infinite Edge Pro is also an entry-level bow, without featuring much technology. There is a parallel limb, just like in the case of Infinite Edge, as well as the riser made of single machined aluminum. The limbs are durable and solid.
Cams
It features a double-cam system, which means that you can conveniently shoot arrows with high precision. Therefore, this bow allows you to shoot arrows with good precision and improve your skill with the passage of time.
Who should buy it?
This is another good option for you to consider if you are learning the art of archery. The Diamond Infinite Edge Pro will suit you well.
Who shouldn't buy it?
This is not the best choice rig for archery experts. They won't find it useful unless they use it with the peak draw weight.
Pros
Excellent starter rig
Extremely lightweight
Highly adjustable
Arguably the best rig for target shooting
Cons
The grip is slightly squared still
Final Thoughts
This is a good quality rig if you are looking to consider an option for a starter bow you can continue to use over time as your skills grow. The Diamond Infinite Edge Pro is designed to grow with you and you can use its wide adjustability features to tune it according to your requirements.
Video Review
Specifications for the Diamond bow: Infinite Edge Pro
| | |
| --- | --- |
| Brace Height | 7 " |
| Axle to Axle Length | 31.5 " |
| Draw Length | 13 " – 31 " |
| Draw Weight | 5 lbs – 70 lbs |
| IBO Speed | 310 fps |
| Weight | 3.2 lbs |
| Let-Off | 80% |
3 quick questions about Diamond Infinite Edge Pro
🏹 How much does a Diamond Infinite Edge Pro bow cost?
This is one of the cheaper bows, which also makes it an even better beginner bow.
🏹 What type of bow is a Diamond Infinite Edge Pro bow?
Extremely lightweight compound bow and a good place to start, if you are new to archery.
More about bows online
Diamond bows for sale
The 1 reason you can have for wanting to change out your bow is for private preference. Know that the bow isn't prepared to shoot. As a result of this specific feature this bow can likewise be used for bow fishing because you can snap shot with it quite easily. Quite simply, if you're likely to purchase a new compound bow, it is reasonable find one that you'd love to keep.
[collapse]
https://arrows2bows.com/wp-content/uploads/2019/12/1-300x138.png
0
0
superadmin
https://arrows2bows.com/wp-content/uploads/2019/12/1-300x138.png
superadmin
2019-12-07 09:48:57
2020-02-02 08:27:54
Diamond Infinite Edge Pro Compound Bow