Compare Bear DIVERGENT EKO Compound Bow with other bows: See other Bear Compound bows for sale
Bear DIVERGENT EKO bow for sale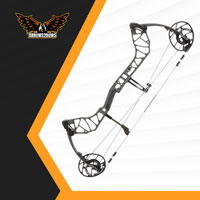 Brace Height: 6.5 "
Axle to Axle Length: 30 "
Draw Length: 26 " - 30 "
Draw Weight: 45 lbs - 60 lbs
IBO Speed: 338 fps
Weight: 4.1 lbs
DIVERGENT EKO reviews
One of the companies ahead of the curve and already releasing their 2020 bows, Bear, is also one of the most trusted names in archery equipment. The 2020 Bear Divergent EKO compound bow is a continuation of one of their most popular designs, with impressive sound and vibration reductions that really shine in the field. But, as with any bow, it's worth taking a closer look before you decide if the 2020 Divergent EKO, or an earlier version, are the right bow for you.
Things to Consider Before Buying:
One of the first things that stands out about this bow, especially compared to other compound bows in its performance class, is its price tag. Despite being marketed as one of the best bows Bear has ever produced, the 2020 Divergent EKO is a good $100 cheaper than competitor models. Especially for bows with an IBO above 335 fps, the Divergent EKO's IBO is 338 fps, this can be considered a wallet-friendly model.
It's also reasonably sized. 30" from axel to axel, and just over 4 lbs., you can take the Divergent EKO into even the trickiest blinds. It does seem designed more for hunters than competition shooters, although the Divergent EKO does perform well in both settings.
You also have a high degree of control over the let off with this cam system. Starting at 75% let off, you can calibrate the bow through 4 different settings, up to its maximum 90% let off. The weight range is slightly lower than we're used to seeing on high-performance bows, ranging from 45-60 lbs., without a 70 lbs. option. But that lower weight doesn't significantly impact either arrow speed or power. It's enough for big game animals, as well as longer-distance shooting.
The new string suppressors and limb dampener also create an impressively vibration-less performance. It's a quiet bow, without the addition of any further suppressors or sound dispersal tools.  That said, this bow does come with a sight and most of the other important accessories you'll want to add. While you can use alternatives, it's not a requirement, making it even more affordable.
Who should buy it:
This is one of the few premium bows that is highly beginner-friendly. While designed for the more experienced archer, and particularly for hunters, beginners that can afford it will be well-rewarded by a bow that can keep up with them, however skilled they become. It's lower draw weight, while a disadvantage in some respects, also means that it's friendly for younger and weaker archers who still need to train up to a stronger draw.
Who shouldn't buy it:
This is one of the more versatile and affordable bows out there, so it's hard to pinpoint any particular group of archers that should avoid it. That said, it's also a very new model. If you've ever been burned on buying new equipment before it was widely tested and reviewed, you may want to hold off a few months until the 2020 Divergent EKO has been more extensively user-tested.
Pros and Cons:
Pros:
More affordable than most high-performance bows
Highly adjustable cams for greater let-off control
Compact 30" axel-to-axel design is perfect for hunting blinds and multiple-target shooting
Impressive 338 fps IBO
Cons:
The new model hasn't been extensively user tested
It doesn't have the full 70 lb. draw that has become standard with premium compound bows
Final Thoughts:
Both well-rounded and affordable, the Bear 2020 Divergent EKO's biggest weakness is its newness. That said, backed by Bear, and based on an already successful design, we think that the 2020 Divergent EKO is a solid investment for any archer ready to upgrade to a premium bow. It's even slightly more wallet-friendly than comparable equipment.
Video Review
Specifications for the Bear bow: DIVERGENT EKO
| | |
| --- | --- |
| Brace Height | 6.5 " |
| Axle to Axle Length | 30 " |
| Draw Length | 26 " – 30 " |
| Draw Weight | 45 lbs – 60 lbs |
| IBO Speed | 338 fps |
| Weight | 4.1 lbs |
| Let-Off | 90% |
3 quick questions about Bear DIVERGENT EKO
🏹 Are Bear DIVERGENT EKO bows made in America?
Yes
🏹 How much does a Bear DIVERGENT EKO bow cost?
The price is around $700.
More about bows online
Bear bows for sale
[collapse]
https://arrows2bows.com/wp-content/uploads/2019/12/1-300x138.png
0
0
Maja
https://arrows2bows.com/wp-content/uploads/2019/12/1-300x138.png
Maja
2020-01-03 09:40:22
2020-04-20 08:13:25
Bear DIVERGENT EKO Compound Bow