Compare Bowtech Boss Compound Bow with other bows: See other Compound bows for sale
Bowtech Boss bow for sale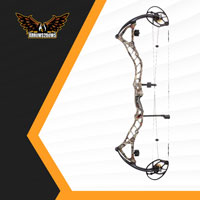 Brace Height: 7 "
Axle to Axle Length: 36 "
Draw Length: 26.5 " - 32 "
Draw Weight: 40 lbs - 70 lbs
IBO Speed: 333 fps
Weight: 4.6 lbs
Boss reviews
The Bowtech Boss compound bow is an ideal option when it comes to long-draw shooters. This is the kind of compound bow that is ideal for competitions, target practice, and hunting. It is very quiet and vibration free, it's speedy and accurate, and quite adjustable. It's a bit heavy, but it does have 3 different settings which make it one of the more versatile options out there.
Things to consider before buying
A big feature is the Overdrive binary cam system with PowerDisc Tech. This allows for a very smooth draw, lots of power, and a good level of adjustability. It's like having a 3-in-1 bow, as it can be adjusted to either a performance, comfort, or traditional setting.
The performance setting provides the best speed and accuracy, but it does take a bit of muscle to draw with a let-off of only 65%. However, in the other settings, the let-off is closer to 80%, which makes it easy to draw.
The draw length can be adjusted simply by loosening the mod, rotating it, then tightening it. What hunters will appreciate is the included silencing package, which comes with DuraFlex string dampers, an FLX cable guard, and an overall quiet and vibration-free design in general, making it ideal for hunters to preserve their cover.
The Bowtech Boss compound bow features a machine aluminum riser, along with durable and heavy-duty components. It's a solid bow that can get years of use, and it can produce a fairly high top speed of 333 FPS. However, this bow is very heavy and quite large; it's not particularly ideal for smaller shooters or people who need something compact for tree stand or ground blind hunting.
Pros
Extremely quiet and vibration free
Decent FPS
Easy to adjust
Very solid and durable
Performance, comfort, and traditional setting
Very fast and accurate
Cons
Very heavy
Performance mode has minimal let-off and virtually no back wall
Final thoughts
Although the Bowtech Boss compound bow may be a bit large and heavy, thus not ideal for tight spaces, it does feature 3 settings to allow shooters maximum adjustability. It's fast, accurate, easy to adjust, and it packs quite a punch, not to mention that it's also one of the more durable compound bows out there.
Video Review
Specifications for the Bowtech bow: Boss
| | |
| --- | --- |
| Brace Height | 7 " |
| Axle to Axle Length | 36 " |
| Draw Length | 26.5 " – 32 " |
| Draw Weight | 40 lbs – 70 lbs |
| IBO Speed | 333 fps |
| Weight | 4.6 lbs |
| Let-Off | 80% |
3 quick questions about Bowtech Boss
Are Bowtech Boss bows any good?
How much does a Bowtech Boss bow cost?
Do you need a license to own a Bowtech Boss bow?
More about bows online
Bowtech bows for sale
The bow certainly resembles a Hoyt with its distinctive riser design. It also comes in a number of finishes with the most popular finishes being RealTree Xtra camo as well as shadow, sand and olive. Bear's whitetail hunter compound bow is quite a versatile bow that is chiefly liked and used by the hunters due to its attractive capabilities.
[collapse]
https://arrows2bows.com/wp-content/uploads/2019/12/1-300x138.png
0
0
superadmin
https://arrows2bows.com/wp-content/uploads/2019/12/1-300x138.png
superadmin
2019-12-03 12:10:00
2020-01-11 15:53:05
Bowtech Boss Compound Bow