Compare Bowtech RPM 360 Compound Bow with other bows: See other Bowtech Compound bows for sale
Bowtech RPM 360 bow for sale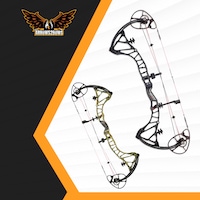 Brace Height: 6 "
Axle to Axle Length: 31 "
Draw Length: 24 " - 30 "
Draw Weight: 40 lbs - 70 lbs
IBO Speed: 360 fps
Weight: 4.4 lbs
RPM 360 reviews
When this bow was introduced, it might well have been the fastest compound bow ever with its new design of riser and a redesigned pocket. Despite its ability to shoot fast, it is smooth and very quiet in operation. It is available in draw weight ranges from 50-70 lbs.
Things to consider before buying
This bow can shoot at a blistering speed of 360 fps, so you can definitely go for some long-range shooting with this bow. However, unlike most speed bows, it has a very quiet rig.
Riser
The Bowtech RPM 360 rig has a 31-inch axel-to-axel length and comes with a 6-inch brace height. Furthermore, it is equipped with the latest trapezoidal I-beam riser. You can make adjustments to the bow to get your accurate shot. The weight is 4.4 pounds, like most of the compound bows from Bowtech. The FLX Guard eliminates the riser torque and provides high accuracy in the shots.
Finish
This rig comes in different colors and patterns. You can choose the good old "Mossy Oaks Infinity" or "Blackops". In addition to that, "Realtree APG HD" and "Realtree AP" are also available.
Cams
Overdrive is by far the most advanced cam system that the company has developed. It is a dual cam synced system and it provides your bow with the best tunability options, without compromising the consistency.
Who should buy it?
You can go for long-range shooting as well as hunting. Your buck is not going to go anywhere when you have this compound bow in your hands.
Who shouldn't buy it?
This is not the ideal compound bow for novices. Not a good choice for those who are looking to buy a cheap compound bow.
Pros
Superfast yet quiet
Available in both right-handed and left-handed models
Versatile and easy to shoot
Rotating Modules
Cons
You need a stabilizer with this bow out-of-the-box
Ball bearings tend to fall out from the silencing kit
Final Thoughts
Bear in mind that this is a speed bow, so it's going to work like one. However, unlike other speed bows, it doesn't make a loud sound. Although the vibration is already quite low, you can eliminate it altogether by adding a stabilizer.
Video Review
Specifications for the Bowtech bow: RPM 360
| | |
| --- | --- |
| Brace Height | 6 " |
| Axle to Axle Length | 31 " |
| Draw Length | 24 " – 30 " |
| Draw Weight | 40 lbs – 70 lbs |
| IBO Speed | 360 fps |
| Weight | 4.4 lbs |
| Let-Off | 80% |
3 quick questions about Bowtech RPM 360
🏹 Who owns Bowtech RPM 360 bows?
Norwest Equity Partners.
More about bows online
Bowtech bows for sale
In order to avoid injury and make sure correct shooting methods, it's crucial to be in a position to keep the bow fully drawn for at the very least a minute without shaking and also to draw the compound bow smoothly at any instant of the entire draw cycle. Above all, make them know what you are searching for in a bow and the way you'll use it in the area. Besides these technical things, it's also advisable to look at purchasing a bow with additional perks, including an optic sight, camouflage etc.. This bow doesn't draw as a speed bow, as it is extremely smooth. It is also very quiet, unlike the typical speed bow. Bowtech brand bows are for the most part made from aluminum.
[collapse]
https://arrows2bows.com/wp-content/uploads/2019/12/1-300x138.png
0
0
superadmin
https://arrows2bows.com/wp-content/uploads/2019/12/1-300x138.png
superadmin
2020-01-02 10:48:00
2020-02-02 07:56:42
Bowtech RPM 360 Compound Bow