Compare Bowtech Reign 7 Compound Bow with other bows: See other Bowtech Compound bows for sale
Bowtech Reign 7 bow for sale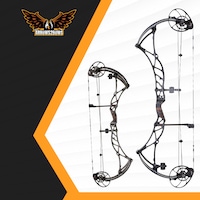 Brace Height: 7 "
Axle to Axle Length: 32.625 "
Draw Length: 25 " - 31 "
Draw Weight: 40 lbs - 70 lbs
IBO Speed: 340 fps
Weight: 4.3 lbs
Reign 7 reviews
The Reign 7 compound bow is like the big brother of Reign 6. It features the same SmartBow technologies that Reign 6 has. These SmartBow technologies make sure that the bow fits well in your hand and meets all your requirements, no matter what environment you are shooting in. This rig packs a shooting speed of 340 fps.
Things to consider before buying
The draw length of this bow ranges between 25 and 31 inches while the draw weights available for this bow are 50, 60, and 70 pounds. Its brace height is 7 inches, and you can easily tame it according to your needs.
Riser
The Reign 7's riser comes with the axel-to-axel length of 32.625 inches. The brace height is 7 inches as well, so you can make the adjustments to the bow to make your shots more accurate in different settings. The 4.3-pound weight feels nice in your hands as you make your shots. It also includes the FLX Guard to add extra power in the shots.
Finish
Bowtech provides its customers with multiple finish options. This bow comes in two different solid color options. You can choose "Blackops" as well as "Flat Dark Earth." However, if you are looking for camouflage patterns, then you can choose "Break Country Mossy Oaks," "Gore Optifade Subalpine" or "Kryptek Altitude."
Cams
Bowtech started a revolution by introducing SmartBow technologies, with their bows making a splash in the market. One of these technologies is the Overdrive cam system. With this system, you can easily tune the bow according to your preferences and requirements in different conditions.
Who should buy it?
This is a good solid compound bow that is effective in almost any condition and you can use it for 3D shooting and hunting.
Who shouldn't buy it?
Again just like Reign 6, the Reign 7 compound bows are not suitable for target practice. If you are a good shooter, this bow is for you.
Pros
Outrigger stabilization
FLX Guard to reduce riser torque
Overdrive cam system
Powershift for draw cycle adjustment
Cons
The bow is not for target practice
Final Thoughts
With a 7-inch brace height and a shooting speed of 340 fps, this compound bow packs a power punch for hunting small to medium-sized game.
Video Review
Specifications for the Bowtech bow: Reign 7
| | |
| --- | --- |
| Brace Height | 7 " |
| Axle to Axle Length | 32.625 " |
| Draw Length | 25 " – 31 " |
| Draw Weight | 40 lbs – 70 lbs |
| IBO Speed | 340 fps |
| Weight | 4.3 lbs |
| Let-Off | 80% |
3 quick questions about Bowtech Reign 7
🏹 Is Bowtech Reign 7 bows good for beginners?
We would probably choose a different one. See what we suggest beginners to buy.
🏹 Who owns Bowtech Reign 7 bows?
Norwest Equity Partners.
🏹 Do you need a license to own a Bowtech Reign 7 bow?
No
More about bows online
Bowtech bows for sale
A popular sort of bow used is known as the compound bow. Needless to say, compound bows have their own difficulties. They don't look a lot like most other bows. For bows, there are a number of compound bows and conventional bows. The modern compound bow has evolved to generate using the weapon simpler for the hunter.
[collapse]
https://arrows2bows.com/wp-content/uploads/2019/12/1-300x138.png
0
0
superadmin
https://arrows2bows.com/wp-content/uploads/2019/12/1-300x138.png
superadmin
2020-01-02 10:48:00
2020-02-02 07:55:46
Bowtech Reign 7 Compound Bow