Compare G5 Prime Logic CT3 Compound Bow with other bows: See other G5 Compound bows for sale
G5 Prime Logic CT3 bow for sale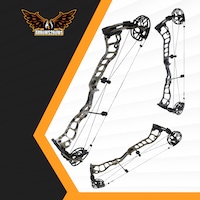 Brace Height: 6.5 "
Axle to Axle Length: 33 "
Draw Length: 24.5 " - 30 "
Draw Weight: 30 lbs - 80 lbs
IBO Speed: 335 fps
Weight: 4.4 lbs
Prime Logic CT3 reviews
Designed from the original model, the G5 Prime Logic CT3 compound bow is smoother and more accurate. Its shootability is remarkable.

This 33-inch ATA bow is highly adjustable with peak draw poundage at 80, 70, 65, 50, and 40 pounds. Not to mention that its draw-length adjustments are cam specific.
Things to Consider Before Buying
The G5 Prime Logic CT3 is an extension of the original G5 Prime Logic bow. It features a similar TRM cam system and split limbs.
It has a brace height of 6.25 inches, draw weight of 40 to 80 pounds, draw length of 24.5 to 30 inches, let-off of 70% to 90%, and IBO speeds of up to 335 feet per second.
The G5 Prime Logic CT3 compound bow was released in 2019, following the release of the original G5 Prime Logic in 2018. The CT3 is the little sibling of the original G5 Prime Logic. Unlike its older brother, the Logic CT3 features higher speeds of up to 335 FPS and it is more stable and accurate.
The bow comes with an impressive ready-to-hunt package that includes: a string stop, cable guard, string silencers, D-loop and limb dampeners.
Who Should Buy it?
This is a great bow starter bow for beginners and an excellent choice for those who shoot at the range.
Who Shouldn't Buy it?
The Logic CT3 is not the best bow if you are looking for a very forgiving model.
Pros:
Maneuverable and stable
Strong riser boosts more consistence performance
Machined grip allows for comfortable hand placement
Flexible split limbs are highly adjustable
Draws smoothly and holds greatly at full draw
Cons:
A bit heavy considering it is a 33-inch ATA
Not very forgiving of shooting errors
Final Thoughts
It isn't the fastest bow, but it is more efficient with an adjustable let-off that allows you to hold at full draw, while improving your aim. Its adjustable draw weight, starting at 40 pounds, is ideal for most shooters. 
The bow, however, is a little bit heavy and not extremely forgiving. If you can overlook these minor flaws, then this bow is a suitable choice for beginners and target shooting.
Video Review
Specifications for the G5 bow: Prime Logic CT3
| | |
| --- | --- |
| Brace Height | 6.5 " |
| Axle to Axle Length | 33 " |
| Draw Length | 24.5 " – 30 " |
| Draw Weight | 30 lbs – 80 lbs |
| IBO Speed | 335 fps |
| Weight | 4.4 lbs |
| Let-Off | 70% – 90% |
3 quick questions about G5 Prime Logic CT3
Is G5 Prime Logic CT3 bows good for beginners?
How much does a G5 Prime Logic CT3 bow cost?
What type of bow is a G5 Prime Logic CT3 bow?
More about bows online
G5 bows for sale
The bow comes in many of color alternatives. This bow is extremely simple to draw, though there's a little dump into the valley. Or perhaps you simply want a terrific all-around hunting bow, even supposing it is not the greatest in any 1 trait.
If you want to use the bow for hunting, you will need to think about the practicality of hunting with a lengthier bow. This bow is about balance. Longer ATA bows are somewhat more appropriate for longer shots in addition to spot and stalk style hunting.
[collapse]
https://arrows2bows.com/wp-content/uploads/2019/12/1-300x138.png
0
0
superadmin
https://arrows2bows.com/wp-content/uploads/2019/12/1-300x138.png
superadmin
2020-01-31 11:49:00
2020-01-31 11:58:00
G5 Prime Logic CT3 Compound Bow