Compare G5 Prime Centroid Compound Bow with other bows: See other G5 Compound bows for sale
G5 Prime Centroid bow for sale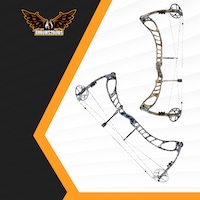 Brace Height: 7 "
Axle to Axle Length: 34.25 "
Draw Length: 27 " - 31 "
Draw Weight: 40 lbs - 70 lbs
IBO Speed: 332 fps
Weight: 4.0 lbs
Prime Centroid reviews
The G5 Prime Centroid compound bow is built on the brand's tight light technology that allows the cables to move towards the arrow, reducing riser torque.
The engineering that is featured in this bow provides you with a smooth and balanced draw that is perfect for shooting at the range and hunting.
Things to Consider Before Buying
One of the all-time best G5 Prime bows, the Centroid, comes with a 34.25-inch ATA, brace height of 7 inches, draw length of 27 to 31 inches, draw weight of 40 to 70 pounds, let-off of 80%, and IBO speed of 332 feet per second.
The Centroid first appeared on the market in 2011. A year later, the company released a more lightweight version to improve maneuverability.
When you buy it for the first time, it comes ready to use with string silencers, limb dampeners, a string stop, a cable guard, limb pockets, and a stabilizer mount.
It is the older brother of the G5 Prime Shift from the same brand. But this second version of the stands out as the more stable, balanced, and accurate choice.
Who Should Buy It?
Target shooters, hunters, and 3D shooters. Visualization won't be a problem, before and after every shot.
Who Shouldn't Buy It?
As impressive as it is, the G5 Prime Centroid isn't a good choice for youth or small-figured archers.
Pros:
Has an extremely smooth draw
Very forgiving brace height that doubles on comfort
Ti-glide flexible cable guard improves efficiency
Parallel cam system reduces cam lean by almost 25%
Cons:
May be a little noisier than you would have expected
Not fast enough when hunting easily spooked game
Final Thoughts
The construction of the G5 Prime Centroid compound bow trades off speed, but gives you a very smooth, stable, and balanced draw for accuracy and precision.
You might also be a little bit concerned with the noise it generates. But, if you choose to ignore the minor flaws, you will have a very stable, balanced, and accurate bow for hunting and target range.
Video Review
Specifications for the G5 bow: Prime Centroid
| | |
| --- | --- |
| Brace Height | 7 " |
| Axle to Axle Length | 34.25 " |
| Draw Length | 27 " – 31 " |
| Draw Weight | 40 lbs – 70 lbs |
| IBO Speed | 332 fps |
| Weight | 4.0 lbs |
| Let-Off | 80% |
3 quick questions about G5 Prime Centroid
Is G5 Prime Centroid bows good for beginners?
How much does a G5 Prime Centroid bow cost?
Do you need a license to own a G5 Prime Centroid bow?
More about bows online
G5 bows for sale
A bow is basically a shooting platform, and Prime is about supplying a super stable shooting platform. Because they are very closely matched the final decision on which one to choose really comes down to shooter preference. Shooting this bow is absolute joy. No other lightweight and streamlined bow available on the market will permit you to continue to keep your pins on target and enhance your accuracy like the Centergy Air.
[collapse]
https://arrows2bows.com/wp-content/uploads/2019/12/1-300x138.png
0
0
superadmin
https://arrows2bows.com/wp-content/uploads/2019/12/1-300x138.png
superadmin
2019-12-31 11:49:00
2020-01-23 11:19:49
G5 Prime Centroid Compound Bow