Compare G5 Prime Alloy Compound Bow with other bows: See other G5 Compound bows for sale
G5 Prime Alloy bow for sale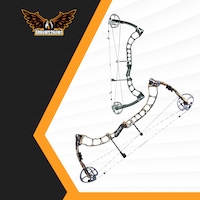 Brace Height: 6.75 "
Axle to Axle Length: 33.25 "
Draw Length: 26 " - 30 "
Draw Weight: 40 lbs - 70 lbs
IBO Speed: 290 fps - 335 fps
Weight: 4.2 lbs
Prime Alloy reviews
If you want a bow that is designed for stability, balance, adjustability, and easy to acquire consistent anchor points, the G5 Prime Alloy compound bow is an excellent choice.
It impresses with its uniquely engineered counterbalance riser and parallel cam system, which give you the perfect center shot with no cam lean. 
Things to Consider Before Buying
This bow comes with a peak IBO speed of 335 feet per second, the ATA is 33.25-inch, the brace height is 6.75 inches, the draw length is 26 to 30 inches, the let-off is 75%, and the draw weight is 40 to 70 lbs.
In 2014, G5 Prime introduced the Alloy, a bow sure to impress with its unique features. A year later, Prime offered Alloy users a new and improved version.
The RTH package of the G5 Prime Alloy compound bow includes string silencers, flexing roller cable guard, parallel cams, string stop, limb dampeners, limb pockets, and a stabilizer mount.
The G5 Prime Alloy is the younger sibling of the G5 Prime Defy from the same brand. Head to head, the Alloy stands out as a faster, more stable, and more efficient option.
Who Should Buy It?
Target shooters who want to improve their aim at the range and bow hunters. It offers stability and the perfect center shot.
Who Shouldn't Buy It?
Anyone who is looking for a very forgiving bow. The Alloy is forgiving, but not forgiving enough.
Pros:
Great draw with no rigid feel
Perfect center shot with no cam lean
Very little vibration when releasing the arrow
Flexing roller cable guard increases fluidity
Cons:
Not the most forgiving bow in the market
Stability trades off on speed
Final Thoughts
The G5 Prime Alloy is sleek, stable, and well-balanced. It feels really good in the hand and the grip is very comfortable. The parallel cams and the flexing roller cable guard make it one of a kind.
But all that glitters isn't gold, because the Alloy isn't extremely forgiving and it trades off on speed. Overall, it is a great choice for shooting at the range.   
Video Review
Specifications for the G5 bow: Prime Alloy
| | |
| --- | --- |
| Brace Height | 6.75 " |
| Axle to Axle Length | 33.25 " |
| Draw Length | 26 " – 30 " |
| Draw Weight | 40 lbs – 70 lbs |
| IBO Speed | 290 fps – 335 fps |
| Weight | 4.2 lbs |
| Let-Off | 75% |
3 quick questions about G5 Prime Alloy
Are G5 Prime Alloy bows made in America?
How much does a G5 Prime Alloy bow cost?
What type of bow is a G5 Prime Alloy bow?
More about bows online
G5 bows for sale
A bow is basically a shooting platform, and Prime is about giving a super stable shooting platform. This bow is really a shooter, along with generating impressive speeds. There's no ideal compound bow.
Bows are amazingly individualized parts of equipment. Shooting this bow is absolute joy. No other lightweight and streamlined bow in the marketplace will permit you to continue to keep your pins on target and enhance your accuracy like the Centergy Air.
[collapse]
https://arrows2bows.com/wp-content/uploads/2019/12/1-300x138.png
0
0
superadmin
https://arrows2bows.com/wp-content/uploads/2019/12/1-300x138.png
superadmin
2019-12-31 11:49:00
2020-01-23 11:11:21
G5 Prime Alloy Compound Bow