Compare G5 Prime Impact Compound Bow with other bows: See other G5 Compound bows for sale
G5 Prime Impact bow for sale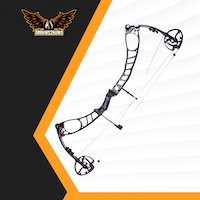 Brace Height: 6.25 "
Axle to Axle Length: 35 "
Draw Length: 26-30 "
Draw Weight: 40-70 lbs
IBO Speed: 340 fps
Weight: 4.5 lbs
Prime Impact reviews
If you are looking for a forgiving bow with a very smooth draw and a very solid back wall, look no further than the G5 Prime Impact compound bow.
This is a very multipurpose 35-inch axle to axle bow that is very impressive at the range, 3D shooting, and when hunting from exaggerated distances.
Things to Consider Before Buying
It is one of the all-time best ever bows since the brand was found in 2000, with a brace height of 6.25 inches, a draw length of 26 to 30 inches and an IBO speed of 340 feet per second.
This heavy-duty bow that was first released into the market in 2013. Another version was introduced in 2014, but with similar specs.
The RTH package of this bow includes a string stop, string silencers, stabilizer mount, arrow rest, peep sight, bow sight, and cable slide.
When compared to its older brother, the G5 Prime Centroid, the G5 Prime Impact proves to be a faster and more stable choice for target shooters and hunters alike.
Who Should Buy It?
Anyone involved with shooting foam, hunting from 70+ yards, and at the range for those stable, fast, and accurate shots.
Who Shouldn't Buy It?
Archers who are used to a longer draw length and those who want a very forging brace height.
Pros:
Comes with a durable and tough handle
Solid limbs that boost a higher poundage adjustment
Cams have two tracks for eliminating cam lean
Hump free valley that has a generous length
Cons:
Cam specific draw length may be a challenge to adjust
It isn't a very forgiving long ATA bow
Final Thoughts
G5 Prime Impact compound bow is a long ATA bow designed for stability, speed, and accuracy. The draw in the back wall in the Impact makes it a pleasure to shoot.
The major concern is the cam specific draw length, which can be quite a struggle to adjust. In general, this is a suitable choice for hunters.   

Video Review
Specifications for the G5 bow: Prime Impact
| | |
| --- | --- |
| Brace Height | 6.25 " |
| Axle to Axle Length | 35 " |
| Draw Length | 26-30 " |
| Draw Weight | 40-70 lbs |
| IBO Speed | 340 fps |
| Weight | 4.5 lbs |
| Let-Off | 65% – 75% |
3 quick questions about G5 Prime Impact
Are G5 Prime Impact bows any good?
How much does a G5 Prime Impact bow cost?
Do you need a license to own a G5 Prime Impact bow?
More about bows online
G5 bows for sale
If you intend to use the bow for hunting, you will need to regard the practicality of hunting with a lengthier bow. Shooting this bow is absolute joy. No other bow available on the market will enable you to continue to keep your pins on target and boost your accuracy like the Centergy.
Principal hunting method ought to be taken into consideration when picking a bow. Longer ATA bows are somewhat more forgiving. They are more suitable for longer shots as well as spot and stalk style hunting.
[collapse]
https://arrows2bows.com/wp-content/uploads/2019/12/1-300x138.png
0
0
superadmin
https://arrows2bows.com/wp-content/uploads/2019/12/1-300x138.png
superadmin
2019-12-31 11:49:00
2020-01-23 12:04:45
G5 Prime Impact Compound Bow