Compare G5 Prime Defy Compound Bow with other bows: See other G5 Compound bows for sale
G5 Prime Defy bow for sale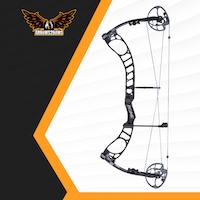 Brace Height: 7.25 "
Axle to Axle Length: 31 "
Draw Length: 26 " - 30 "
Draw Weight: 40 lbs - 70 lbs
IBO Speed: 330 fps
Weight: 4.1 lbs
Prime Defy reviews
The G5 Prime Defy compound bow defies all odds with its compact axle to axle of 31 inches and a moderately fast peak IBO speed of 330 feet per second.
It's a great bow for beginners, for hunting, and for shooting at the range, with its forgiving brace height and impressive draw in the back wall.
Things to Consider Before Buying
Maneuverability is at a premium with the Defy. You also get a draw length of 26 to 30 inches and peak draw weights of 50, 60, and 70 pounds.
The Defy was released in 2013. During the time of its release, it was one of the flagship bows in the industry.
It comes with a very generous RTH package, which includes string silencers, a cable guard, a string stop, an arrow rest, limb dampeners, and a stabilizer mount.
It faces stiff competition from the G5 Prime Shift from the same brand. But the G5 Prime Defy stands out with a more forgiving brace height of 7.25 inches and an adjustable let-off.
Who Should Buy It?
Serious tree stand bow hunters. Its forgiveness, maneuverability, and shootability make it the perfect choice for this type of archer.
Who Shouldn't Buy It?
Archers who want more stability and balance for aiming and shooting past 70 yards.
Pros:
Available with one of the strongest risers in the industry
Very forgiving brace height for a compact design
Highly maneuverable 31-inch axle to axle
Parallel cam technology eliminates cam lean
Cons:
May be a little bit heavy for its compact design
Cam specific draw length may prove challenging to adjust
Final Thoughts
The Defy is a compact, highly maneuverable bow that is very forgiving and holds strong at full draw. Unfortunately, its draw length is cam specific.
G5 Prime Defy compound bow is a hunting bow, it is that plain and simple. That's not to say that it will not perform at the range. 
Video Review
Specifications for the G5 bow: Prime Defy
| | |
| --- | --- |
| Brace Height | 7.25 " |
| Axle to Axle Length | 31 " |
| Draw Length | 26 " – 30 " |
| Draw Weight | 40 lbs – 70 lbs |
| IBO Speed | 330 fps |
| Weight | 4.1 lbs |
| Let-Off | 65% – 75% |
3 quick questions about G5 Prime Defy
Are G5 Prime Defy bows made in America?
Who owns G5 Prime Defy bows?
What type of bow is a G5 Prime Defy bow?
More about bows online
G5 bows for sale
At the close of the day, select your bow based on what feels right. Shooting this bow is absolute joy. Binary cam bows can occasionally be a little notorious for addressing cam lean problems, so this is going to be a huge test for the parallel cam system. A bow is basically a shooting platform, and Prime is about supplying a super stable shooting platform. No other lightweight and streamlined bow available on the market will enable you to continue to keep your pins on target and enhance your accuracy like the Centergy Air.
[collapse]
https://arrows2bows.com/wp-content/uploads/2019/12/1-300x138.png
0
0
superadmin
https://arrows2bows.com/wp-content/uploads/2019/12/1-300x138.png
superadmin
2019-12-31 11:49:00
2020-01-23 11:27:59
G5 Prime Defy Compound Bow