Compare Diamond Carbon Knockout Compound Bow with other bows: See other Compound bows for sale
Diamond Carbon Knockout bow for sale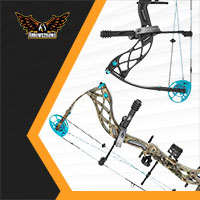 Brace Height: 6.75 "
Axle to Axle Length: 30 "
Draw Length: 22.5 " - 27 "
Draw Weight: 40 lbs - 60 lbs
IBO Speed: 302 fps
Weight: 3.2 lbs
Carbon Knockout reviews
"Inspired by women, for women." This is the message sent by the Diamond Archery Carbon Knockout compound bow. This bow was designed with the female archer in mind and seeks to provide them with the power and comfort they need to reach their full potential as the archer they dream of becoming.
Things to consider before buying
The Diamond Archery Carbon Knockout is a bow that was designed from the ground up with the female archer in mind and includes elements and design cues that expert female archers decided were essential for this bow to succeed. The choice of using a binary cam system and an easily tuned system means that the Carbon Knockout is going to be accurate and consistent in the hands of any female archer. With an incredibly low weight at only 3.2 pounds, the 302-fps output of this bow is impressive and effective for the female hunter looking for a bow that lightweight without lacking the power to kill. This bow also looks the part. A design that is as visually striking as it is effective, means that this bow will be turning heads at the range and in the field.
Who should buy it?
This bow is ideal for the new or experienced female archer. With its lightweight design and comfortable shooting position, this bow makes getting into archery easier than ever before for female archers. Diamond enlisted the help of professional female archers to ensure the Carbon Knockout met their needs and exceeded their expectations in every way. This bow also has potential for the young archer with its low weight and easy-to-draw string that can make for a great learning bow.
Who Shouldn't buy it?
The design of this bow makes it perfect for women looking for an easy-to-shoot bow, but it may not be suited for larger archers. The draw length on the Carbon Knockout is shorter than larger and heavier bows so it might not be sized to work with taller archers. The lower power of this bow could also turn away the more experienced archer, as it is not as powerful as a heavier and larger bow.
Pros and Cons
Pros
 The design of this bow was influenced and adapted by women, for women
 The lightweight construction makes this bow easy to shoot and quiet
 The cam system on this bow is incredibly balanced and easy to adjust
 The bow has a unique coloration that adds color without being tacky
Cons
The bow comes in with a high price tag due to its specialized construction
The size of this bow is not ideal for larger archers
Final Thoughts
The Diamond Archery Carbon Knockout has a design that exudes passion and has elements that any female archer would love. While not the bow for larger archers, the females who currently use and are aspiring to use this bow, know that it was designed with them in mind.
Video Review
Specifications for the Diamond bow: Carbon Knockout
| | |
| --- | --- |
| Brace Height | 6.75 " |
| Axle to Axle Length | 30 " |
| Draw Length | 22.5 " – 27 " |
| Draw Weight | 40 lbs – 60 lbs |
| IBO Speed | 302 fps |
| Weight | 3.2 lbs |
| Let-Off | 80% |
3 quick questions about Diamond Carbon Knockout
🏹 Is Diamond Carbon Knockout bows good for beginners?
Yes this is a great choice for the beginner. Want more beginner choises? Check our post about the best compound bows for beginners here.
This bow is also a really great choice for women in general.
🏹 Who owns Diamond Carbon Knockout bows?
Diamond Achery is owned by Bowtech. They make a lot of great bows both under the brand Bowtech and under the brand Diamond.
🏹 What type of bow is a Diamond Carbon Knockout bow?
This compound bow is made with the ladies in mind.
More about bows online
Diamond bows for sale
[collapse]
https://arrows2bows.com/wp-content/uploads/2019/12/1-300x138.png
0
0
superadmin
https://arrows2bows.com/wp-content/uploads/2019/12/1-300x138.png
superadmin
2020-01-03 09:16:28
2020-01-07 19:23:13
Diamond Carbon Knockout Compound Bow