Compare Bear PROWESS Compound Bow with other bows: See other Compound bows for sale
Bear PROWESS bow for sale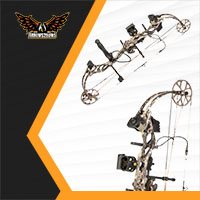 Brace Height: 6.75 "
Axle to Axle Length: 29 "
Draw Length: 23 " - 28 "
Draw Weight: 35 lbs - 50 lbs
IBO Speed: 324 fps
Weight: 2.9 lbs
PROWESS reviews
For a sport that has been dominated by mostly males for years, it can often be intimidating for women to take up archery and feel comfortable with the equipment designed for men. Bear archery looks to eliminate this fear with the Bear Prowess compound bow designed with the female archer in mind.
Things to consider before buying
The Bear Prowess compound bow seeks to create a comfortable platform for female archers looking to enjoy the sport of Archery. The prowess was designed to be lightweight and comfortable while still providing a shooting experience that is on par with more powerful bows. This bow is built with a specially constructed combination of fibers that allows it to have the performance of a heavier bow in a package that is much more approachable for female archers. The Prowess can also shoot arrows at 290 fps for powerful and fast shots. Due to its lightweight construction and the addition of several vibration controlling features, many users have been impressed by the silence and smoothness that the prowess shoots with. The bow comes ready to shoot out of the box and makes sure that anyone can get into archery with its included extra equipment.
Who should buy it?
This bow was specifically designed for women, but the Prowess can be generally used by anyone. The lightweight construction of this bow makes it perfect for the younger shooters or anyone who feels strained by the weight and power of a heavier bow. The Prowess is easily adjusted to fit different archery style and can be shot without much force allowing any female to pick it up and shoot without facing any discomfort and strain.
Who Shouldn't buy it?
While this bow is designed to be approachable and easy to shoot for anyone, the more advanced and experienced archer may find this bow lacking the power they are used to with other bows. The Prowess has enough power for new shooters and women, but archers used to a compound bow with faster speeds and heavier draw weights may dislike the power that Prowess provides.
Pros and Cons
Pros
 The Prowess is a unique bow designed with women in mind
 The carefully chosen materials keeps the weight of the bow low
 The bow package includes everything needed to start in archery
 Many praise this bow for its silence and smooth shooting
Cons
 The Prowess lacks the power to compete with heavier bows
 Due to its niche market appeal, the bow is a little expensive
 The bow may take adjusting to from someone used to other bows
Final Thoughts
The Bear Prowess is a new and exciting bow for the Archery world that combines the experience and excitement of archery with a package that is designed with Women in mind. What this bow lacks in raw power it makes up for with a lightweight design and a silent shot that will leave even the most experienced archer impressed with its performance.
Video Review
Specifications for the Bear bow: PROWESS
| | |
| --- | --- |
| Brace Height | 6.75 " |
| Axle to Axle Length | 29 " |
| Draw Length | 23 " – 28 " |
| Draw Weight | 35 lbs – 50 lbs |
| IBO Speed | 324 fps |
| Weight | 2.9 lbs |
| Let-Off | 80% |
3 quick questions about Bear PROWESS
🏹 Who owns Bear PROWESS bows?
Bear Archery is a manufacturer located in Gainesville, Florida owned by Escalade Sports.
More about bows online
Bear bows for sale
Actually, even young men or boys who are seeking a youth compound bow have never handled a bow before would locate this bit of equipment a terrific tool to begin with. The recurve bow is the sole bow allowed to be utilized in the Olympics. It is quite a high performing bow that's priced very well.
First of all, start looking for a compound bow female that has the best draw length. Last Thoughts This is a good compound bow choice for ladies, thanks to it being a wonderful size for the ordinary female physique, along with customizable to be perfect for almost any woman bow hunter.
Lightweight at only 3 pounds, the bow is an acceptable choice for extended hunting trips. Yet if he can't avoid that, then let him compete through archery. The Bear Archery Finesse is a good bow for ladies.
Adjusting the bow for youth will take a little more effort. Aegis is a skills which may assist with that. These will be the simplest to acquire as it simply involves teamwork.
There's one particular takedown offered for people who need additional portability. It shoots at 285 fps that is pretty fast thinking about the draw weight.
Instead, rotating modules provide a plethora of draw length adjustments that are constructed into the bow. On the other hand, the quick axle may take some time to become accustomed to. No other bow gives the ultra-smooth draw within a cam system along with the power of the EnduraFiber Limbs for such undeniable price.
We've got various orchards for various kinds of apples. Fortunately, women are not totally left out and there are particular manufacturers who've been considerate enough to earn bow-hunting equipment for the female population too.
It's also suggested that you put money into string silencers and vibration dampeners. If you have not ever shot a compound bow before, you are going to want to start low and construct your muscle strength till you can comfortably draw at 40 lbs. Your Bear bow deserves the greatest and we've got a complete field of custom replacement strings to acquire the absolute most out of it.
Along with being a bowhunter, Hanes is likewise an ultra-marathon runner. The Klash is not difficult to adjust with a wide variety of draw lengths from 18-29 inches.
[collapse]
https://arrows2bows.com/wp-content/uploads/2019/12/1-300x138.png
0
0
superadmin
https://arrows2bows.com/wp-content/uploads/2019/12/1-300x138.png
superadmin
2019-12-23 09:16:28
2020-01-07 19:21:44
Bear PROWESS Compound Bow