In the middle of the hunt when the pressure is high, one of the most important factors that will determine whether or not you get the kill is the speed of the arrow. To ensure you have a bow that can hit targets as fast as possible, we've compared several of the fastest bows on the market and found the best.
The Winner: the Bowtech Realm SR6
After looking at several compound bows to determine which was the fastest, many factors were taken into account when trying to determine which deserved to be called the best. The bow that delivers the fastest speeds in the best overall package is the Bowtech Realm SR6.
The fastest compound bow is Realm SR6 that was built with speed and ease of use in mind. It's suited for any hunter to pick up, adjust & shoot fast. Other compound bows come close to its speed, but can't match its consistency & ability to perform quickly & efficiently.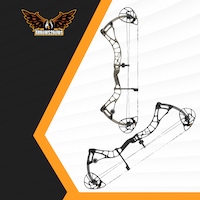 Brace Height: 6 "
Axle to Axle Length: 32 "
Draw Length: 25.5 " - 30 "
Draw Weight: 40 lbs - 70 lbs
IBO Speed: 352 fps
Weight: 4.3 lbs
This model is a real speed bow!
Points to consider before getting a fast compound bow
When looking to find the perfect tool for your hunt, there are a few questions you need to consider before making your purchase. By answering some of the most common questions, you will have a better understanding of what compound bow will be best for your needs and shoot at the speeds you want.
10 of the fastest compound bows
Bowtech Realm SR6 (352 fps) 
Bear Perception (350 fps) 
Mathews Halon 5 (353 fps) 
Hoyt Carbon Defiant Turbo (350 fps) 
PSE Archery Drive R (328 fps) 
Bear Cruzer G2 (320 fps) 
Obsession Lawless 4T (356 fps) 
Martin ADX6 (348 fps)
Prime Black 5  (343 fps)
Benefits of having a faster bow
A fast bow in the hands of a skilled archer can be the difference between hitting a target and having them run away before the arrow hits. Having the ability to instantly release an arrow and knowing it has the speed to hit targets that are constantly moving means you will be able to improve your hunting significantly.
One of the primary benefits of having a fast bow is that the speed of the arrow means that it can fly straighter for a longer time. The ability to remove some of the aim adjustments is instrumental to a clean kill that you can hit without having to worry about accounting for the arrow drop.
An additional benefit to faster arrows is that with the straight-line path of a fast arrow, the energy that is transferred to a target is maintained throughout the shot meaning that a powerful shot hits and takes down the target.
Know your states laws and restrictions
Just like a gun or crossbow, a compound bow requires you to get a permit for use and will require you getting cleared to have one. Depending on the state you live in, the laws and regulations regarding who can buy a bow and when you can use them vary widely.
Most states require a user to be over the age of 16 and possess a valid hunting license to use a bow for hunting purposes. Each state has different specifications they want to see used in hunting bows, but most states have put a minimum draw weight of 40 pounds as the lower limit to ensure that every kill is humane and efficient.
When buying a bow, understand that the power and arrows it has is also regulated by the law with some states not allowing the use of certain arrows or bows that are smaller than regulation, which would both lead to inhumane hunting.
What do you plan on using your bow for?
While all compound bows may seem very similar upon a first glance, there can be many minute differences when it comes to what animals they are designed to hunt. For example, a bow that was built to kill rabbits and turkeys will be ineffective when it comes to ethically killing big game like deer and elk.
The number you want to look for when choosing your bow will be referred to the draw weight and can range anywhere from 30 to 70 pounds of draw weight. When looking for a hunting bow, understanding what you plan on hunting will give you a better idea of how high your draw weight should be.
If you are going after small game and turkeys, a draw weight around 40 should be more than enough for clean kills. When it comes to bigger game and bucks, look towards the 50-70 range of draw weight. This will provide the necessary stopping power for taking down the bigger game.
The draw weight can also have an impact on overall bow speed, and it changes the bow's shooting characteristics.
Accessories to help improve speed
A bow on its own is a powerful tool, but the right accessories can make the speed at which you fire much faster and repeatable.
Release aid
When trying to draw the string back on a heavy bow, it can be incredibly difficult or anyone to hold onto the tension from the string and keep it back. Through the creation of the release aid, a hunter can pull back the string and then displace the weight of the string off of the fingers and onto the rest of the arm, so it is not as tiring.
Once ready to fire, the shooter can release the arrow from a trigger mechanism similar to a gun, making the speed of arrow release incredibly fast and efficient.
A smart aiming sight
Another accessory that can help with shooting faster and more efficiently is a sight that helps with aiming. The traditional sights that come with bows have a few pegs that help account for range, but newer and smarter sights exist that help tell you the range of your target, as well as how to adjust and hit them.
With these new sights it is much easier for almost any hunter to adjust their shot faster than ever before with the help of technology.
The importance of the right arrows
Arguably the most important accessory you will buy for your hunting, your arrows and arrowheads will have various effects on your hunting experience.
For the arrowheads, you can choose from a wide range of different styles and materials that will vary depending on what you are trying to hunt. For example, broadheads are used to hunt big game while bullet arrows are used primarily for smaller animals.
For a fast arrow speed you need the right arrows 😉
They type of head you put on your arrow can affect speed, flight characteristics, and much more.
The arrow's body is also an important consideration as it can affect weight and flying attributes. Investing in some carbon arrow bodies will ensure excellent performance in a lightweight package. A lighter arrow will always shoot faster than a heavier arrow, but the overall strength of the arrow can be reduced as a result, so make sure the arrows you use can handle the draw weight of your bow.
Reviews of the fastest compound bows
Bowtech Realm SR6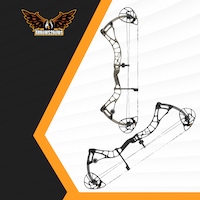 Brace Height: 6 "
Axle to Axle Length: 32 "
Draw Length: 25.5 " - 30 "
Draw Weight: 40 lbs - 70 lbs
IBO Speed: 352 fps
Weight: 4.3 lbs
Designed to be a powerful and lightweight bow, the SR6 is meant to be the bow to go to for any aspiring or seasoned archer to just pick up and use without any fuss.
Thanks to its user-friendly adjustability, an archer of any skill level or ability can take the SR6 and adjust it to their unique preferences in a matter of minutes. With an incredibly fast draw speed and light weight, this bow is designed to be optimized for speed and usability among any group of archers.
The impressive shooting speed of 352 fps means that the SR6 will shoot straight and fast, allowing for all archers to hit their targets with extreme precision. Balanced with stability and speed in mind, the Realm SR6 is truly unique in its uncompromised ability to combine the benefits of a fast bow with the stability of much heavier and cumbersome bows.
Many reviewers and archers deem this to be one of the best overall bows on the market and its combination of speed and performance make it easy to see why.
Pros:
Incredibly high shooting speeds in an easy to use package
Includes several technologies implemented in one package for uncompromised performance
Weight distribution and a binary cam system make for balanced and precise shooting
Cons:
The heavier draw weight could be harder to use for some archers
The complex and well-rounded build means a higher price tag
Bear Perception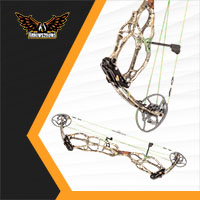 Brace Height: 6 "
Axle to Axle Length: 33 "
Draw Length: 25.5 " - 30 "
Draw Weight: 45 lbs - 70 lbs
IBO Speed: 350 fps
Weight: 4.3 lbs
Looking to change the way we think about hunting bows, the Bear Perception compound bow revolutionizes the game by introducing a shoot-through hunting bow into the market that has never been seen before. The Perception offers no compromises to the hunter in a powerful yet compact package.
Looking to break all of the previously established norms of what a hunting bow looks and performs like, the Perception offers a new and innovative design to the compound bow market that promises to impress.
With an unheard of 350 fps for a shoot-through riser style bow, Bear has created a compact package that is able to shoot at blistering speeds. Coming in at only 4.3 pounds, the Perception also outweighs its class rivals by providing power and accuracy in a lightweight form factor with plenty of power.
With a quad limb design, the Perception is able to evenly distribute the load across the entire bow, allowing for an even distribution of weight for a more comfortable and accurate shot. However, with such great benefits comes a very high price tag to back them up.
This bow has a price tag that may seem hard to justify, but the incredible performance and attention to detail of this bow makes it truly unique and a king in its own class.
Pros:
Leader in new class of shoot-through hunting bows
Design is built for stability and weight distribution
Combines power and a low weight to form a compelling package
Utilizes several technologies to reduce sound and vibrations from shooting
●        Reduced friction with newer Roller Hingeguard technology
Cons:
 Incredibly high price tag that may be out of many budgets
 With an innovative design comes a steep learning curve
 This product is part of a limited run lineup
Mathews Halon 5
Aiming to provide a bow that represents the pinnacle of hunting, Mathews prides itself on innovating and leading the field with their bows. By putting countless hours into their development, the Mathews Halon 5 compound bow has cutting edge features that provide a package that has set the bar for how fast an already excellent Mathews bow can shoot.
With the goal of the Halon 5 to be the fastest and most versatile bow in their line, Mathews designed a revolutionary bow that could adapt and meet the needs of any hunter in any situation.
Through the implementation of the switchweight technology, an archer can forget about the complicated process of disassembling their bow to make minute adjustments and simply change the mod on their Halon 5 to change the weights in a matter of seconds.
Hitting with a staggering 353 fps, the Mathews Halon is able to deliver its impressive power, all while reducing the vibration and noise of the bow through 3D dampening and the smoothness of a crosscentiric cam draw system.
This bow was built by hunters, for hunters and that mindset is clear throughout every detail of the Mathews Halon 5.
Pros
Built with the hunter in mind and is built with integrity
One of Mathews fastest and most powerful bows to date.
Designed with several technologies to reduce noise and vibration of the shots
Comfortable grip is suited for any hand and shooting grip style
Cons
 Made at a small manufacturer so parts may be difficult to find
 The high level of quality leads to a very high price tag
 The weight of the bow is slightly heavier than others of a similar build
 The power of the bow can take some adjustment to get used to
Hoyt Carbon Defiant Turbo
As pioneers in the carbon bow industry, Hoyt's defiant line has been setting the standard for what a bow should shoot and handle like. With the new and improved parallel-riser design, the bow has a new, wider stance that allows for a more resilient and reliable shot.
With the added turbo badge on this bow, you can rest easy knowing you not only have one Hoyt's already excellent bows, but what they think is an even faster and better performing version.
Through the use of carbon components throughout, this bow can reduce the vibration and dissipate energy throughout the entire bow, making this Hoyt's quietest bow yet. By redistributing the weight of the bow to the front of the bow, Hoyt has improved the balance throughout an archer's draw cycle, making for a consistent and deadly shot.
Through the integration of grip adjustment for different shooting positions, smoother shooting, and improved durability, this bow is built to kill consistently and shoot silently at a blistering 350 fps. The mix of a lightweight frame and high-speed abilities make the Defiant an excellent bow. It has heavy hitting performance wrapped in a lightweight package.
Pros
 Lightweight and rigid design due to Hoyt's longstanding carbon construction superiority
 Includes multiple pieces of equipment designed to reduce shock and vibration
 The draw cycle of the bow has been regarded as one of the smoothest motions on a bow
 The bow's riser rigidity allows for accurate shots to be consistently placed at a distance
Cons
 The higher price can be hard to justify for some hunters
 Some hunters have reported issues with the strings losing strength after extended use
PSE Archery Drive R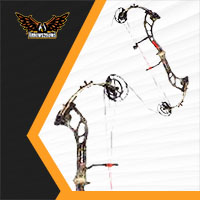 Brace Height: 7 "
Axle to Axle Length: 30 "
Draw Length: 25 " - 30.5 "
Draw Weight: 50 lbs - 70 lbs
IBO Speed: 328 fps
Weight: 3.8 lbs
When it comes to silence, the PSE Drive R compound bow makes sure that the only sound heard in the forest is you cheering after a clean kill.
The Drive R comes in looking like any other compound bow, yet leaves a lasting impression on all who have shot with it. The Drive R builds off of the PSE drive-style cam system, which is easily adjusted and provides smooth shooting for a clean shot.
With a heavier weight than most other bows in its category, the Drive R may seem like a burden on paper, but the added weight becomes your ally when you need a stable and silent shot. The high speed of a 326-fps shot leaves this bow with enough power and performance to stop almost any target.
The world balanced is used most often among users of this bow, as its combination of a hefty weight and smooth draw make for a bow that is as equally deadly as it is silent.
With the combination of a heavier weight and fast speeds, the Drive R is perfect for the hunter looking for a bow that can shoot silently without sacrificing speed.
Pros:
 One of the most well-rounded bows on the market combining performance and features
 The heavy weight means this bow absorbs noise and vibration better than most other bows
 The bow comes in a package that includes all the basics needed to use it
 The power of this bow for the price is impressive and stands out among other similar bows
Cons:
 The bow is heavier than most and can be a hassle to carry around
 Some archers may find the lack of vibration hard to shoot with and unnatural
Bear Cruzer G2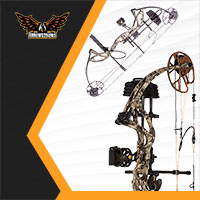 Brace Height: 6.5 "
Axle to Axle Length: 30 "
Draw Length: 12 " - 30 "
Draw Weight: 5 lbs - 70 lbs
IBO Speed: 315 fps
Weight: 3.1 lbs
For the bow hunter who is just starting or getting back into bow hunting, the Bear Cruzer G2 is the perfect bow for the new archer. Although it isn't as fast as some of the other bows on this list, it's very well-suited for beginners.
It combines many elements that beginners need in a wholistic package. The Cruzer G2 is an immense value for the money with impressive performance and speeds that come close to much more powerful and heavy bows.
Whether you have never shot a bow before in your life or are returning to archery later in life, the Bear Cruzer G2 is the perfect bow for someone looking to get their feet wet in the hunting scene with a great package.
With an adjustable draw length that can change its draw length and weight drastically, this bow is designed for anyone and is able to be adjusted to suit the needs of any archer. Coming with all of the essential accessories an archer needs to get started, this bow package will get any aspiring archer ready in no time at all.
While this bow is aimed at new hunters, it still has the well-regarded Bear reputation for quality which can be seen in the bows vibration control systems and grip that offsets fatigue over time. Combined with an impressive speed of 320 fps for the price and weight, the G2 is more than enough bow and speed for the growing and learning archer.
Pros
The Bear Cruzer G2 provides everything a new archer needs to get started
The bow can adjust to an extremely wide range of age groups and abilities
The bow comes in at a very compelling and competitive price point for new archers
The speed is much faster than any other bow at its price range
Cons
The bow has a relatively low speed compared to higher end bows
The bow lacks features that would make it suited for serious hunting
The lower price leads to cheaper construction materials and build quality
Conclusion
In the middle of a hunt when all that matters is hitting your target, the bow that you are hunting with is often the determining factor of whether or not you'll get the kill. From the beginner bows like the Bear Cruzer G2 to the innovative and technical Mathews Halon 5, the range of bows and their speed is incredibly diverse and all provide a different shooting experience. However, the Bowtech Realm RS6 stands out as the best of the pack when it comes to speed.
Combining features that make for an incredibly adjustable bow with the raw power and speed to beat out the competition, the RS6 redefines speed for compound bows and shows that you don't have to sacrifice features and reliability to get fast shots. Other bows came close with high speeds and impressive technology, but none combined it all in a package like the RS6.
Whether hunting turkey or deer, using light or heavy arrows, or in any other situation, the Bowtech Realm RS6 will be the king of speed wherever you take it.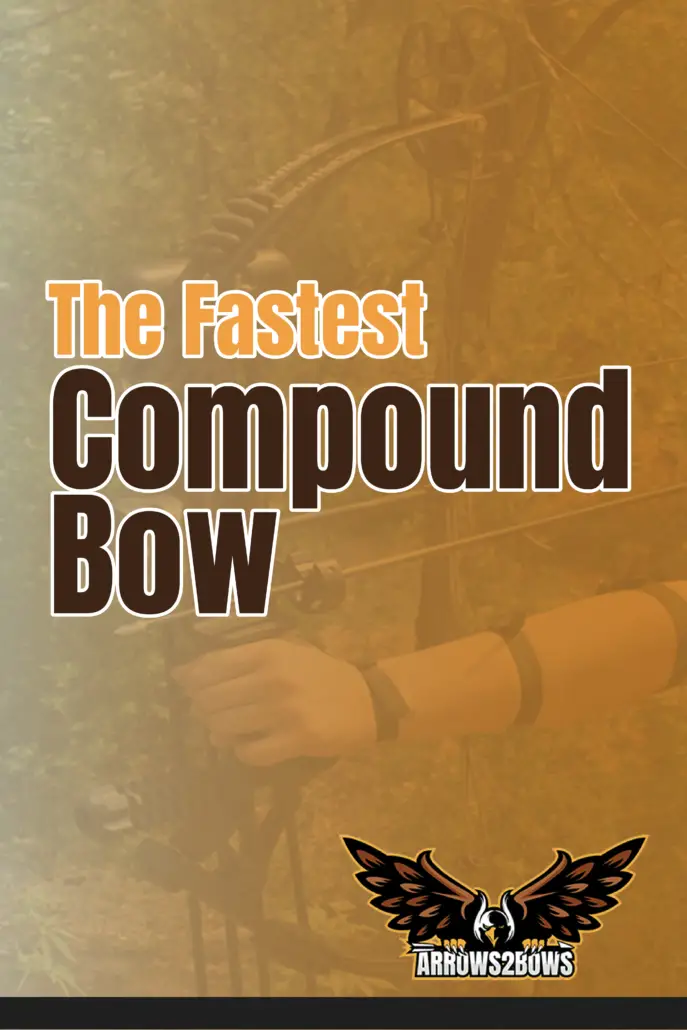 https://arrows2bows.com/wp-content/uploads/2020/09/The-Fastest-Compound-Bow-featured-image-scaled.jpg
973
2560
superadmin
https://arrows2bows.com/wp-content/uploads/2019/12/1-300x138.png
superadmin
2020-12-10 11:58:00
2020-12-10 14:22:38
The Fastest Compound Bow