Compare Bear CRUZER G2 Compound Bow with other bows: See other Compound bows for sale
Bear CRUZER G2 bow for sale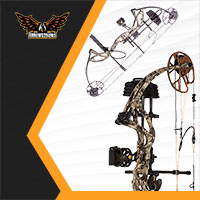 Brace Height: 6.5 "
Axle to Axle Length: 30 "
Draw Length: 12 " - 30 "
Draw Weight: 5 lbs - 70 lbs
IBO Speed: 315 fps
Weight: 3.1 lbs
CRUZER G2 reviews
For the bow hunter who is just starting or getting back into bow hunting, the Bear CRUZER G2 is the perfect bow. Combining many elements that beginners need in a wholistic package, this bow can provide immense value for the money with impressive performance.
Things to Consider Before Buying
Whether you have never shot a bow before in your life or are returning to archery later in life, the Bear CRUZER G2 is the perfect bow for someone looking to get their feet wet in the hunting scene with a great package. With an adjustable draw length that can change its draw length and weight drastically, this bow is designed for anyone and adjusts to suit the needs of any archer. Coming with all of the essential accessories needed to get started, this bow package will get any aspiring archer ready in no time at all. While this bow is aimed at new hunters, it still has the well-regarded Bear reputation for quality, which can be seen in the bow's vibration control systems and grip that offsets fatigue over time.
Who Should Buy it?
As previously mentioned, the Bear CRUZER G2 is perfect for anyone looking to get into the sport of archery. With adjustability and ease of use, this bow is at the right price and skill level for young archers or older archers looking to get into the sport. No matter who buys this bow, they will be happy in knowing they are buying a bow that will teach them the fundamentals of archery and can grow as they learn.
Who Shouldn't Buy it?
While this bow is excellent for anyone looking to get into archery, the Bear CRUZER G2 is not ideal for experienced hunters. With a relatively low power that is not suited for long-time hunters, this bow may be slightly underwhelming for someone used to more powerful and expensive bows.
Pros
The Bear CRUZER G2 provides everything a new archer needs to get started
The bow can adjust to an extremely wide range of age groups and abilities
The bow comes in at a very compelling and competitive price point
Cons
The bow has a relatively low speed compared to higher end bows
The bow lacks features that would make it suited for serious hunting
The lower price leads to cheaper construction materials and build quality
Final Thoughts
Coming from a respected manufacturer at a great price, the Bear CRUZER G2 provides all the bow necessary for a beginner and can be adjusted to fit the needs of any new archer. While this bow may not get you hunting big game immediately, it will teach you the skills necessary for the rest of your life.
Video Review
Specifications for the Bear bow: CRUZER G2
| | |
| --- | --- |
| Brace Height | 6.5 " |
| Axle to Axle Length | 30 " |
| Draw Length | 12 " – 30 " |
| Draw Weight | 5 lbs – 70 lbs |
| IBO Speed | 315 fps |
| Weight | 3.1 lbs |
| Let-Off | 70% |
3 quick questions about Bear CRUZER G2
🏹 How much does a Bear CRUZER G2 bow cost?
Multiple places you can get it for around $400. Check more prices here.
🏹 What type of bow is a Bear CRUZER G2 bow?
If you are looking for a beginners compound bow, because you want to do some hunting. This is a perfect match!
More about bows online
Bear bows for sale
Employing the incorrect bow press won't be covered too. This bow can be found in many colours. As an added bonus, it looks amazing.
The very first selection of several hunters all over the planet, Bear Cruzer G2 is a comparatively lightweight and robust hunting bow, and you are unable to miss its final hunting experience. The Bear Cruzer G2 is a wonderful bow that offers versatility. Even though the Bear Archery Cruzer isn't a speed bow by today's standards, it's a comparatively speedy bow that will deliver all the kinetic energy you want to humanely harvest so much as the biggest game species.
Basically, you will pass as a beginner and stay it for years and years to return. This bow can readily be adjusted to any archers size and needs without the usage of annoying tools which take up time and are not simple to use. It allows for a wide range of draw lengths.
If you're looking for the very best compound bows in 2018, then you have arrived at the perfect spot. This model can be found in a version for right and left-handed archers, which means it isn't ambidextrous, so you've got to choose which version is best for you before buying it. Furthermore, it has a good wall with a comprehensive deficiency of creep which made it effortless to achieve consistently accurate shots and tight groups.
[collapse]
https://arrows2bows.com/wp-content/uploads/2019/12/1-300x138.png
0
0
superadmin
https://arrows2bows.com/wp-content/uploads/2019/12/1-300x138.png
superadmin
2019-12-23 09:16:28
2019-12-31 08:22:25
Bear CRUZER G2 Compound Bow