Compare Athens Accomplice 32 compound bow with other bows: See other compound bows for sale
Athens Accomplice 32 bow for sale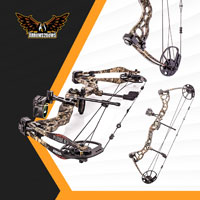 Brace Height: 7 "
Axle to Axle Length: 32 "
Draw Length: 25 " - 30 "
Draw Weight: 40 lbs - 70 lbs
IBO Speed: 330 fps
Weight: 3.95 lbs
Accomplice 32 reviews
Things to Consider Before Buying
When I first saw this bow, it kind of looked like a concept car that the company came out with, and accidentally put it into production.
It's a heck of a shooter with impressive stats:
32-inch axle-to-axle
7-inch brace height
adjustable 25-30" draw length
40-70 pounds draw weight
It is designed for speed with its dual track EV2S extreme velocity cams, which support a super-fast IBO speed of 330 FPS.
Its peculiar looks are mainly attributed to the aluminum riser, which has massive cutouts. You even get dual sight holes on the handle for more adjustability.
Have you heard of the Barnsdale laminated limbs? You will find them on this bow. The heavy-duty limbs provide a wide-range of adjustability from 40 to 70 pounds.
I like the way the cable stop feels. It gives you a little bit squish, just enough to actually pull through your shot.  
This model is the older brother of the 2019 Athens Ridge 32. They're both built for speed and maneuverability, but Accomplice 32 still puts the brand on the map for quality and consistency.
The Athens Accomplice 32 can definitely improve your shooting experience, if you're looking for more maneuverability, more adjustability and speed.
Pros and Cons
Pros:
Compact and maneuverable
Rigid and flexible limbs for superior load distribution
Dual cams boost super-fast speed
Comes pre-installed with ready to hunt package
Kolorfusion patterns improve camouflage quality
Cons:
May produce vibration
Timing may be an issue with the dual cams
Conclusion
String derailment is a very serious issue, which can easily happen with a poor-quality bow. You need a high-quality Athens Accomplice 32 to avoid such mishaps.
Unless you misuse it, the bow won't derail easily thanks to its strong and properly aligned bow string, and heavy-duty dual cam system that doesn't give-in easily to torqueing. 
Video Review
Specifications for the Athens bow: Accomplice 32
| | |
| --- | --- |
| Brace Height | 7 " |
| Axle to Axle Length | 32 " |
| Draw Length | 25 " – 30 " |
| Draw Weight | 40 lbs – 70 lbs |
| IBO Speed | 330 fps |
| Weight | 3.95 lbs |
| Let-Off | 65% – 80% (adjustable) |
3 quick questions about the Athens Accomplice 32
Are Athens Accomplice 32 bows made in America?
Yes, they are made in the US. Find one for sale here on the page.
Who owns Athens Accomplice 32 bows?
You can find the owner here:
Athens Outdoors, LLC
235 Middle Rd, Suite 600, Henrietta, NY 14467
Do you need a license to own a Athens Accomplice 32 bow?
You do not need a license. You should know that under the Crimes Act, crossbows (bow and arrows) are offensive weapons. Bow and arrows should only be carried with a lawful, proper and sufficient purpose. That could be if you bring it with you for hunting or archery practice.
More about bows online
Athens bows for sale
[collapse]
https://arrows2bows.com/wp-content/uploads/2019/12/1-300x138.png
0
0
superadmin
https://arrows2bows.com/wp-content/uploads/2019/12/1-300x138.png
superadmin
2019-12-03 12:09:57
2020-02-02 13:08:12
Athens Accomplice 32 Compound Bow