Compare Bear Lights Out Compound Bow with other bows: See other Compound bows for sale
Bear Lights Out bow for sale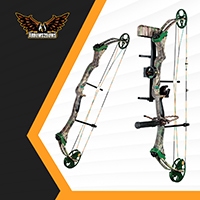 Brace Height: 8.75 "
Axle to Axle Length: 30 "
Draw Length: 25 " - 31 "
Draw Weight: 40 lbs - 70 lbs
IBO Speed: 296 fps - 300 fps
Weight: 3.7 lbs
Lights Out reviews
What child is not fascinated by bows and shooting as it kind of makes him feel like Robin Hood? Or what beginner hunter is not obsessed with getting a bow set that is easy to use but lets him make precise shots? Similarly, every avid hunter is on the lookout for a smooth bow that makes hunting fun. The answer to all this is the Bear Lights Out compound bow, as it is suitable for all.
Things to consider before buying
This compound bow is the perfect bow for the most avid hunters. It's smooth and incredibly effortless draw makes shooting a joy. It releases significant amounts of energy and strength, thus providing abundant force to the arrows. The following notable features make this bow an excellent product:
Highly maneuverable
This compound bow is designed with Minimum Riser Reflex technology that makes it a more forgiving and accurate shot, while giving it greater maneuverability to work efficiently in various shooting conditions.   
Flare Quad Limbs
The Bear Lights Out features durable Flare Quad Limbs that help to reduce noise effectively. At full draw, these limbs extend past parallel angles and move in opposition to each other, eliminating a considerable amount of leftover energy. These limbs are the most energy-packed and durable limbs around.    
Link between riser and limb
This bow is designed with pivoting aluminum limb cups that maintain a tight connection between the riser and the limb, irrespective of draw weight adjustment. In addition, rubber isolation boots keep vibrations in check, giving the Lights Out consistency and better shooting ability.
Pros
Weighing only 3.7 lbs., this bow is very easy to carry around
Aircraft-grade aluminum riser ensures durability
Single string suppressor helps to counter string vibration effectively
Modular single-cam helps to achieve 296 fps IBO speed
Cons
Does not come with good quality strings
Final Thoughts
The Bear Lights Out compound bow is designed with compression-molded technology that ensures equal stress distribution and smooth energy release. It features aluminum spinning limb cups and an enhanced string-suppressor, which minimizes noise and vibration. Its short axel-to-axel length and large cams not only make it easy to operate, but make it suitable for different hunting conditions.
Specifications for the Bear bow: Lights Out
| | |
| --- | --- |
| Brace Height | 8.75 " |
| Axle to Axle Length | 30 " |
| Draw Length | 25 " – 31 " |
| Draw Weight | 40 lbs – 70 lbs |
| IBO Speed | 296 fps – 300 fps |
| Weight | 3.7 lbs |
| Let-Off | 80% |
3 quick questions about Bear Lights Out
Is Bear Lights Out bows good for beginners?
How much does a Bear Lights Out bow cost?
What type of bow is a Bear Lights Out bow?
More about bows online
Bear bows for sale
The bow certainly resembles a Hoyt with its distinctive riser design. It also comes in a number of finishes with the most popular finishes being RealTree Xtra camo as well as shadow, sand and olive. Bear's whitetail hunter compound bow is quite a versatile bow that is chiefly liked and used by the hunters due to its attractive capabilities.
[collapse]
https://arrows2bows.com/wp-content/uploads/2019/12/1-300x138.png
0
0
superadmin
https://arrows2bows.com/wp-content/uploads/2019/12/1-300x138.png
superadmin
2019-12-03 12:09:59
2020-01-09 09:28:56
Bear Lights Out Compound Bow