Compare Bowtech Reign 6 Compound Bow with other bows: See other Bowtech Compound bows for sale
Bowtech Reign 6 bow for sale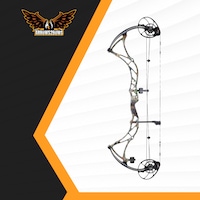 Brace Height: 6 "
Axle to Axle Length: 32.625 "
Draw Length: 24 " - 30 "
Draw Weight: 40 lbs - 70 lbs
IBO Speed: 350 fps
Weight: 4.3 lbs
Reign 6 reviews
With the Reign 6 compound bow, Bowtech is redefining the performance of their rigs. This bow is constructed in a way that allows you to fully customize it. It is more than just a 350 fps high-speed shooting bow. Bowtech introduced SmartBow technologies into this bow so that it can perform flawlessly. 
Things to consider before buying
You can use any accessory that you like for different conditions, and the bow will adjust accordingly. Therefore, this bow is a great choice for a number of shooting scenarios. Whether you are hunting, 3D shooting or shooting target practice, this bow will prove to be your trusty companion in any setting.
Finish
With the recent models, the company is introducing more and more finish options. If you care about the looks of your compound bow, this is a real bonus. The solid traditional color patterns are always there, including the "Flat Dark Earth" and "Blackops." Now you can also opt for camouflage patterns, including "Gore Optifade Subalpine," "Kryptek Altitude" and "Breakup Country Mossy Oak."
Riser & limbs
The riser of Reign 6 has the axel-to-axel length of 32.625 inches and its brace height is 6 inches. The weight of this bow is 4.3 pounds, like most of the compound bows from Bowtech. At both ends, this bow has a cage-like construction and wide limbs for better riser torque. The riser will flex well with the FLX Guard to generate more power.
Cams
Due to the SmartBow technologies that Bowtech has used in the construction of this bow, it features the Overdrive cam system. This binary cam system ensures that the bow tunes precisely according to your preferences.
Who should buy it?
Reign 6 is a great bow for those who love to put themselves through tests. It is an excellent choice for 3D shooting and hunting.
Who shouldn't buy it?
This might not be the ideal choice when it comes to target practicing, though you can do that with this bow pretty well.
Pros
Overdrive binary cam
Outrigger offset stabilization
Powershift for adjusting draw cycle
FLX Guard for reducing riser's torque
Cons
Not for target practicing
Final Thoughts
The Reign 6 compound bow adjusts to your preferences when you want it. There are not many bows available on the market with such customizability.
Video Review
Specifications for the Bowtech bow: Reign 6
| | |
| --- | --- |
| Brace Height | 6 " |
| Axle to Axle Length | 32.625 " |
| Draw Length | 24 " – 30 " |
| Draw Weight | 40 lbs – 70 lbs |
| IBO Speed | 350 fps |
| Weight | 4.3 lbs |
| Let-Off | 80% |
3 quick questions about Bowtech Reign 6
🏹 Is Bowtech Reign 6 bows good for beginners?
It's an okay choice. You might be able to find even better options here.
🏹 How much does a Bowtech Reign 6 bow cost?
This is not the cheap compound bow, but a good one. Check the actual price here on the site.
🏹 What type of bow is a Bowtech Reign 6 bow?
This is a compound bow. Great for both 3d shooting and hunting.
More about bows online
Bowtech bows for sale
If you don't see your model listed or you're unsure of the bowstring and cable lengths be certain to get in touch with us. These models are made to provide more power. Additionally, there are a few exceptional models that are made out of carbon or magnesium.
The cams are modified, for a single thing. One, they must be identical in size, shape, and weight for the ultimate in precision. Two, they must be linked together for the ultimate in synchronization, and three, the cams must be adjustable for the ultimate in tuning.
[collapse]
https://arrows2bows.com/wp-content/uploads/2019/12/1-300x138.png
0
0
superadmin
https://arrows2bows.com/wp-content/uploads/2019/12/1-300x138.png
superadmin
2019-12-02 11:48:56
2020-02-02 07:53:40
Bowtech Reign 6 Compound Bow