Compare Athens Solace compound bow with other bows: See other compound bows for sale
Athens Solace bow for sale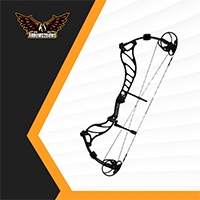 Brace Height: 6.5 "
Axle to Axle Length: 33.25 "
Draw Length: 25 " - 30 "
Draw Weight: 40 lbs - 70 lbs
IBO Speed: 335 fps
Weight: 4.1 lbs
Solace reviews
The Athens Solace compound bow is compact, maneuverable and adjustable bow with two cam options.
Things to Consider Before Buying
The Solace from Athens Archery has an impressive IBO speed of 335 feet per second and an adjustable let-off of 65 to 85 percent.
Its axle to axle is 33.25 inches, which is great because it is fairly compact and maneuverable if you like hunting from a tree stand.
I really like the short brace height of 6.5 inches because it increases the time duration the arrow remains in contact with the string, boosting fast IBO speeds.
Adjustability isn't an issue with this bow, which makes it ideal for youth and adults alike. You get a draw length of 25 to 30 inches and a great poundage of 40 to 70 pounds.   
Unlike any other bow on the market, there are two cam options for the Athens Solace compound bow: DLS cam (draw length specific) and the NSX cam (modular based).
The Athens Solace is the little brother of the Athens Afflixtion. Unlike its older brother, the Solace is lightweight, compact and more maneuverable.
The Athens Solace is an incredible choice if you're looking for a mid-range axle to axle that's free of steep string and nock pinch.
Pros:
Highly adjustable let-off for whitetail hunting
Front and back stabilizer inserts
Dampening equipment reduces vibration
Extremely thin CNC machined grip
Smooth draw cycle for all levels of shooting
Cons:
Its slightly heavy for those who favor lightweight bows
May not be suitable for those who prefer longer draw length
Final thoughts
The Athens Solace compound bow doesn't have steep string and nock pinch problems. This ensures you have a smooth draw, improving your accuracy.
The three most amazing features of this bow are: more stable axle to axle length, adjustable let-off, and an excellent vibration dampening system.  
Video Review
Specifications for the Athens bow: Solace
| | |
| --- | --- |
| Brace Height | 6.5 " |
| Axle to Axle Length | 33.25 " |
| Draw Length | 25 " – 30 " |
| Draw Weight | 40 lbs – 70 lbs |
| IBO Speed | 335 fps |
| Weight | 4.1 lbs |
| Let-Off | 65% – 85% |
3 quick questions about the Athens Solace
Are Athens bows good for beginners?
Athens has some great bows for beginners.
Who owns Athens Solace bows?
You can find the owner here:
Athens Outdoors, LLC
235 Middle Rd, Suite 600, Henrietta, NY 14467
Do you need a license to own an Athens Solace bow?
You do not need a license. You should know that under the Crimes Act, crossbows (bow and arrows) are offensive weapons. Bow and arrows should only be carried with a lawful, proper and sufficient purpose. That could be if you bring it with you for hunting or archery practice.
More about bows online
Athens bows for sale
In order to avoid injury and make sure correct shooting practices, it's vital to be in a position to keep the bow fully drawn for at the very least a minute without shaking and also to draw the compound bow smoothly at any instant of the entire draw cycle. Before you get a bow, understand there is no perfect or best compound. If you need a bow that shoots fast, your muscles are going to want to provide it with enough energy to achieve that. It helps to find out more about the bows having the dimensions that will work, so when shoppers visit the retailer, they don't have to waste their time with bows that won't fit. In case the bow was too heavy, it would ensure it is too tough to shoot and would not be a fun for the proprietor. The compound bow is a good example of a system which uses nonlinearity to great benefit. The compound bow side-by-side comparison chart below can help you discover the very best compound bow for your demands.
Generally speaking, compound bows are popular in target practice and hunting. Normally, once you're picking out a compound bow, you ought to go for the fastest compound bow on the market which matches your financial plan. If you're looking to purchase a compound bow, getting to understand what others think about the models which are available would be quite helpful. Finding the ideal compound bow for the cost that is ideal for you can be an endeavor!
[collapse]
https://arrows2bows.com/wp-content/uploads/2019/12/1-300x138.png
0
0
superadmin
https://arrows2bows.com/wp-content/uploads/2019/12/1-300x138.png
superadmin
2019-12-03 12:09:57
2020-02-02 13:16:06
Athens Solace Compound Bow