Compare Bowtech Assassin Compound Bow with other bows: See other Compound bows for sale
Bowtech Assassin bow for sale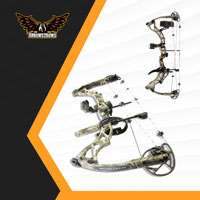 Brace Height: 7 "
Axle to Axle Length: 30.625 "
Draw Length: 26 " - 30 "
Draw Weight: 40 lbs - 70 lbs
IBO Speed: 333 fps
Weight: 3.8 lbs
Assassin reviews
For archers looking for a compound bow that is highly adjustable in many regards and very easy to adjust, as well as fairly compact and lightweight, yet also something that can still produce amicable arrow speeds, the Bowtech Assassin compound bow is a fantastic option. This is a compound bow that comes ready to shoot right out of the package, and all for a more than fair price.
Overview
The Bowtech Assassin compound bow comes with the RAK system, a ready-to-shoot package that comes with absolutely everything an archer could need to take it out of the box and start shooting right away. What's surprising is that this compound bow does not cost more than it does. It's a great option for beginners looking for a great bow at a great price that is ready to go the second the box is open.
The Bowtech Assassin compound bow comes with an easy-to-adjust eccentric cam system, a binary cam system that helps increase accuracy and consistency. There are two rotating mods, the speed mod and the comfort mod, with the speed mod producing higher arrow speeds and the comfort mods being easier to work with and much smoother. There is no bow press required to adjust the mods. They also feature a really solid and highly adjustable back wall, plus the let-off can also be adjusted to suit the user's needs.
This bow comes with decent limbs that are fairly lightweight and strong enough for basic use, although they are not quite as high-quality as with some of the pricier Bowtech bows. The tradeoff is slightly lower durability and reliability for a much lower price. That said, the In-Velvet finish is more than durable enough, more than can be expected for such an affordable bow.
Pros
Good for beginners
Ready-to-shoot package
Very lightweight
Well balanced
Respectable FPS
Solid back wall
Very affordable – great value
No bow press or cams/mods needed for adjustments
Speed and smooth mods
Cons
Not the most durable
Bit of a stiff draw cycle
Hump at the end of the draw cycle
Final thoughts
For any archer looking for affordable value, the Bowtech Assassin compound bow is a prime choice. It might have a couple drawbacks, but it's very affordable, and for such a low price, this ready-to-shoot bow is as good as it gets.
Video Review
Specifications for the Bowtech bow: Assassin
| | |
| --- | --- |
| Brace Height | 7 " |
| Axle to Axle Length | 30.625 " |
| Draw Length | 26 " – 30 " |
| Draw Weight | 40 lbs – 70 lbs |
| IBO Speed | 333 fps |
| Weight | 3.8 lbs |
| Let-Off | 65% – 80% |
3 quick questions about Bowtech Assassin
Are Bowtech Assassin bows any good?
Who owns Bowtech Assassin bows?
Do you need a license to own a Bowtech Assassin bow?
More about bows online
Bowtech bows for sale
The bow certainly resembles a Hoyt with its distinctive riser design. It also comes in a number of finishes with the most popular finishes being RealTree Xtra camo as well as shadow, sand and olive. Bear's whitetail hunter compound bow is quite a versatile bow that is chiefly liked and used by the hunters due to its attractive capabilities.
[collapse]
https://arrows2bows.com/wp-content/uploads/2019/12/1-300x138.png
0
0
superadmin
https://arrows2bows.com/wp-content/uploads/2019/12/1-300x138.png
superadmin
2019-12-03 12:10:00
2020-01-11 15:50:26
Bowtech Assassin Compound Bow