Compare Bowtech Realm X Compound Bow with other bows: See other Bowtech Compound bows for sale
Bowtech Realm X bow for sale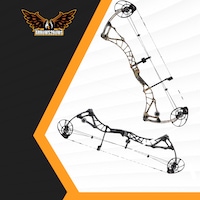 Brace Height: 6.5 "
Axle to Axle Length: 33.25 "
Draw Length: 25 " - 31 "
Draw Weight: 40 lbs - 70 lbs
IBO Speed: 345 fps - fps
Weight: 4.3 lbs
Realm X reviews
The Realm X compound bow from Bowtech is another good quality bow. It comes with 345 fps, a 6.5-inch brace height and plenty of customizable options. If you have your reservations when it comes to personal preferences, this is the compound bow you need in your hunting kit.
Things to consider before buying
The thing that I love the most about Bowtech Realm X compound bow is that it comes with customization in every category. Draw cycle, grip, vibration, stabilization, you name it; adjust whatever you want with this bow and enjoy shooting like you always wanted.
Finish
The good news for all Bowtech lovers is that the company has increased the number of finishes available for most of their models and the Realm X is no different. You can choose from "Flat Dark Earth" and "Blackops" if you prefer solid colors. If you prefer Camo patterns, you can choose from "Kryptek Altitude," "Breakup Country Mossy Oak" or "Gore Optifade Subalpine."
Riser & limbs
The Realm X's riser has an axel-to-axel length of 33.25 inches with a brace height of 6.5 inches. The weight of the bow is slightly high at 4.3 pounds, without any accessories. The cage design is there at the ends and wide limbs can generate more torque on the system. The bow also features FLX Guard, which flexes the bow when it is at full draw.
Grip
The solid grip piece goes right into the riser and has a full flat back construction. It feels ergonomic in your hand. Bowtech is all set to release some new grips for this bow and other Realm bows as well.
Who should buy it?
This is a good rig for 3D shooting and hunting, so it is better suited for the pros at the game. Intermediate archers can use it to sharpen their skills though.
Who shouldn't buy it?
This is not the right kind of bow for novices. You can go for other lightweight and simple cam system compound bows if you want, but not this one.
Pros
A good do-it-all bow
Overall weight is balanced
Customization available in all categories
Cons
Not many target finish options
Final Thoughts
The Realm X compound bow is a good quality compound bow for 3D shooters and hunters. You can take it out on the field and won't be disappointed.
Video Review
Specifications for the Bowtech bow: Realm X
| | |
| --- | --- |
| Brace Height | 6.5 " |
| Axle to Axle Length | 33.25 " |
| Draw Length | 25 " – 31 " |
| Draw Weight | 40 lbs – 70 lbs |
| IBO Speed | 345 fps – fps |
| Weight | 4.3 lbs |
| Let-Off | 80 – 86% |
3 quick questions about Bowtech Realm X
🏹 Is Bowtech Realm X bows good for beginners?
This is not a bow for beginners. Check our suggestions on bows for novices here.
🏹 Who owns Bowtech Realm X bows?
Norwest Equity Partners.
🏹 Do you need a license to own a Bowtech Realm X bow?
No
More about bows online
Bowtech bows for sale
The Bowtech Assassin is among the very best looking rigs on the industry today and is still quite popular amongst shooters, though it was released roughly 3 decades ago. On the topic of strings, those that arrive with the Assassin are seriously excellent. The Bowtech Assassin has a RAK or Ready Aim Kill package that allows you use the bow the moment you get it. This will enable the archer to create appropriate technique. Novice archers should go for a lighter draw no matter their strength.
The cams are modified, for a single thing. One, they must be identical in size, shape, and weight for the ultimate in precision. Two, they must be linked together for the ultimate in synchronization, and three, the cams must be adjustable for the ultimate in tuning.
[collapse]
https://arrows2bows.com/wp-content/uploads/2019/12/1-300x138.png
0
0
superadmin
https://arrows2bows.com/wp-content/uploads/2019/12/1-300x138.png
superadmin
2019-12-02 10:48:56
2020-02-02 07:52:51
Bowtech Realm X Compound Bow