Compare Bowtech BT-Mag X Compound Bow with other bows: See other Compound bows for sale
Bowtech BT-Mag X bow for sale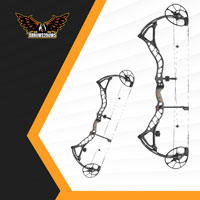 Brace Height: 7 "
Axle to Axle Length: 36 "
Draw Length: 29 " - 34 "
Draw Weight: 40 lbs - 70 lbs
IBO Speed: 323 fps - 360 fps
Weight: 4.7 lbs
BT-Mag X reviews
The Bowtech BT-Mag X compound bow is a beast of a bow, an absolutely massive compound bow designed specifically for tall shooters with long draw lengths. It comes with an overdrive binary cam system, awesome shootability combined with a great draw cycle, and it packs quite the punch as well, thanks to the fairly high FPS rating. For anyone looking for a big and powerful compound bow, the Bowtech BT-Mag X compound bow might just be it.
Things to consider before buying
One of the standout features of this bow is the binary cam overdrive system with three different settings: performance, comfort, and classic. It's more or less 3 bows in 1 package, and this allows the shooter to match the draw cycle to their needs. The cam lean and the horizontal nock position can be adjusted, plus the special cam design allows the arrow to stay nocked in the same vertical position throughout the draw phase.
The Bowtech BT-Mag X compound bow is designed for larger and heavier shooters, as it features a draw length range of 29 to 34 inches, with a massive 36-inch AtA length, not to mention that it weighs nearly 5 pounds, making it significantly larger and heavier than most. That said, it's the perfect bow for shooters who require a long draw length.
Coming it at a maximum FPS of 360, it allows for a flat arrow trajectory, combined with long distance shooting, not to mention a great deal of stopping power. This bow is offered in 50, 60, and 70 pound limbs, with no 80 pounder being available, which would be nice. That said, this model features a maximum let-off of 85%, making it extremely easy to draw. It's not a particularly quiet or vibration free compound bow, but it certainly has a high power level. The stained wood grip is one of the more comfortable ones to hold, plus it creates a very sleek look.
Pros
Ideal for shooters with long draw lengths
Great FPS rating
Comfortable and sleek looking grip
Fairly adjustable
High quality binary cam overdrive system
Very high level of durability
Cons
No draw length under 29"
Not ideal for smaller people
Not very quiet or vibration free
Expensive
Final thoughts
Yes, the price of the Bowtech BT-Mag X compound bow is high, but that said, the options for compound bows with such long draw lengths are very limited. When it comes to bows with a high level of durability and adjustability, a long draw length, and lots of speed, the Bowtech BT-Mag X is a prime time option to keep in mind.
Video Review
Specifications for the Bowtech bow: BT-Mag X
| | |
| --- | --- |
| Brace Height | 7 " |
| Axle to Axle Length | 36 " |
| Draw Length | 29 " – 34 " |
| Draw Weight | 40 lbs – 70 lbs |
| IBO Speed | 323 fps – 360 fps |
| Weight | 4.7 lbs |
| Let-Off | 70% – 85% |
3 quick questions about Bowtech BT-Mag X
Are Bowtech BT-Mag X bows any good?
How much does a Bowtech BT-Mag X bow cost?
What type of bow is a Bowtech BT-Mag X bow?
More about bows online
Bowtech bows for sale
The bow certainly resembles a Hoyt with its distinctive riser design. It also comes in a number of finishes with the most popular finishes being RealTree Xtra camo as well as shadow, sand and olive. Bear's whitetail hunter compound bow is quite a versatile bow that is chiefly liked and used by the hunters due to its attractive capabilities.
[collapse]
https://arrows2bows.com/wp-content/uploads/2019/12/1-300x138.png
0
0
superadmin
https://arrows2bows.com/wp-content/uploads/2019/12/1-300x138.png
superadmin
2019-12-03 12:10:00
2020-01-15 14:21:03
Bowtech BT-Mag X Compound Bow