Compare Bowtech BT-Mag Compound Bow with other bows: See other Compound bows for sale
Bowtech BT-Mag bow for sale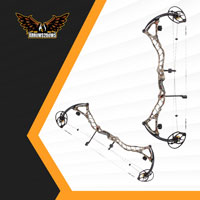 Brace Height: 6.75 "
Axle to Axle Length: 36 "
Draw Length: 26.5 " - 30 "
Draw Weight: 40 lbs - 70 lbs
IBO Speed: 340 fps
Weight: 4.6 lbs
BT-Mag reviews
The Bowtech BT-Mag compound bow makes a great 3D shooting rig, although it can technically also be used for hunting and target shooting. It comes with a long AtA length, and it is very heavy, but it's also a very stable bow. It comes with so-called SmartBow tech which makes tuning and adjustments easier. Yes, this bow does come at a high price, but it also produces a lot of speed and power.
Things to consider before buying
The Bowtech BT-Mag compound bgow has a max draw length of 30 inches, which is a bit low considering its size, but the draw length can be adjusted with interchangeable mods. When combined with the 6.75" brace height, at max draw length, this bow produces IBO speeds of 340 FPS. This bow comes with an OverDrive binary cam system combined with SmartBow tech, which allows for very easy tuning.
The PowerDisc allows shooters to choose from 3 different draw cycles, thus making this a 3-in-1 bow. For the fastest shots, the performance setting is recommended. The riser length makes this bow easy to aim with and very accurate. What also stands out is how for the size and power which this bow features, it's actually one of the quieter and lowest vibration options available.
What makes a big difference is how the layered laminate limbs feature a carbon core. The limbs come in 3 draw weights, thus adding to the versatility of this bow even more. The split limbs may not come with dampers, but they can be added post-purchase. The grip on the BT-Mag is thick and tapered, which can take some getting used to, but is fairly comfortable overall.
Pros
Ideal for 3D shooting
High FPS
3 draw cycle modes to choose from
Extreme durability
Fairly quiet and vibration free
Very easy tuning
Cons
Draw length max is 30"
Very high price tag
Draw length adjustments via changing mods
Heavy
Final thoughts
For any archer looking for a 3D shooting bow that can also double as hunting bow if need be, the Bowtech BT-Mag compound bow is great choice. Yes, it's pricey, large and heavy, but also very stable, durable, easily adjustable, comes with the ability for fine tuning and very fast.
Video Review
Specifications for the Bowtech bow: BT-Mag
| | |
| --- | --- |
| Brace Height | 6.75 " |
| Axle to Axle Length | 36 " |
| Draw Length | 26.5 " – 30 " |
| Draw Weight | 40 lbs – 70 lbs |
| IBO Speed | 340 fps |
| Weight | 4.6 lbs |
| Let-Off | 80% |
3 quick questions about Bowtech BT-Mag
Are Bowtech BT-Mag bows made in America?
Who owns Bowtech BT-Mag bows?
Do you need a license to own a Bowtech BT-Mag bow?
More about bows online
Bowtech bows for sale
The bow certainly resembles a Hoyt with its distinctive riser design. It also comes in a number of finishes with the most popular finishes being RealTree Xtra camo as well as shadow, sand and olive. Bear's whitetail hunter compound bow is quite a versatile bow that is chiefly liked and used by the hunters due to its attractive capabilities.
[collapse]
https://arrows2bows.com/wp-content/uploads/2019/12/1-300x138.png
0
0
superadmin
https://arrows2bows.com/wp-content/uploads/2019/12/1-300x138.png
superadmin
2019-12-03 12:10:00
2020-01-15 14:26:15
Bowtech BT-Mag Compound Bow