Compare Bear Method Compound Bow with other bows: See other Compound bows for sale
Bear Method bow for sale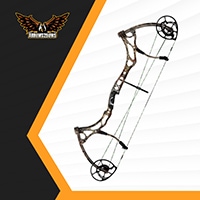 Brace Height: 6.75 "
Axle to Axle Length: 33 "
Draw Length: 26.5 " - 31 "
Draw Weight: 40 lbs - 70 lbs
IBO Speed: 340 fps
Weight: 4.0 lbs
Method reviews
The Bear Method is quiet, smooth, and fast, with incredibly fluid, shock-free shots- thanks to the string suppressors. It's an efficient, lightweight bow that is a pleasure to use and comes at an affordable price. With incredible comfort and speed, it's a great bow for beginners and entry-level 3D competition, but there are a lot of features to keep even seasoned bowhunters happy with the Method.  
Overview
The Bear Method compound bow is designed for speed and silence, delivering exceptional performance for a bow in its price range. It has the Bear H13 Synchronized Hybrid cams, with rotating modules that allow you to change the draw length quickly, without using a bow press. The H13 cams also create a draw that is smooth and flat throughout the draw cycle, for great speed and fluid motion, with efficiency and travel at every draw length.
The Bear Dual Arc String Suppressors make the bow incredibly quiet and vibration-free, to preserve your cover. The Method has the same Max Pre-Load Quad Limbs as the more expensive Bear Motive bows, and Zero Tolerance Limb Pockets, which eliminate movement and dampen vibration.
The Method has a thick, rubber grip that is comfortable and well-balanced. It keeps the hands warmer in cold weather, but the thickness may take some getting used to. The bow is available in Realtree APG Camo or Shadow/black colors.
Pros
Sound suppression features keep the bow incredibly quiet and vibration-free
Cam allows draw length to be adjusted without a bow press
Very fast bow, with speeds up to 340fps and a shorter brace height
75% let off allows more time to adjust aim and improve accuracy
Lightweight, at just 4 pounds
Rubber grip improves comfort, absorbs vibration, and keeps the hands warmer
Cons
String suppressors are not adjustable
Only comes in two colors
Some people don't care for the thickness of the rubber grip, but it is replaceable
Conclusion
The Bear Method is a fast, quiet bow with the fluid shot, comfortable grip, and light weight that make it perfect for beginners. But even experienced archers will appreciate the speed, power, and accuracy of this compound bow from Bear.
Video Review
Specifications for the Bear bow: Method
| | |
| --- | --- |
| Brace Height | 6.75 " |
| Axle to Axle Length | 33 " |
| Draw Length | 26.5 " – 31 " |
| Draw Weight | 40 lbs – 70 lbs |
| IBO Speed | 340 fps |
| Weight | 4.0 lbs |
| Let-Off | 75% |
3 quick questions about Bear Method
🏹 Who owns Bear Method bows?
In 2003 Escalade Sports acquired the North American Archery Group and thereby Bear Archery.
More about bows online
Bear bows for sale
The bow certainly resembles a Hoyt with its distinctive riser design. It also comes in a number of finishes with the most popular finishes being RealTree Xtra camo as well as shadow, sand and olive. Bear's whitetail hunter compound bow is quite a versatile bow that is chiefly liked and used by the hunters due to its attractive capabilities.
[collapse]
https://arrows2bows.com/wp-content/uploads/2019/12/1-300x138.png
0
0
superadmin
https://arrows2bows.com/wp-content/uploads/2019/12/1-300x138.png
superadmin
2020-01-01 22:09:00
2020-02-03 19:04:00
Bear Method Compound Bow