Compare Bowtech Carbon Knight Compound Bow with other bows: See other Compound bows for sale
Bowtech Carbon Knight bow for sale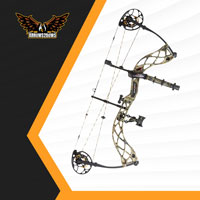 Brace Height: 7 "
Axle to Axle Length: 31 "
Draw Length: 26.5 " - 30.5 "
Draw Weight: 40 lbs - 70 lbs
IBO Speed: 335 fps
Weight: 3.2 lbs
Carbon Knight reviews
For hunters who need a lightweight and compact bow, as well as a very quiet and durable bow, the Bowtech Carbon Knight compound bow is a great option to keep in mind. With minimal mass, low noise and vibration, a small size, and easy adjustability, this compound bow is a prime option for hunters that need something highly reliable. It might be a bit expensive, but it also produces a respectable FPS level.
Things to consider before buying
The Bowtech Carbon Knight compound bow comes with a highly durable yet lightweight carbon riser with a very aggressive appearance. Bowtech advertises this particular model as the lightest carbon bow on the market at this time. Not only is this a lightweight and durable bow, but it can still produce arrow speeds up to 335 FPS, making it ideal for both hunting and target practice alike.
It might not be the very fastest bow around, but it does have a binary cam system that is about as smooth as it gets. Yes, there is a slight hump near the end of the draw cycle, but it's still quite smooth overall. Moreover, the limbs are available in several weights, and it features an overall let-off of 80%, making it both adjustable and easy to draw.
The Carbon Knight may not come with quieting or limb dampening tech, but it really doesn't need it, as it's still a very quiet, vibration- and shock-free model. The cam system is easy to adjust without a bow press, with the draw length being adjustable from 26.5 to 30.5 inches in half-inch increments, plus the draw stop is infinitely adjustable. It might only come in a single finish, and have a very high MSRP, but it does perform exceptionally well.
Pros
Rotating module for easy draw length adjustments
Not much power required to draw
Fairly smooth draw
Very compact
Extremely lightweight
Quiet, vibration free, and shock free
Cons
Big price tag
Only comes in a single finish
Final thoughts
With a forgiving brace height, a low weight and compact design, smooth shootability, and barely any noise or vibration, not to mention a respectable FPs rating, the Bowtech Carbon Knight compound bow is designed with hunters in mind.
Video Review
Specifications for the Bowtech bow: Carbon Knight
| | |
| --- | --- |
| Brace Height | 7 " |
| Axle to Axle Length | 31 " |
| Draw Length | 26.5 " – 30.5 " |
| Draw Weight | 40 lbs – 70 lbs |
| IBO Speed | 335 fps |
| Weight | 3.2 lbs |
| Let-Off | 80% |
3 quick questions about Bowtech Carbon Knight
Are Bowtech Carbon Knight bows any good?
How much does a Bowtech Carbon Knight bow cost?
What type of bow is a Bowtech Carbon Knight bow?
More about bows online
Bowtech bows for sale
The bow certainly resembles a Hoyt with its distinctive riser design. It also comes in a number of finishes with the most popular finishes being RealTree Xtra camo as well as shadow, sand and olive. Bear's whitetail hunter compound bow is quite a versatile bow that is chiefly liked and used by the hunters due to its attractive capabilities.
[collapse]
https://arrows2bows.com/wp-content/uploads/2019/12/1-300x138.png
0
0
superadmin
https://arrows2bows.com/wp-content/uploads/2019/12/1-300x138.png
superadmin
2020-01-14 12:10:00
2020-01-15 15:02:02
Bowtech Carbon Knight Compound Bow