Compare Bowtech Insanity CPX Compound Bow with other bows: See other Bowtech Compound bows for sale
Bowtech Insanity CPX bow for sale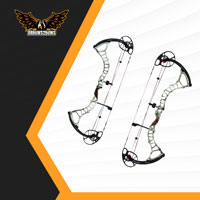 Brace Height: 6 "
Axle to Axle Length: 32 "
Draw Length: 25.5 " - 30 "
Draw Weight: 40 lbs - 80 lbs
IBO Speed: 355 fps
Weight: 4.3 lbs
Insanity CPX reviews
One struggle a lot of archers have is their bow making a lot of noise when they are out in the wild, shooting in critical situations. Hunters need their bow to be silent and smooth. One bow that doesn't have this problem is the forever hyped-up Bowtech Insanity CPX compound bow. It is known on the market for being one of the smoothest, fastest and most silent bows.
Things to consider before buying
The market was hyped up about the Bowtech Insanity CPX compound bow when it was launched in 2012. The hype was obviously for a reason, and the reason was the bow's incredible features and specifications that make it stand out in the bow market. When you are buying a compound bow, no matter how good its reputation is, there are always some really important considerations you have to make. The following specs and features of the Bowtech Insanity CPX compound bow will help you decide whether it's the right product for you:
1. 80% let-off
All bows hold some weight of the draw, which reduces its power. However, the more the let-off, the more lightweight and the more powerful the bow is. Therefore, the 80% let off of this compound bow truly stands out in the market as one of the highest-ranked products.
2. Finish options
The finish options of the compound bow are versatile. You can choose between Anorock finish, Black Ops finish, and other customizable camo options such as Mossy Oak.
3. Riser design
The riser is built to be the same exact length as the axle to axle measurements. The riser is known for its extreme stability, built with sturdy material, along with a rear mounting rod built with carbon. The riser and limb design of the Insanity CPX also feature an incredible sound dampening system that further makes it a quiet, stable, and smooth bow.
Pros
The bow is available in a range of finish options
It has a good let off of 80%
The bow uses the binary cam system for added speed
Module adjustability for draw lengths make it more versatile
Extremely smooth and fast drawing capability
Cons
Bowtech has had issues with finish quality, as it peels off easily
A higher-end, pricier product 
Final thoughts 
The Bowtech Insanity CPX compound bow is an excellent, high-end choice for all professional, big game hunters. The bow is exceptionally built and has highly functional features, such as its 80% let off and fully adjustable draw lengths. Overall, the product offers a great value for your money, along with exceptionally silent, smooth, and reliable performance.
Video Review
Specifications for the Bowtech bow: Insanity CPX
| | |
| --- | --- |
| Brace Height | 6 " |
| Axle to Axle Length | 32 " |
| Draw Length | 25.5 " – 30 " |
| Draw Weight | 40 lbs – 80 lbs |
| IBO Speed | 355 fps |
| Weight | 4.3 lbs |
| Let-Off | 80% |
3 quick questions about Bowtech Insanity CPX
Are Bowtech Insanity CPX bows made in America?
Who owns Bowtech Insanity CPX bows?
Do you need a license to own a Bowtech Insanity CPX bow?
More about bows online
Bowtech bows for sale
Bowtech brand bows are largely made from aluminum. This will enable the archer to create appropriate technique. Novice archers should go for a lighter draw no matter their strength.
There's a flexible eccentric system for altering the draw length that makes the procedure very uncomplicated. It then functions as a letoff mechanism once it rotates back toward the middle of the bow. This cam system stays the market standard for efficiency.
[collapse]
https://arrows2bows.com/wp-content/uploads/2019/12/1-300x138.png
0
0
superadmin
https://arrows2bows.com/wp-content/uploads/2019/12/1-300x138.png
superadmin
2019-12-31 11:48:56
2020-02-01 19:05:43
Bowtech Insanity CPX Compound Bow