Compare Bowtech Carbon Rose Compound Bow with other bows: See other Compound bows for sale
Bowtech Carbon Rose bow for sale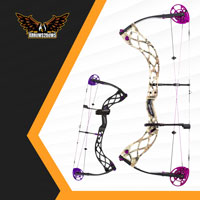 Brace Height: 7 "
Axle to Axle Length: 30 "
Draw Length: 22.5 " - 27 "
Draw Weight: 30 lbs - 60 lbs
IBO Speed: 302 fps
Weight: 3.2 lbs
Carbon Rose reviews
For female shooters, youth, children, and beginners alike, the Bowtech Carbon Rose compound bow is a great choice. This is a small and compact, lightweight, and easy-to-draw bow designed for smaller people who don't want a super heavy bow. It's the kind of bow that can be used for light hunting and 3D shooting as well. It doesn't have the highest FPS around, but it's adjustable, easy to use, and ideal for beginners.
Things to consider before buying
The Bowtech Carbon Rose compound bow comes in finishes which are designed to suit female tastes, with purple cams and accents. The grip on this bow is a bit square, but it's still comfortable to hold, it looks decent, and doesn't produce hand torque. What's also ideal is the dampening system which allows for a quiet and virtually vibration-free shooting experience. It does have some vibration, but it is quite minimal.
When it comes to small people, this bow is ideal due to the short AtA length, as well as the adjustable draw length, not to mention its compact and lightweight design. The carbon riser is designed not only to be lightweight, but is also highly durable and can handle a fair amount of punishment. This bow comes with a wide valley that allows for a great deal of versatility.
The Bowtech Carbon Rose Compound Bow comes with a binary cam system which allows for draw length adjustments without a bow press, as low as 22.5 inches, making it ideal for anybody with a short draw length. It is available in various draw weights, but even with the highest draw weight, the 80% let-off allows for easy and smooth drawing. It barely feels like any weight is being held.
Pros
Extremely lightweight
Fast and smooth drawing
Great let-off for minimal power requirements
Very quiet
Easy to adjust draw length and weight
Ideal for women, beginners, and youths
Cons
Low IBO FPS
Not many color options
A bit expensive for what it is
Conclusion
The Bowtech Carbon Rose compound bow is clearly designed for smaller people. It features a lightweight and compact frame, it doesn't take much power to draw smoothly, and it's highly adjustable, especially for people with short draw lengths. It might be a bit pricey, and no, it's not a high FPS bow, but it gets the job done.
Video Review
Specifications for the Bowtech bow: Carbon Rose
| | |
| --- | --- |
| Brace Height | 7 " |
| Axle to Axle Length | 30 " |
| Draw Length | 22.5 " – 27 " |
| Draw Weight | 30 lbs – 60 lbs |
| IBO Speed | 302 fps |
| Weight | 3.2 lbs |
| Let-Off | 80% |
3 quick questions about Bowtech Carbon Rose
🏹 Is Bowtech Carbon Rose bows good for beginners?
Yes this is a good beginner bow. Read more about it here.
🏹 How much does a Bowtech Carbon Rose bow cost?
You can find it for a good price used. Check here on the site.
🏹 Do you need a license to own a Bowtech Carbon Rose bow?
No
More about bows online
Bowtech bows for sale
The bow certainly resembles a Hoyt with its distinctive riser design. It also comes in a number of finishes with the most popular finishes being RealTree Xtra camo as well as shadow, sand and olive. Bear's whitetail hunter compound bow is quite a versatile bow that is chiefly liked and used by the hunters due to its attractive capabilities.
[collapse]
https://arrows2bows.com/wp-content/uploads/2019/12/1-300x138.png
0
0
superadmin
https://arrows2bows.com/wp-content/uploads/2019/12/1-300x138.png
superadmin
2020-01-14 12:10:02
2020-01-15 15:14:17
Bowtech Carbon Rose Compound Bow