Compare Bowtech Prodigy Compound Bow with other bows: See other Bowtech Compound bows for sale
Bowtech Prodigy bow for sale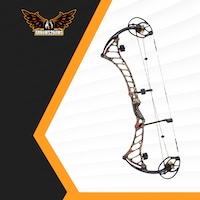 Brace Height: 7 "
Axle to Axle Length: 32 "
Draw Length: 25 " - 30.5 "
Draw Weight: 40 lbs - 70 lbs
IBO Speed: 343 fps
Weight: 4.2 lbs
Prodigy reviews
The Bowtech Prodigy compound bow comes with Bowtech's Powershift technology, coupled with Powerdisc. It allows you to make adjustments to the feel of the shot from three different settings. You can make use of these settings, not only according to your own preferences, but also adapt them to the conditions you're shooting in.
Things to consider before buying
You can set the bow for competition shooting or you can go for a more comfortable and smoother draw when you are hunting in cold conditions. Not many bows out there have this option! With a 32-inch axel-to-axel length and 7-inch brace height, this is a powerful rig with an 80% let-off.
Finish
The Prodigy compound bow features dipped film finishing in a range of different color options. It is available in "Blackops," "Breakup Country Mossy Oak," "Kryptek Highlander" and "Realtree Xtra Green" patterns.
Riser & limbs
This bow has a machined aluminum trimmed riser with exact measures, which reduces the overall draw weight of the compound bow. Now you don't have to compromise on bow strength either. The limbs have a split design that works in tendon with the center pivot construction.
Silencing package
There are many inherent qualities of the Prodigy that make it a quiet bow. There is a string stop made of carbon and the bow itself features string dampeners (Dura-Flex). Therefore, right from the box, this compound bow is super quiet.
Who should buy it?
This bow is for experts, enabling them to choose from three different settings for various shooting conditions.
Who shouldn't buy it?
The Bowtech Prodigy is not designed for beginners. If you don't have any experience in archery, you need to go for a lower end compound bow. 
Pros
Versatile (3-in-1 bow)
Very quiet and no vibration
Good, solid platform for shooting
Cons
Final Thoughts
Bowtech's Prodigy compound bow is great for any archer who is looking to up the ante on the field. It allows you to be fast, accurate and deadly quiet in any condition and is a top choice for a number of reasons. Great balance, super silent and highly accurate – that's what the Prodigy is!
Video Review
Specifications for the Bowtech bow: Prodigy
| | |
| --- | --- |
| Brace Height | 7 " |
| Axle to Axle Length | 32 " |
| Draw Length | 25 " – 30.5 " |
| Draw Weight | 40 lbs – 70 lbs |
| IBO Speed | 343 fps |
| Weight | 4.2 lbs |
| Let-Off | 80% |
3 quick questions about Bowtech Prodigy
🏹 Is Bowtech Prodigy bows good for beginners?
This is not the best beginner bow. We suggest you check out our post with great beginners compound bows.
🏹 Who owns Bowtech Prodigy bows?
Norwest Equity Partners
🏹 Do you need a license to own a Bowtech Prodigy bow?
No.
More about bows online
Bowtech bows for sale
Bows are intended for different hands and therefore, if you are a right-handed person ensure you get a bow for a right-hand draw and vice versa. Perhaps among the most important decisions you will need to make when deciding on a compound bow is whether to shoot right-handed or left-handed. A quick compound bow may also be accurate and offer you a dependable performance, provided that you understand what you are searching for.
[collapse]
https://arrows2bows.com/wp-content/uploads/2019/12/1-300x138.png
0
0
superadmin
https://arrows2bows.com/wp-content/uploads/2019/12/1-300x138.png
superadmin
2019-12-31 11:48:56
2020-02-02 07:45:12
Bowtech Prodigy Compound Bow