Compare Diamond Deploy Compound Bow with other bows: See other Diamond Compound bows for sale
Diamond Deploy bow for sale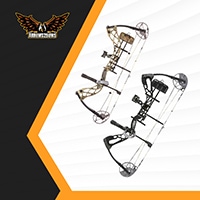 Brace Height: 6.75 "
Axle to Axle Length: 31.5 "
Draw Length: 26 " - 30.5 "
Draw Weight: 50 lbs - 70 lbs
IBO Speed: 330 fps
Weight: 3.2 lbs
Deploy reviews
The Deploy has to be the most technologically advanced compound bow from Diamond. This rig comes with an axel-to-axel length of 31.5 inches and a brace height of 6.75 inches. You can adjust the draw length between 27 and 30.5 inches and choose different draw weights ranging between 40 to 70 lbs.
Things to consider before buying
This bow can shoot arrows at a speed of 330 feet per second. It is arguably the best compound bow when it comes to smoothness in a draw cycle.
Finish
There are not many finish options available for this compound bow. You can only choose from the good old "Breakup Country Mossy Oak" or "Blackops."
Riser and limbs
Diamond has built this compound bow around Diamond's signature Knight Riser made of carbon. This makes the bow extremely light in weight and you can easily handle it on the field. Diamond has used fiberglass in the construction of the limbs, allowing them to be more powerful and have less vibration.
Cams
This rig comes with a double cam system and you will need to balance the timing while making your shots. Therefore, the Diamond Deploy is better suited for experienced bowhunters.
However, you need to set it only once before you start your session and then forget about it. The rotating modules are very simple and easy to adjust and you can make the adjustments in half-inch increments.
Who should buy it?
The Diamond Deploy compound bow is a suitable rig for experienced bowhunters. This is a good quality, solid compound bow that comes with both speed and accuracy.
Who shouldn't buy it?
This is not the bow for beginners. Though the double cam system is very easy to adjust, you still have to make adjustments and you can only do that if you know how to handle such compound bows.
Pros
Back wall solid
Quick and easy adjustability
Superb draw cycle
Cons
Only two finishes are available
Final Thoughts
The diamond Deploy is very fast and accurate. It is suitable for shooting at decent ranges, as well as 3D shooting. This compound bow is an excellent option for pros.
Video Review
Specifications for the Diamond bow: Deploy
| | |
| --- | --- |
| Brace Height | 6.75 " |
| Axle to Axle Length | 31.5 " |
| Draw Length | 26 " – 30.5 " |
| Draw Weight | 40 lbs – 70 lbs |
| IBO Speed | 330 fps |
| Weight | 3.2 lbs |
| Let-Off | 80% |
3 quick questions about Diamond Deploy
Are Diamond Deploy bows any good?
This is a good quality, solid compound bow. But it is not for the beginner.
How much does a Diamond Deploy bow cost?
This bow can be found for around $700
What type of bow is a Diamond Deploy bow?
This is a compound bow for experienced bowhunters.
More about bows online
Diamond bows for sale
When you get a bow, you're not just purchasing a bow. This bow has quite a quiet shot with minimal vibration, permitting you to earn a shot without disturbing other wildlife that may be around. It is built to last, and you can rest assured you'll be hunting with it for years to come. Therefore, if you're simply searching for a fairly speedy bow, Diamond can accommodate.
[collapse]
https://arrows2bows.com/wp-content/uploads/2019/12/1-300x138.png
0
0
superadmin
https://arrows2bows.com/wp-content/uploads/2019/12/1-300x138.png
superadmin
2020-01-07 11:48:57
2020-02-02 08:17:25
Diamond Deploy Compound Bow