Compare Bowtech Equalizer Compound Bow with other bows: See other Compound bows for sale
Bowtech Equalizer bow for sale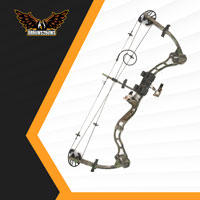 Brace Height: 7.25 "
Axle to Axle Length: 33.25 "
Draw Length: 24 " - 27.5 "
Draw Weight: 19 lbs - 60 lbs
IBO Speed: 300 fps - 308 fps
Weight: 3.7 lbs
Equalizer reviews
The Bowtech Equalizer compound bow is a very versatile bow that can be used for virtually all types of shooting. It comes at a low weight, with a fairly compact design, and the possibility for a very short draw length and a low draw weight. It is a great bow for hunters who need something compact and convenient that can still produce a respectable FPS. However, the lightweight and compact design, combined with the short draw length and low draw weight means that some speed is sacrificed.
Things to consider before buying
The Bowtech Equalizer compound bow has a very aggressive binary cam system which allows it to produce arrow speeds of up to 308 FPS, which is not huge, but still good enough for hunting and target shooting.
This bow features a low minimum and maximum draw length, making it ideal for smaller shooters and people shooting out of tight spots, such as blinds and tree stands. The draw length can be adjusted by changing the mods. The draw length can also be adjusted by adjusting the draw stop, which in turn will also adjust the let-off.
Keep in mind that the limbs come in a variety of draw weights. This, combined with a let off-of 80% max, allows shooters to draw and maintain position with ease. All adjustments can be made very easily. Keep in mind that the aggressive cam creates a stiff draw, albeit quite smooth, but there is a bit of creep involved, yet the back wall is fairly solid.
The riser is a bit long, which helps to maintain the speed, but not long enough to add too much weight or size to the mix. It comes with a good mix of a light weight, a decent size, and decent FPS. It's not an overly quiet bow, and it also has a bit of hand shock.
Pros
Can be used for all sorts of archery
Great for people with short draw lengths
Requires virtually no power to draw and hold
Draw length can be adjusted and fine tuned
Many limb choices
Fairly durable
Base model is affordable
Cons
Add-ons and accessories are pricey
Very stiff draw cycle
Noticeable vibration
Speed is not exceptional
Final thoughts
The Bowtech Equalizer is a reliable and durable hunting bow. If you are okay with sacrificing some arrow FPS for a low draw weight, a short draw length, and a high level of adjustability, it's a good option to consider.
Video Review
Specifications for the Bowtech bow: Equalizer
| | |
| --- | --- |
| Brace Height | 7.25 " |
| Axle to Axle Length | 33.25 " |
| Draw Length | 24 " – 27.5 " |
| Draw Weight | 19 lbs – 60 lbs |
| IBO Speed | 300 fps – 308 fps |
| Weight | 3.7 lbs |
| Let-Off | 65% – 80% |
3 quick questions about Bowtech Equalizer
Are Bowtech Equalizer bows made in America?
How much does a Bowtech Equalizer bow cost?
Do you need a license to own a Bowtech Equalizer bow?
More about bows online
Bowtech bows for sale
The bow certainly resembles a Hoyt with its distinctive riser design. It also comes in a number of finishes with the most popular finishes being RealTree Xtra camo as well as shadow, sand and olive. Bear's whitetail hunter compound bow is quite a versatile bow that is chiefly liked and used by the hunters due to its attractive capabilities.
[collapse]
https://arrows2bows.com/wp-content/uploads/2019/12/1-300x138.png
0
0
superadmin
https://arrows2bows.com/wp-content/uploads/2019/12/1-300x138.png
superadmin
2020-01-17 12:10:02
2020-01-18 15:39:08
Bowtech Equalizer Compound Bow