Compare Bowtech Revolt Compound Bow with other bows: See other Bowtech Compound bows for sale
Bowtech Revolt bow for sale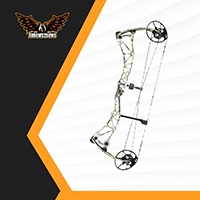 Brace Height: 7.25 "
Axle to Axle Length: 30 "
Draw Length: 26 " - 31 "
Draw Weight: 50 lbs - 70 lbs
IBO Speed: 335 fps
Weight: 4.4 lbs
Revolt reviews
Hunting as a sport is as old as man and the basic principles and technology have gone relatively unchanged ever since. However, Bowtech and their new Revolt compound bow seek to show that progress and technology can change the way we think about and use bows for hunting.
Things to Consider Before Buying
To combine their latest and greatest tech into one, well-rounded package, Bowtech released the new Revolt that hopes to create a bow that an archer only needs to tune once and is able to use consistently any time after. Using the innovative deadlock system, the Revolt can be tuned to perfection once and never have to be adjusted again.
The sliding cam system also makes for easy adjustments to distribute power and force from left to right to any hunter's preference. The riser, cams, and even cable containment are all equipped with the deadlock technology, meaning every shot will not only be as accurate as the first, but each shot will be silent and create as little vibration as possible. The blistering speeds of up to 335 fps, combined with all of Bowtech's innovation, make for a bow that is as consistent as it is deadly.
Who Should Buy it?
For the hunter who demands repeatable performance from their bow, the Revolt is just the bow for them. The technology that can keep this bow consistent and accurate after every shot is just what experienced archers crave, after years of using bows that can shoot accurately once before needing to be readjusted to shoot again. The Revolt comes with the performance and price tag to back up its claims. It is possible that an intermediate archer looking to understand how to tune and perfect their bow would also get many years of joy from the revolt.
Who Shouldn't Buy it?
The performance and adjustability of this bow make it incredibly appealing to a wide range of hunters. The power is just right for most intermediate hunters, but technology that would be taken advantage of by experts and more experienced hunters may be confusing for less experienced archers. An intermediate archer who knows how to unlock this bow's potential may be able to use it effectively, but anyone who is unaware of how to tune their bow to their desired specifications may not get the most out of what this bow has to offer.
Pros
 The Revolt uses the Deadlock cam system for repeatable and consistent performance
The 335 fps speeds are more than enough for successful hunting
The Bowtech customizability means this bow can be built personally from the ground up
Cons
 The high-quality leads to a rather high price point
The Revolt lacks many noise suppression features found on similarly priced bows
Final thoughts 
For the archer willing to cash out for consistency, the Bowtech Revolt will keep you shooting accurately and consistently for years to come.
Video Review
Specifications for the Bowtech bow: Revolt
| | |
| --- | --- |
| Brace Height | 7.25 " |
| Axle to Axle Length | 30 " |
| Draw Length | 26 " – 31 " |
| Draw Weight | 50 lbs – 70 lbs |
| IBO Speed | 335 fps |
| Weight | 4.4 lbs |
| Let-Off | 80% |
3 quick questions about Bowtech Revolt
Is Bowtech Revolt bows good for beginners?
Who owns Bowtech Revolt bows?
Do you need a license to own a Bowtech Revolt bow?
More about bows online
Bowtech bows for sale
I wanted to take the time to talk to you about Bowtech Revolt Compound Bow. This is a new product coming out that's out of this world. It has many benefits when it comes to hunting deer. The new Bowtech compound bow makes it easier to hunt with, more durable, and it is also much lighter and sturdier than anything else on the market. I have been hunting for many years, and this is one of the best hunting bows on the market today. Let me show you why it is so great.
For decades bows have always been in vogue, but none of them were as fast as the Bowtech. The reason for this is that they are extremely powerful. There are some bows out there that are good at doing certain things but are not very efficient at doing them. With a Bowtech, the technology has allowed it to be very efficient at doing the most important things. These are the most powerful bows that exist in the world today. In order to put together this bow, they had to do an amazing amount of research and development.
They even went so far as to develop this bow in factories. If you look at the company, they are located in Las Vegas, Nevada. I live in California, so I know that they are in fact very eco-friendly and doing all of their manufacturing in their own factories. This is not some factory making any product. This is a quality product that is made by top-notch craftspeople in their own factory. This is a really good bow that can match up to other bows when it comes to power and efficiency. This is one of the best hunting bows that you will ever own.
[collapse]
https://arrows2bows.com/wp-content/uploads/2019/12/1-300x138.png
0
0
superadmin
https://arrows2bows.com/wp-content/uploads/2019/12/1-300x138.png
superadmin
2020-02-06 18:16:08
2020-02-16 16:36:15
Bowtech Revolt Compound Bow