Compare Bear LS6 Compound Bow with other bows: See other Compound bows for sale
Bear LS6 bow for sale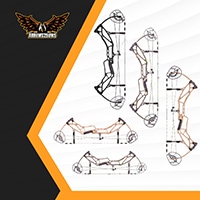 Brace Height: 5 "
Axle to Axle Length: 32.25 "
Draw Length: 27 " - 30 "
Draw Weight: 45 lbs - 70 lbs
IBO Speed: 355 fps
Weight: 4.2 lbs
LS6 reviews
There's no doubt that Bear bows are top-performing products and have been in the market for many years now. When the LS6 was introduced in 2017, it left many quite impressed with its specifications and design. With unbelievable speed and unparalleled performance, this bow has become the go-to for target shooting for many.   
Things to consider before buying
Bear LS6 is a remarkable compound bow that is quiet, shock-free, fast, easy-tuning, smooth-drawing, and generally pleasant to shoot. By examining its various features, you can see if it is the best bow for you:
Speed
The fastest bow in the Bear lineup, the LS6, delivers a sizzling speed of 355 fps, which is much appreciated by shooters who pay special attention to the speed end of the spectrum. 
Unique design
Bear has made considerable changes to the LS6's design, giving it some significant characteristics. The bridged riser gives it a distinguished look and adds stability and strength to this product. The H17 Hybrid Cams enhance ease of use while ensuring efficient performance.
Durable limbs
This bow is designed with Carbon Crosslock Limb Pockets. This makes them extraordinarily well-built and durable, thus providing shooters with complete peace of mind. These Carbon pockets also help to shave off some weight, thus keeping the overall mass of the LS6 a bit lighter.   
Pros
Hybrid cam system delivers maximum speed while offering easier draw cycle
Exceptional power because of max-preload quad limbs
Enhanced shooting experience with bi-dimensionally adjustable bottom and top
Fully adjustable limb pocket movement offers durability
Cons
Let off of 70% is considerably less than what is offered by other bows
Riser design may not be appreciated by some
Final thoughts
With the plethora of compound bows available, it can become quite difficult to choose one that is not only fast, but comfortable as well. But with the LS6 compound bow from Bear, you will be getting speed, durability, performance, and everything you need in a good quality bow. Although you might need to make some compromises in order to achieve a high speed of 355 fps, it is still the best option if you want a top-performing bow.    
Video Review
Specifications for the Bear bow: LS6
| | |
| --- | --- |
| Brace Height | 5 " |
| Axle to Axle Length | 32.25 " |
| Draw Length | 27 " – 30 " |
| Draw Weight | 45 lbs – 70 lbs |
| IBO Speed | 355 fps |
| Weight | 4.2 lbs |
| Let-Off | 70% |
3 quick questions about Bear LS6
Is Bear LS6 bows good for beginners?
How much does a Bear LS6 bow cost?
What type of bow is a Bear LS6 bow?
More about bows online
Bear bows for sale
The bow certainly resembles a Hoyt with its distinctive riser design. It also comes in a number of finishes with the most popular finishes being RealTree Xtra camo as well as shadow, sand and olive. Bear's whitetail hunter compound bow is quite a versatile bow that is chiefly liked and used by the hunters due to its attractive capabilities.
[collapse]
https://arrows2bows.com/wp-content/uploads/2019/12/1-300x138.png
0
0
superadmin
https://arrows2bows.com/wp-content/uploads/2019/12/1-300x138.png
superadmin
2020-02-02 17:09:00
2020-02-02 16:31:11
Bear LS6 Compound Bow