Compare Bowtech Insanity CPXL Compound Bow with other bows: See other Bowtech Compound bows for sale
Bowtech Insanity CPXL bow for sale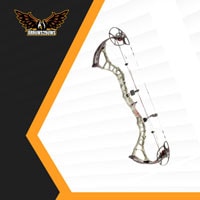 Brace Height: 7 "
Axle to Axle Length: 35 "
Draw Length: 27.5 " - 32 "
Draw Weight: 40 lbs - 80 lbs
IBO Speed: 340 fps
Weight: 4.4 lbs
Insanity CPXL reviews
If you have just started practicing archery, or still want to work on your performance, then you probably need a bow that is easy to draw. Bows that are easy to draw let you focus and work on other things such as your body posture, style, and accuracy. However, the market is packed with many bows that offer easy drawing, but still have poor quality and reliability. One solution to this dilemma is the Bowtech Insanity CPXL compound bow. It has an incredible range of features to offer, along with a smooth, quick, and easy draw.
Things to consider before buying
An easy to draw bow must have other important features to consider as well. Different types of bows cater to different customer needs and requirements. If you are a beginner or intermediate archer and need to perfect the skill of archery, then the following specs and features of the Bowtech Insanity CPXL will matter a lot in helping you make a product choice:
4.4 pound weight
The bow's overall weight is 4.4 pounds, which is relatively lightweight.
Finish options
The Insanity CPXL compound bow offers the textured Bowtech Anorock finish in 8 colors. The limbs of the bow are also graphitized by default to add some extra touch of innovation to the appearance.
All plastic grip
The grip of the bow is made with all-plastic. It has a thin grip and features non-slip properties too.
Hardcore limbs
The limbs are the most distinctive part of this compound bow. This is because Bowtech has used its renowned 7-layer carbon construction design on the limbs of this compound bow as well. This ensures more power and durability to the limbs.
Pros
Carbon made limbs offer sturdiness
Variety of limb weights ranging from 50 to 80 pounds
Overdrive binary cam system ensures smooth and fast draw cycle
IBO speed achievable up to 340 feet per second
Cons
One of the higher end, pricier compound bows
Final thoughts
All in all, even with the hefty price tag, the Insanity CPXL still stands out as one of the best in the market. It's a highly recommended bow for all kinds of archers, but particularly for beginners and trainees. The carbon built limbs and the exceptionally smooth draw cycle all make this a phenomenal product.
Video Review
Specifications for the Bowtech bow: Insanity CPXL
| | |
| --- | --- |
| Brace Height | 7 " |
| Axle to Axle Length | 35 " |
| Draw Length | 27.5 " – 32 " |
| Draw Weight | 40 lbs – 80 lbs |
| IBO Speed | 340 fps |
| Weight | 4.4 lbs |
| Let-Off | 80% |
3 quick questions about Bowtech Insanity CPXL
🏹 Is Bowtech Insanity CPXL bows good for beginners?
This is a really great beginners bow.
🏹 How much does a Bowtech Insanity CPXL bow cost?
This might not be the cheapest beginners bow, but you for sure get a great multipurpose bow with a smooth draw. It shoots really well, so not a bad buy for the money.
🏹 Do you need a license to own a Bowtech Insanity CPXL bow?
No
More about bows online
Bowtech bows for sale
In order to avoid injury and make sure correct shooting strategies, it's critical to be in a position to keep the bow fully drawn for at the very least a minute without shaking and also to draw the compound bow smoothly at any instant of the entire draw cycle. Normally, as soon as you're picking out a compound bow, you ought to go for the fastest compound bow on the market which matches your financial plan. Besides these technical facets, it's also advisable to look at purchasing a bow with additional perks, like an optic sight, camouflage etc.. Bowtech brand bows are largely made from aluminum.
[collapse]
https://arrows2bows.com/wp-content/uploads/2019/12/1-300x138.png
0
0
superadmin
https://arrows2bows.com/wp-content/uploads/2019/12/1-300x138.png
superadmin
2019-12-31 11:48:56
2020-02-02 07:36:59
Bowtech Insanity CPXL Compound Bow