Compare Bowtech Realm Compound Bow with other bows: See other Bowtech Compound bows for sale
Bowtech Realm bow for sale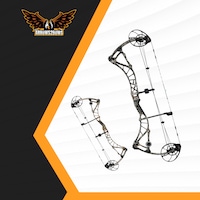 Brace Height: 7.125 "
Axle to Axle Length: 30.75 "
Draw Length: 25 " - 31 "
Draw Weight: 40 lbs - 70 lbs
IBO Speed: 340 fps
Weight: 4.3 lbs
Realm reviews
Looking for a sturdy, compact compound bow? The Bowtech Realm could be your answer! This rig might seem surprisingly heavy for such a compact construction. Weighing in around 4.3 pounds without any accessories, it's quite a load and will feel it pretty solid at full draw. Many shooters prefer heavy rigs for better precision.
Things to consider before buying
The Realm comes with the Overdrive cam and it features a draw-length adjustment of 6 inches. There are different performance settings that you can use for a better feel, according to your preferences. With the fast cam setting, you can hit the 340-mark shooting speed with a full draw.
Finish
Bowtech was previously criticized for poor quality finish on the limbs, but the company made changes. Therefore, this bow has solid core limbs. You won't experience any de-lamination, even if you use the bow quite frequently.
The Realm is available in five different finishes. The "Classic Camo" is there, but if you don't like it, you can opt "Blackops" or "Flat Dark Earth." "Kryptek Altitude," "Breakup Country Mossy Oak" and "Gore Optifade Subalpine" are the latest additions.
Riser
As we have mentioned, the Realm was previously heavily criticized for its de-laminating limbs, but most of the blame goes to the poor limb/riser construction. This time around, the riser has a different design and it comes with an integration of caged construction near the limb pockets. Bowtech has widened this area of the bow to make it more reliable with the new pocket mechanism.
Grip
There is a Clutch Performance grip on this bow with a flat back grip. It promotes improved hand placement and reduces torque. You can also remove the grip and shoot directly from the riser if you prefer.
Who should buy it?
This is a decent compound bow for beginners who want to improve their shooting skills. Intermediate archers can also work on their expertise in the field. Excellent for shooting from ground blinds and tree stands.
Who shouldn't buy it?
This bow is not for the pros or experts who are looking for a rig that can shoot long distances
Pros
Full customization in every aspect
340 fps with a 7.125-inch brace height
Compact AtA measurement of 30.75-inch
Cons
The grip is not the best for cold conditions
Final Thoughts
The Bowtech Realm is a solid compound bow that is designed for the archers using high grounds. This is a good choice if you use the tree stands and ground blinds quite frequently.
Video Review
Specifications for the Bowtech bow: Realm
| | |
| --- | --- |
| Brace Height | 7.125 " |
| Axle to Axle Length | 30.75 " |
| Draw Length | 25 " – 31 " |
| Draw Weight | 40 lbs – 70 lbs |
| IBO Speed | 340 fps |
| Weight | 4.3 lbs |
| Let-Off | 80 – 86% |
3 quick questions about Bowtech Realm
🏹 Are Bowtech Realm bows made in America?
Yes
🏹 Who owns Bowtech Realm bows?
Norwest Equity Partners
🏹 Do you need a license to own a Bowtech Realm bow?
No
More about bows online
Bowtech bows for sale
Compound bows are most frequently utilized as the system of wheels and cables alongside sights, makes them simpler to fire. The compound bow has become more and more popular. Nevertheless, a great compound bow is critical to turn into a fantastic archer.
In both skilled and amateur hobby archery worlds, it can be extremely hard to decide between getting a compound bow or a crossbow. A compound bow is the easiest approach to teach to your children to shoot with a bow! Youth compound bows are frequently used by women that are just beginning in archery too, since the span and weight are a lot more comfortable.
[collapse]
https://arrows2bows.com/wp-content/uploads/2019/12/1-300x138.png
0
0
superadmin
https://arrows2bows.com/wp-content/uploads/2019/12/1-300x138.png
superadmin
2020-01-17 11:48:56
2020-02-02 07:48:51
Bowtech Realm Compound Bow