Compare Bear Kuma LD Compound Bow with other bows: See other Compound bows for sale
Bear Kuma LD bow for sale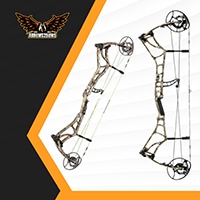 Brace Height: 6.5 "
Axle to Axle Length: 33.25 "
Draw Length: 27 " - 32 "
Draw Weight: 45 lbs - 70 lbs
IBO Speed: 330 fps
Weight: 4.3 lbs
Kuma LD reviews
For short to medium draws, the market is packed with a wide range of suitable bows. However, choosing the best long draw compound bow can be a challenge. After searching thoroughly through the market for the right, affordable, and good quality long draw compound bow, we came across the Bear Kuma LD compound bow. Not only is this bow a well-built product that features fully adjustable limbs and 2 versatile grips, but it is also meant for big-game hunters and long draw usage.
Things to consider before buying
This compound bow is primarily known for its construction and design that makes it highly suitable for LD purposes. The bow has 15-pound adjustable limbs and measures 33 ¼ inches axle to axle, which also makes it a more compact bow compared to others.
If you want to make sure that your purchase is worth the money and doesn't go to waste, then the following specifications and aspects of the Bear Kuma LD Compound Bow should be enough to help you decide.
Two finishes
The bow is available in a camo print, as well as a solid iron finish. This gives you a variety of options to choose from.
Two grips
The bow can be used with two grips, a standard one-piece grip made with rubber, and a slimmer grip made to fit perfectly in the palm of your hand.
EAZ hybrid cam system
This cam system is one of the more advanced and most efficient cam systems. It allows you to widen your draw length and shoot arrows at a speed of 330 feet per second.
Let-off
For extra stability and vibration-free functionality, the Bear Kuma LD Compound Bow features an 80% let-off.
Pros of Bear Kuma LD compound bow
Aluminum-made riser for more durability and better performance
2 types of sturdy, reliable grips that do not make hands sweat 
Lightweight bow compared to other LD bows 
Affordable alternative compared to other bows in the market
Great for adults, professionals, and hunters in the wild
Cons of Bear Kuma LD Compound Bow 
Riser is slightly heavier than usual
Relatively limited range of options in finishes
Conclusion 
With two types of finishes and an advanced EAZ hybrid cam system, this compound bow offers a great value for your money. The bow is a perfect piece of equipment for all archery enthusiasts who truly want to make the most out of their skill and passion. You can most likely enhance your LD shooting and feel safer in the wild with the Bear Kuma LD compound bow.
Video Review
Specifications for the Bear bow: Kuma LD
| | |
| --- | --- |
| Brace Height | 6.5 " |
| Axle to Axle Length | 33.25 " |
| Draw Length | 27 " – 32 " |
| Draw Weight | 45 lbs – 70 lbs |
| IBO Speed | 330 fps |
| Weight | 4.3 lbs |
| Let-Off | 80% |
3 quick questions about Bear Kuma LD
🏹 How much does a Bear Kuma LD bow cost?
The suggested retail price is only $899 for a 2018 model.
🏹 Do you need a license to own a Bear Kuma LD bow?
No you do not.
More about bows online
Bear bows for sale
The bow certainly resembles a Hoyt with its distinctive riser design. It also comes in a number of finishes with the most popular finishes being RealTree Xtra camo as well as shadow, sand and olive. Bear's whitetail hunter compound bow is quite a versatile bow that is chiefly liked and used by the hunters due to its attractive capabilities.
[collapse]
https://arrows2bows.com/wp-content/uploads/2019/12/1-300x138.png
0
0
superadmin
https://arrows2bows.com/wp-content/uploads/2019/12/1-300x138.png
superadmin
2019-12-10 12:09:59
2020-01-07 08:16:19
Bear Kuma LD Compound Bow